10 Artists to See at Air Products Americaplatz!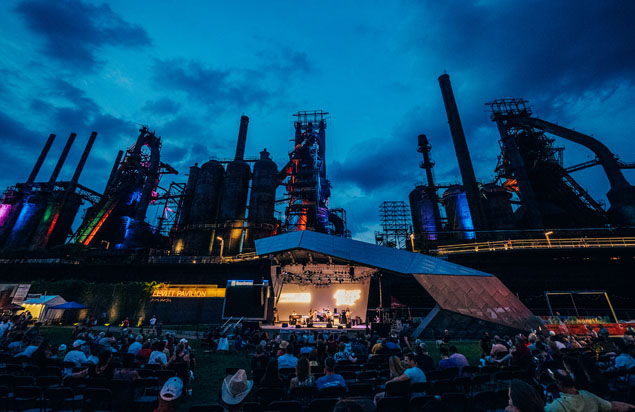 By Madison McCandless, ArtsQuest Marketing Intern / Photo: Ted Colegrove
With a stunning backdrop of the Bethlehem Steel blast furnaces, Air Products Americaplatz is the place to party on the SouthSide during Musikfest! Come before the headliners at the Sands Steel Stage at PNC Plaza and stay after the big shows for these performances that are just a short walk away. Here are 10 artists to check out at Air Products Americaplatz
You can find the full lineup of 500+ FREE performances at Musikfest here!
Tuesday, August 7 @ 9 PM
"Bayou Soul" singer-songwriter, Marc Broussard may be best known from his song "Home" from the album Carencro in 2005. Kelly Clarkson performed "Home" live in 2006. Mark's album Save our Soul, consisting almost entirely of cover songs, was his first to reach the top 100 of the Billboard 200.
Thursday, August 9 @ 9 PM
Singer-songwriter Marshall Crenshaw best known for his song "Someday, Someway" a US Top 40 Hit in 1982 recorded under Warner Bros. Records. His soul music often leaves him compared to Buddy Holly, whom he portrayed in the 1987 film La Bomba.
Saturday, August 11 @ 9:30 PM
Colony House is an American indie rock quartet. Twice, they have earned a spot on the Billboard Top 200 with their debut album: When I Was Younger and their new album: Only the Lonely. Their lead single "Silhouettes" was the most downloaded song on SiriusXM Alt Nation in 2014.
Saturday, August 4 @ 9:30 PM
Opening for Lee Brice and Justin Moore on the Sands Steel Stage last year, country duo Walker McGuire is best known for their hit songs "Till Tomorrow" and "Mysteries of the World". Their sound ranges from old-school ballads to up-tempo pop-country-rock songs. Since earning placement on Spotify in 2016 "Till Tomorrow" has not only been streamed 22 million times, but also has earned a place on the Top 40 Debut Single list.
Wednesday, August 8 @ 9 PM
Blues-rock guitarist Eric Gales, originally hailed as a child prodigy, has performed with Carlos Santana at Woodstock '94 and contributed a cover of "May This be Love" to the album Power of Soul: A Tribute to Jimi Hendrix. He has also contributed vocals on several record by Prophet Posse and Three 6 Mafia under the name Lil E.
Saturday, August 4 @ 8 PM
Country singer-songwriter Adam Doleac is known for his song "Bigger Than Us" from his self-titles album. His abilities as a writer have earned him cuts from Darius Rucker and Kane Brown. Adam was a featured artist on the fall 2017 Highway Finds Tour and has earned spots on Spotify-curated country playlists.
Sunday, August 5 @ 5 PM
Indie Rock band The Family Crest incorporates jazz, folk, and classical styles into their orchestral sound. Their Kickstarter campaigned album Beneath the Brine, debuted at #16 on the Billboard Heatseekers Album Chart.
Saturday, August 11 @ 7 PM
Local Doylestown band and ArtsQuest's band in residency last year,  Ceramic Animal, is a modern psychedelic indie-rock band with Spotify listeners in more than 60 countries. Their 2016 debut album, "The Cart" has over 1.4 million streams on Spotify.
Saturday, August 11 @ 5 PM
A group of outlaws who rose from the blue-collar depths of a glorified suburban landscape, seek to recreate the golden age of songwriting. Combining the soothing sounds of Yanni with the angelic melodies of Enya, Sleepwalkers are sure to be the butter to your bread.
Thursday, August 2 @ 9:45 PM and Friday, August 3 @ 7 PM
Funky Dawgz Brass Band plays a contagious, upbeat mix of traditional New Orleans, R&B, hip hop, funk, and today's top hits with a brass twist. They have played sold out shows at Madison Square Garden, Camp Bisco, and closed out the Peach Music Festival. They were also featured multiple times on national televised programming on ESPN as the house band for March Madness Tournament Challenge.
BONUS PLAYLIST!
For more information and a chance to listen to some of these awesome artists before the festival, check out the 2018 Musikfest Free Artists Spotify playlist!