10 Artists to See at Air Products Americaplatz!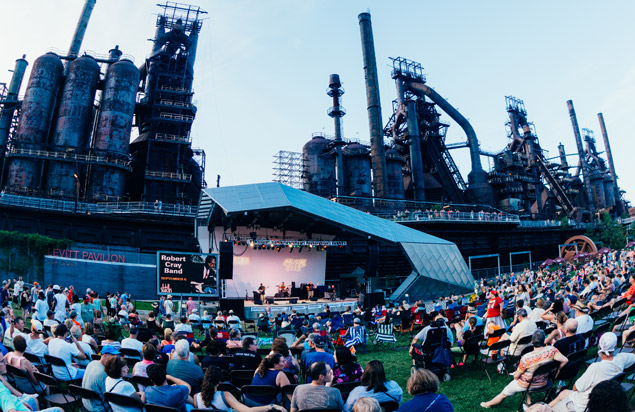 By Calla Kostelnik, ArtsQuest Marketing Intern
Air Products Americaplatz is the place to party on the SouthSide during Musikfest! Come before the headliners at the Sands Steel Stage at PNC Plaza and stay after the big shows for these performances that are just a short walk away. Here are 10 artists to check out at Air Products Americaplatz!
You can find the full lineup of 500+ FREE performances at Musikfest here!
August 5, 2017 @ 9:30 PM
The five-man powerhouse Low Cut Connie proves that rock 'n' roll is alive and well. The band's latest album Dirty Pictures made Rolling Stone's list of the "50 Best Albums of 2017 So Far". Low Cut Connie gets down and dirty with the gritty sound of their rock 'n' roll music. The band always puts on a high-energy and highly entertaining performance laced with passion and plenty of sweat.
August 7, 2017 @ 9:30 PM
Gene Ween does Billy Joel and, boy, he does him well! The lead singer of Ween takes a break from the band's alternative and psychadelic sound to cover Joel's songs like "Piano Man," "Movin' Out," and "The Longest Time." Don't go changin' to try and please us, Gene Ween, we like you just the way you are!
August 5, 2017 @ 5:00 PM
We can't wait for The National Parks and, no, we don't mean Yellowstone, Yosemite or Zion. The smooth and soulful sound of this indie band from Utah will empower you and make you feel like you're soaring through the air after sprouting wings you never knew you had. If you're looking for peace of mind, The National Parks will take you there!
August 4, 2017 @ 7:30 PM
Girl power! This fun-loving trio is not only devoted to their country roots but showing what means to be a strong woman. Not to mention, Runaway June was recently named one of CMT's "Next Women of the Country." So ladies, put on your red lipstick and cowboy boots and get ready to sing along!
August 10, 2017 @ 9:30 PM
This folk rock band always has the crowd on their feet and jumping to the beat. iHeart Radio called the band "the reinventors of folk rock." Since performing at Musikfest, the band has gained quite a following. Scythian's performances are pure insanity with a rock 'n' roll sound led by a manic fiddle. And if you're wondering how it's pronounced (you probably are), it's sith-ee-yin.
August 9, 2017 @ 9:00 PM
Albert Castiglia is bringing the rock 'n' roll blues to Bethlehem! The talented triple threat artist is a singer, songwriter and guitarist with a sound that is intense, raw and heavy. The artist once said, "I play whats in my heart and what I feel at that moment. When I write songs, they have to mean something." Castiglia gives 100% in every performance with mesmerizing guitar playing and soulful, gritty vocals.
August 13, 2017 @ 9:00 PM
Popa Chubby is no stranger to the rock 'n' roll blues genre. For the past 25 years, Popa Chubby's nasty guitar playing and soulful voice gained recognition around the world, as well as his signature look: a shaved head, tattooed arms and a goatee. For Popa Chubby, danger is an essential part of the blues and is very much alive in his music.
August 7, 2017 @ 7:30 PM
The HillBenders' unique sound defies any hillbilly stigmas. This dynamic group pairs bluegrass with rock 'n' roll, jazz, funk and Americana to bridge the gap between bluegrass and all other genres. Members of the quintet are always strumming during performances with banjos, guitars and mandolins. The Hillbenders add a southern bluegrass twang to any song!
August 11 & 12th, 2017 @ 9:00 PM
It's hard not to like a band that names one of their albums Bacon. Igor & Red Elvises always put on a memorable rock 'n' roll performance with plenty of tie-dye and animal print. These Musikfest legends bring the party wherever they go.
August 9, 2017 @ 7:00 PM
Get ready to hip shake and head bang with Chrome Pony! This Nashville trio's diverse interest in different music leads them to dabble in punk, psych, garage, world music and primarily rock 'n' roll. Chrome Pony's unique sound and grunge style makes for one killer performance!
BONUS PLAYLIST!
For more information and a chance to listen to some of these awesome artists before the festival, check out the 2017 Musikfest Free Artists Spotify playlist!