10 Artists to See at BB&T Jazz Cabaret Stage!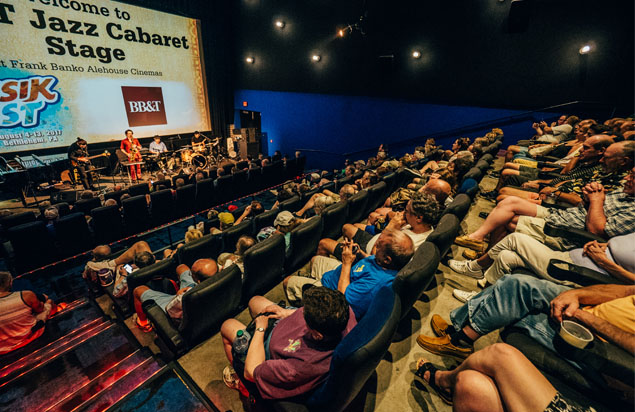 By Madison McCandless, ArtsQuest Marketing Intern / Photo: Ted Colegrove
Here's the stage for you, Jazz lovers! Beat the heat in the indoor, air-conditioned Frank Banko Alehouse Cinemas. The following are just 10 of the jazz and blues acts that you cannot miss at the intimate BB&T Jazz Cabaret Stage!
You can find the full lineup of 500+ FREE performances at Musikfest here!
Friday, August 3 @ 8 PM
Chelsea Reed is a jazz vocalist, arranger and bandleader living in Philadelphia but born and raised in the Lehigh Valley. Falling in love with jazz at an early age, she earned her degree in Jazz Vocal Performance from Temple University. While in school, she started performing professionally as the leader of dance band Chelsea Reed and the Fair Weather Five. They have gone on to tour the country, playing for swing dancers and recording three albums.
Thursday, August 9 @ 8 PM
Ellis Dyson & the Shambles expertly blend old-time influences ranging from Piedmont murder ballads, to traditional jazz, to big band swing. The result: whiskey-soaked, foot-stompin' songs that bring party music of departed eras to crowds both young and old. The Shambles have made waves with their theatrical and explosive live shows and masterful musicianship that electrifies every audience. Bursting with exuberance and effortless expertise, this playfully hootin' and hollerin' act is guaranteed to bring the ruckus.
Saturday, August 11 @ 1 PM and 3 PM
Stephane Wrembel is quite simply one of the finest guitar players in the world. The breadth and range of his playing and compositions are unmatched. To say that Wrembel- who learned his craft among the Gypsies at campsites in the French countryside- has already had a remarkable career would be an under-statement. This prolific, virtuoso guitarist from France has been releasing a steady stream of music since 2006 and has truly made his mark as one of the most original guitar voices in contemporary music.
Saturday, August 4 @ 5:30 PM
Fronted by vocalist Gretchen Klempa, Gretchen and the Pickpockets are a six piece soul/jazz rock band that features heavy horn lines and a healthy dose of improvisation. Accolades include two Iguana Music Fund grants from Club Passim, Best in State: New Hampshire 2015 from the New England Music Awards and Best Rock Band 2015 from the Seacoast, NH Spotlight Awards.
Thursday, August 9 @ 5:30 PM
Najwa Parkins and the Resolute Sound is a Philadelphia based quartet. The group- which is comprised of Dan Hanrahan (guitar), Chris Simonini (organ), Kevin Ripley (drums), and bandleader, Najwa Parkins (voice)- combines the soulful, driving sound of a classic organ trio, with powerhouse vocals and storytelling through song. The quartet performs Najwa's arrangements of familiar (and less familiar) jazz standards as well as her original music, which is influenced by several genres including jazz, folk, blues, reggae, & RnB.
Wednesday, August 8 @ 8 PM
Black Tie Brass is a horn-driven, jazz/funk band from NYC. They combine the presence of a New Orleans brass band with the sound of a funk band to create a musically invigorating experience. Having played together for many years, the core of the group came together in 2013. Drawing from many genres such as jazz, pop, funk, R&B and hip-hop, they created a fulfilling musical experience for performer and listener. Black Tie Brass is a versatile group that has performed with Sal "The Voice" Valentinetti, Epic Records' Nick Tangorra, American Idol's Robbie Rosen and many more!
Wednesday, August 8 @ 5:30 PM
Founded in 2013 by organist Mark Brown, the Philadelphia-based trio Hambone Relay draws their inspiration from such organ greats as Jimmy Smith and Billy Preston while combining funky grooves and dauntless guitar lines in the same vein as The Meters. Staying true to their jazz roots, Hambone Relay's live shows are a mixture of danceable grooves, psychedelic overtones and improvisational jams. Their album ""FREE HUGS"" has been played on WXPN and the band recently performed live on the radio for their Free at Noon program at World Cafe.
Sunday, August 5 @ 5:30 PM
Wack Cheddar is a multi-genre band based out of Philadelphia fusing elements of funk, rock, jazz, and pop together. The group draws inspiration from artists such as James Brown, Roy Hargrove, Lettuce, Snarky Puppy, and Tower of Power. Wack Cheddar's music is driven by a dynamic three-piece horn section complimented by an energetic, hard-hitting rhythm section.
Monday, August 6 @ 5:30 PM
The Barrel House Brothers formed in 2011 when pianist and accordionist Gary Lader of Bethlehem, Pa., fortuitously met Bob Peruzzi, a trombone player, also of Bethlehem. "I first heard Bob play at our local radio station,WDIY," says Gary. Guitarist, banjoist and ukelele player Marvin Falcon found his way to the "Brothers" through a mutual friend. The band shares a love for early traditional jazz, stride piano, gypsy jazz, and novelty songs.
Friday, August 10 @ 5 PM
Celebrating 20 years since their start at Lehigh University, the Slicked Up 9's unleash a high-energy tribute to the original R&B music – Jump Blues. Decades ago, Jump Blues was belted from blazing horns to steamy dance floors only to be later simplified and repackaged as Rock 'n Roll for the mainstream. Now the 9's draw upon blues, swing and rockabilly influences to remind that music can drive with heavy swing, be rich with colorful soul, and push dynamic bounds that bring you to your feet or knock you back in your seat.
BONUS PLAYLIST!
For more information and a chance to listen to some of these awesome artists before the festival, check out the 2018 Musikfest Free Artists Spotify playlist!