10 Artists to See at BB&T Jazz Cabaret Stage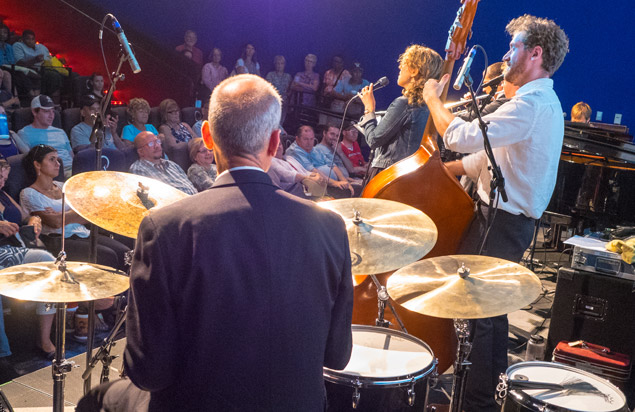 By Sherry Rodriguez, ArtsQuest Marketing Intern
Here's the stage for you, Jazz lovers! Beat the heat in the indoor, air-conditioned Frank Banko Alehouse Cinemas. The following are just 10 of the jazz and blues acts that you cannot miss at the intimate BB&T Jazz Cabaret Stage:
You can find the full lineup of 500+ FREE performances at Musikfest here!
Friday, August 11 @ 8:00 PM
NYC-based horn-driven jazz/funk band, Black Tie Brass, formed in 2013. Their music is created in an organic way, primarily through improvisation. The band has played with Sal "The Voice" Valentinetti, Epic Records' Nick Tangorra, American Idol's Robbie Rosen, and many others. Black Tie Brass was also featured in an episode of "Worst Cooks in America" on Food Network!
Thursday, August 10 @ 5:30 PM
SUM (Latin word for "to be" or "I") was created by musician Steve Anthony B. He has worked with well-known artists including Natalie Cole, Ariana Grande, George Clinton of the Funk Parliament, Ms. Lauryn Hill, and many more. After graduating from the Manhattan School of Music and working with international artists for many years, he decided it was time to express his own identity. SUM's jazz/funk/soul arrangements will surely have you on your feet!
Tuesday, August 8 @ 8:00 PM
Philadelphia transplant, Korey Riker, wears many hats as a saxophonist, composer, arranger, producer, and an educator. As a saxophonist, he has played with The Roots, Erykah Badu, Jennifer Hudson, Snoop Dogg, and many other megastars. He was a recipient of the 2016 Kimmel Center Jazz Composer Residency grant, and is currently actively touring the world as saxophonist and featured soloist on John Legend's "Darkness & Light" tour. His mark on the local Philly music scene is undeniable, so do not miss seeing this talented trio live!
Friday, August 11 @ 5:30 PM
Local musician, Corinne Mammana, emerged as a jazz singer only a few years ago after being introduced to Dr. D in 2012. Dr. D, as in the eight time Grammy Nominated jazz guitarist Frank DiBussolo. Dr. D arranged, co-produced, and is featured on Mammana's first EP, which she says was inspired after her 2015 Musikfest performance! Since then, she has been refining her sophisticated sound, playing at prominent venues including New York City's the Metropolitan Room, Philadelphia's Chris' Jazz Cafe and the legendary Deer Head Inn!
Sunday, August 6 @ 8:00 PM
Leader of the Millennial Jazz Movement and New York City based Jazz trombonist and composer, Nick Finzer, attracts both traditional and modern Jazz audiences. He earned his masters at Juilliard's Jazz Program, where trombone legend Steve Turre became his mentor. He has become a YouTube sensation, has won many prestigious Jazz Trombone competitions, and continues to record new music and perform at top jazz clubs around the country!
Friday, August 4 @ 8:00 PM
The Hot Club of Philadelphia specializes in a little something called 'Gypsy Jazz,' which was pioneered by the iconic 'Hot Club of France' from artists in the 1930's & 40's. The acoustic ensemble have performed for the Kimmel Center's PIFA Festival, they have sold out shows at the World Cafe Live, Philadelphia Museum of Art 'Art After 5,' series, and were part of Philly's 1st 'Diner en Blanc,' which was filmed by WHYY for Friday Arts program!
Monday, August 7 @ 5:30 PM
Based in Philadelphia, Swedish vocalist and composer, Anna Cecilia, creates emotive jazz, R&B, folk, and pop music, both in English and Swedish. The musician has performed with various groups at the Kennedy Center Millennium Stage, Center City Jazz Fest '16, the Swedish Embassy in Washington DC, PAFA, World Cafe Live, and more. Do not miss this amazing storyteller when she plays!
Sunday, August 6 @ 5:30 PM
Tony Gairo & Lou Lanza share the stage once again to perform the American songbook, the jazz canon, pop or rock standards and their own originals. You can feel their years of musical experience and over 20 years of friendship when you witness these two jazz enthusiasts do what they do best: jam. They share their humor, style, and expertise with the audience, which makes for a remarkably fun show!
Wednesday, August 9 @ 8:00 PM
Eric Mintel Quartet began in 1993 and has received many accolades since then, including performing at the White House, several concerts at the Kennedy Center and a special concert at the United Nations. They were also a featured guest on Marian McPartland's award winning program Piano Jazz on NPR in 2005. This quartet is full of true entertainers, so you definitely do not want to miss their performance!
Saturday, August 12 @ 8:00 PM
Jazz vocalist legend and New York Native, Miles Griffith, and Philadelphia-based award-winning accordionist, Dallas Vietty, co-lead this grooving quartet. Both musicians perform as solo acts and with other groups. They are joining forces for a night of swingin' jazz and they are a must-see!

BONUS PLAYLIST!
For more information and a chance to listen to some of these awesome artists before the festival, check out the 2017 Musikfest Free Artists Spotify playlist!