10 Artists to See at FLYLVIA Plaza Tropical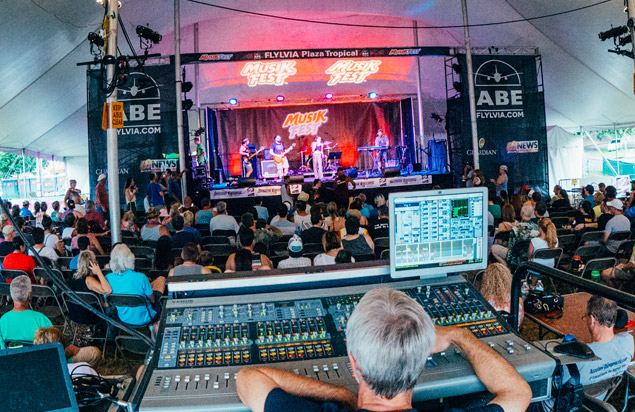 By Sherry Rodriguez, ArtsQuest Marketing Intern
From a globally renowned hip hop violinist to a surf-rock duo to our local pop-punk favorites, you can find just about anything on this year's FLYLVIA Plaza Tropical lineup! Here are 10 artists you'll think are pretty fly!
You can find the full lineup of 500+ FREE performances at Musikfest here!
Friday, August 11 @ 7:30 PM
With a name like Freekbass, you know you're about to get the funk, but not in the traditional sense. Freakbass has worked with members of Phish and Parliament-Funkadelic. The Cincinnati-born modern father of funk, with his soulful jams, punchy lyrics, and brass-infused instrumentals is a must-see!
Thursday, August 10 @ 9:00 PM
Husband and wife duo, Slingshot Dakota are helping to put Bethlehem on the map with their kind-of-pop, kind-of-punk presence. After over 10 years of tearing up the Lehigh Valley DIY punk scene, they are hitting their stride. They have been gaining notoriety through their recent show at SXSW and features in national publications including NPR, VICE's Noisey and Alternative Press. Come hang out with our local favorites!
Tuesday, August 8 @ 9:30 PM
Andy Frasco and the U.N. are the type of band you want playing at your house party because they ARE the party. The title of their most recent record 'Happy Bastards' is appropriately titled because of the group's larger than life personality and funky style. The full band incorporates Soul, Funk, Rock, and Jazz flavors into their music, along with NSFW lyrics in order to get the party started!
Friday, August 11 @ 9:30 PM
Northampton, Massachusetts' very own, Sun Parade, make ethereal, shoe-gazey, folk-rock that will put you in a feel-good trance. It makes complete sense that their influences range from Dr. Dog, The Clash, and Beastie Boys, to Nirvana and The Beatles. The quartet's 2014 EP was recognized by NPR, stating that "the lesson the group seems to have best absorbed is how to create small, surprising delights." The group recently rocked out at SouthSide Arts & Music Festival!
Saturday, August 5 @ 9:00 PM
Ever heard of anything cooler than a hip hop violinist? We didn't think so. SVET has an impressive track record, having had performed on America's Got Talent, and the local recognition he has gained for his phenomenal talent of recreating popular songs with his violin. When he's not touring internationally, SVET shares the stage with legendary stars including Kanye West, The Black Keys, Jamie Foxx, Phillip Phillips, and Ceelo Green!
Thursday, August 10 @ 6:30 PM
Ceramic Animal, from Doylestown PA, has figured out how to perfectly blend together the sounds of classic rock, surf grunge, and psych rock that will give you all of the nostalgic feels. The echoey indie-rock vocals and instrumentals are reminiscent of Dr. Dog and Arctic Monkeys, so do yourself a favor and check out this psychedelic crew when they come around!
Sunday, August 6 @ 6:00 PM
Summer Scouts is another killer local band with their dynamic blend of power pop and post-rock. Since the release of their 2014 album, The Distance, the Allentown-natives have shared stages with musicians such as Echosmith, Andrew McMahon in the Wilderness, The Struts, Anthony Green, Body Language, and many others! Thankfully Summer Scouts have successfully recovered from our 'Snack Attack' from last year in time to join us for this year's 'fest!
Wednesday, August 9, 2017 @ 3:00 PM
Crushed Out is accurately described as a 'dark surf, nasty blues duo' who could easily write a book on cool. Just take a look at their stylish threads. The band's songs have been featured in VICELAND's King of the Road, MTV's Finding Carter, ESPN, and heard in skateboard videos by Thrasher Magazine, Element Skateboards, and Nike. They've also opened for popular acts such as Shakey Graves, Band of Skulls, Social Distortion and Joan Jett!
Saturday, August 12, 2017 @ 9:30 PM
Hailing from Boston, Massachusetts, Wobblesauce defies the rules of the rock genre by incorporating a unique concoction of electronica, rock, and instrumental dance music. The beats are dirty, the music is funky, and you're going to want to shake your hips. Get ready to get your digital groove on!
Saturday, August 12, 2017 @ 6:30 PM
Identical twin sisters, Nalani & Sarina, equipped with guitars, ukeleles, and a keyboard, are a force to be reckoned with. These powerful women have big, full, soulful voices and an impressive band backing them. They are joined on stage by bassist Will Lee, best known for his work on the Late Show with David Letterman, and keyboardist Tommy Mandel, having worked with Bryan Adams. Make sure to stop by and spend time with this Philly duo!
BONUS PLAYLIST!
For more information and a chance to listen to some of these awesome artists before the festival, check out the 2017 Musikfest Free Artists Spotify playlist!