10 Artists to See at Hotel Bethlehem Platz!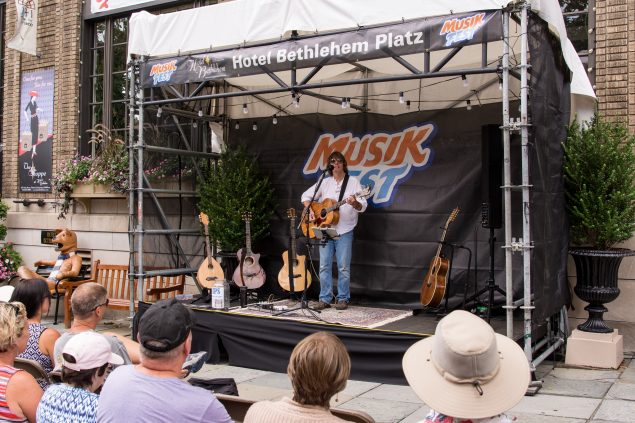 By Madison McCandless, ArtsQuest Marketing Intern / Photo: Keith Huylebroeck
Located in front of the historic Hotel Bethlehem—which housed famous guests such as Henry Ford and Amelia Earhart—is the Hotel Bethlehem Platz Stage! From Americana, jazz, & blues musicians to acoustic folk-rock bands, music lovers will have no problem finding an act (or 5) they love at the wonderfully shaded venue. Here is a preview of just 10 of the talents you won't want to miss.
You can find the full lineup of 500+ FREE performances at Musikfest here!
Saturday, august 11 @ 5 PM
All Types of Kinds is a group of four singer/songwriters from the New York City and Connecticut area. They recently released their debut EP and plan to follow it up with their sophomore project in late spring and another EP by the end of 2018.
Thursday, August 9 @ 5 PM
Sara Ontaneda is an Ecuadorian-American singer-songwriter and producer based in New York City. Her music mixes Folk, R&B, and South-American rhythms. With one EP, "Marte y Jupiter" and her bilingual debut album, "Entre Espacios y Colores," Sara has toured in South America and the US with appearances in festivals like SXSW 2016, SXSW 2018, NAMM Show 2018, Musikfest 2017, NJ Folk Festival, among others.
Sunday, August 12 @ 5 PM
Mixing seemingly effortless musicality and original storytelling, Grace Morrison turns deeply personal and historical stories into song for listeners from all walks of life. 2017 marked a turning point for Grace as she released her first full length CD: "I'm The Apple".
Sunday, August 5 @ 5 PM
She has opened for well-known acts such as Colbie Caillat,,Tim Reynolds of The Dave Matthews Band, and more. Philly's Andrea Nardello has garnered favorable comparisons to Melissa Etheridge and Shawn Colvin for melding pop, songwriting smarts with a confessional and literate songwriting style. Nardello draws from folk, rock, soul and hip-hop.
Saturday, August 11 @ 1 PM
Adam began his career in Australia while studying abroad. He began writing the inspirations of his travels and experiences. The music that emerged was shaped with percussive guitar grooves, soulful vocals, and spiritually conscious sentiment. With his rootsy approach he has drawn comparisons to contemporary singer/songwriters like Jason Mraz.
Sunday, August 12 @ 1 PM
With an honest, rootsy sound playfully dubbed "Blue-Twangled Folk 'n' Roll" in a 2014 No Depression interview, Schneider & Mayfield – also known as the Reckless Saints – have delighted audiences with their blend of the gritty, fun, soulful and sweet across the USA and abroad.
Friday, August 3 @ 5 PM
The Americana-tinged folk-noir band Sweetbriar Rose is a band of rootsy, thorny musicians who you're equally likely to glimpse running in full sun, barefoot on a field of bluegrass, brooding in three-part harmony over a murder ballad in a shady grove, or channeling the spirit of a 1940's Balkan jazz joint.
Saturday, August 4 @ 5 PM
Josh Ronen is a 24-year-old acoustic, pop singer/songwriter and musician based out of Nashville, TN. Born and raised in the greater Chicago area, Josh began his music journey at the age of 16. His music has been in large part influenced by such classic artists as Bob Dylan, Kenny Loggins and Cat Stevens as well as by the contemporary sounds of John Mayer.
Saturday, August 4 @ 1 PM
Ruth Wyand & The Tribe of One generate the power of a full band with her intricate picking style, alternating thumb bass, bottleneck slide, multiple foot drums and raw blues vocals. A ""one-woman blues band,"" Ruth presents a soulful high-energy and engaging show. Playing an eclectic mixture of styles of blues and Americana originals Ruth Wyand and the Tribe of One will have you laughing, singing and even dancing.
Friday, August 10 @ 5 PM
Celebrating 20 years since their start at Lehigh University, the Slicked Up 9's unleash a high-energy tribute to the original R&B music – Jump Blues. Decades ago, Jump Blues was belted from blazing horns to steamy dance floors only to be later simplified and repackaged as Rock 'n Roll for the mainstream.
BONUS PLAYLIST!
For more information and a chance to listen to some of these awesome artists before the festival, check out the 2018 Musikfest Free Artists Spotify playlist!