10 Artists to See at Hotel Bethlehem Platz!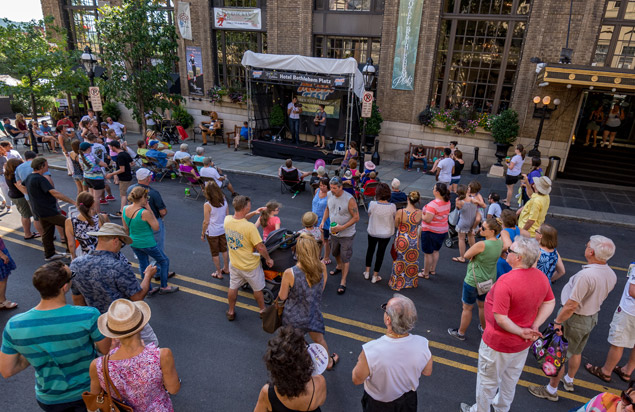 By Calla Kostelnik & Sherry Rodriguez, ArtsQuest Marketing Interns
Located in front of the historic Hotel Bethlehem, which housed famous guests such as Henry Ford and Amelia Earhart, is the Hotel Bethlehem Platz stage! From Americana, jazz, & blues musicians to acoustic folk-rock bands, and more, music lovers will have no problem finding an act (or 5) they love at the wonderfully shaded venue. Here is a preview of just 10 of the talents you won't want to miss:
You can find the full lineup of 500+ FREE performances at Musikfest here!
Tuesday, August 8 @ 5:00 PM
Three high school classmates from the class of 1981 make up the acoustic group, Zaire. The friends, originally from Central New Jersey, have been playing classic and acoustic rock with an emphasis on strong 3-part harmonies since 2007. They specialize in energetic covers of anything from The Eagles and Crosby, Stills & Nash, to Tom Petty, Radiohead and more. Do not miss these classic rockers in action!
Wednesday, August 9 @ 5:00 PM
The Musette Project was formed by Accordionist Dallas Vietty in 2010. The curated project explores the French accordion waltz music of 20's-50's known as Musette. According to Vietty, it is a genre within a genre and is most closely connected with Gypsy Jazz/Jazz Manouche. Vietty has performed at many reputable venues and festivals including Brooklyn Djangology Festival, American Accordionists Association, TEDx Philadelphia, and more!
Sunday, August 13 @ 5:00 PM
Philadelphia Native Lizanne Knott, has made a name for herself in both the US and the UK, with her Americana, jazz, & blues brand of music. Not to mention she's the manager of Grammy Award Winning MorningStar Studio. Jersey born and raised folk singer, Katherine Rondeau, with her rich, soulful voice will be joining Lizanne on stage to compliment her sultry vocals, so do not miss out on this unforgettable performance!
Saturday, August 12 @ 5:00 PM
Adam Web conveys his optimistic message through his "acoustifunk" music. He sounds like an ultra-positive version of Jason Mraz, Jack Johnson, and James Blunt. His music has been used on MTV's "The Real World" and has been played on college radio stations across the country. Adam also just won the 2017 Philadelphia Songwriters Project songwriting contest, so don't miss a chance to see him jam!
Saturday, August 5 @ 5:00 PM
ilyAIMY is an award-winning percussive rock-folk band hailing from Baltimore, MD. They play rock to soul to folk to bluegrass with a little bit of hip hop and jazz thrown in there. ilyAIMY has received recent accolades from the Washington Area Music Awards, the North East Regional Folk Alliance, the National Association for Campus Activities, and others. The male/female harmonies with the slap-style guitar work, djembe, ukulele, and demanding stage presence will blow you away!
Saturday, August @ 1:00 PM
Vivace Live puts a modern spin on the traditional string quartet. This incredibly talented quartet can bring the melody of any song to life and make it sound even more brilliant than it's original. We're so lucky to have Vivace Live String Quartet at Musikfest!
Sunday, August 6 @ 5:00 PM
This acoustic rock band knows how to have a good time! Three Acoustic Musicians (Plus 1) covers popular songs from the '60s and '70s but adds some of their own flair. These fellas are always in perfect harmony as they're strummin' and drummin' to the beat.
Monday, August 7 @ 5:00 PM
Although he's not the famous magician, Harry Houdini, Hairy Dudini's music is pretty magical. Dudini blends sound synthesizers, audio manipulation and loops with live guitar playing and drumming to make one funky fresh sound that is entirely his own. This talented performer and multitasker is one you won't want to miss!
Friday, August 4, @ 5:00 PM
This acoustic pop and folk duo is on a musical journey together. Lead singer and guitarist, Tim Harakal, has vocals similar to Jason Mraz and always puts his heart and soul into his music. You can expect nothin' but good vibes at their performance during Musikfest.
BONUS PLAYLIST!
For more information and a chance to listen to some of these awesome artists before the festival, check out the 2017 Musikfest Free Artists Spotify playlist!