10 Artists to See at IBEW Local 375 Volksplatz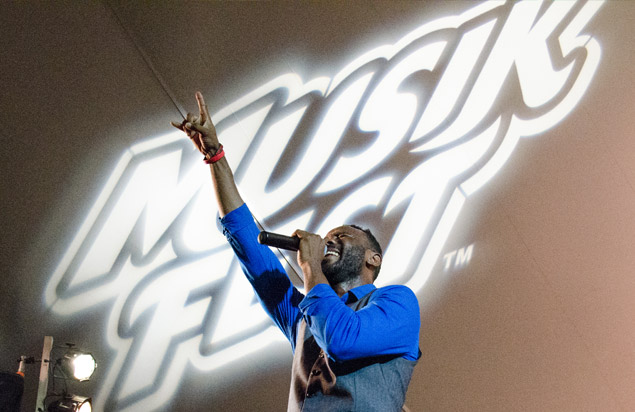 By Sherry Rodriguez, ArtsQuest Marketing Intern
It's time to party in Bethlehem's beautiful Johnston Park! The IBEW Local 375 Volksplatz stage is home to everything from rock 'n roll veterans to colorful Korean folk-pop to psychedelic Afro-soul! Here are 10 artists we think every music lover will enjoy!
You can find the full lineup of 500+ FREE performances at Musikfest here!
Saturday, August 12 @ 9:00 PM
Former 'Men at Work' lead vocalist, Colin Hay, has come a long way as a solo artist since his beginnings in the 1980s with MTV hits such as "Down Under" and "Who Can It Be Now?" His 13th solo release, Fierce Mercy has been described as a cinematic step forward, with confessional-feeling live shows. Hay continues to be a man hard at work creating meaningful music for his ever-growing fan base!
Monday, August 7 @ 9:00 PM
New Jersey-bred rock n' rollers, The Smithereens have been performing tunes inspired by 1960s British invasion pop for over 35 years now. These leather-clad musicians made their debut during the '80s American college rock scene with hits such as "A Girl Like You", "Blood and Roses" & "Blue Period". After a 12 year hiatus, the guys released a comeback album titled "2011," with entirely original material. Do not miss seeing these Billboard toppers!
Tuesday, August 8 @ 9:00 PM
Ever wonder where bands such as The Police, The Clash, and No Doubt got their inspiration? The Skatalites are best known for defining the sound of Jamaica in the '50 and '60s after performing live shows all over the island. The band reached legendary status by being the backing band for vocalists such as Bob Marley, Jimmy Cliff, Toots and The Maytals, and many others!
Friday, August 11 @ 9:00 PM
If you've been looking for feel-good, foot-stomping music, no need to look any further. According to the Washington DC Celtic rock band, 'every Scythian show ends with people dancing, smiling and covered with sweat.' Started by brothers Alexander and Danylo Fedoryka, Scythian's #1 goal is to get everyone on their feet and dancing through their high-energy, adrenaline-inducing set!
Friday, August 11 @ 7:00 PM
Korean folk-rock band SsingSsing dances (quite literally) to the beat of their own drum. They have adopted the sounds of the regional folk-style music called Minyo, which as you can see in their live performance, consists of the traditional Korean style of music, plus wild vocalization. To truly get a feel for SsingSsing, you have to see what the band members rock on stage. They are 100% glam rock, wearing eye-catching costumes and donning big, colorful wigs!
Saturday, August 5 @ 5:00 PM
What do you get when you mash The Civil Wars and Of Monsters and Men together and add electric guitar? You get five-member indie-folk and country band, The National Parks, and a very teary-eyed me. The layering of the male and female vocalists' haunting harmonies, with the full band consisting of drums, violin, and electric guitar will no-doubt leave you with chills during their more mellow ballads, and their more uplifting songs!
Friday, August 11 @ 3:00 PM
Don't even try to pin down this next band's genre. Hailing from Charleston, West Virginia, Qiet combines 'the elegant excesses of 1920's jazz with the unpredictably of pure punk rock,' with an endless list of musical influences. Their energetic vocals, passionate lyricism, along with their booming horns and strings makes for a killer live performance!
Sunday, August 6 @ 7:00 PM
Former American Idol Finalist, 17-year-old Amelia Eisenhauer, and her electric band, The Peruvian Farm Girls, do not conform to any one genre. You can hear a soulful mixture of Folk-Rock, Bluegrass, Country, Acoustic, and Rock in their songs. Amelia was trained as a classical violinist and crowned as a champion fiddle player. Her most recent collaboration with 2017 Grammy winner blues man Bobby Rush, Black Dog, is just one of the impressive accomplishments for a girl who has yet to graduate high school!
Friday, August 4 @ 7:00 PM
Pittsburgh-based 10-piece soul-rockers, The Commonheart, are clearly influenced by classic blues musicians such as Al Green and BB King. Frontman Clinton Clegg's voice is gritty and unforgettable, and the band's presence overall is powerful. Do not miss out on this rock and soul group!
Monday, August 7 @ 7:30 PM
Seasoned bluegrass and rock musicians, The Hillbenders, have come from every corner of the country to play together. The group has had the honor of giving the biggest rock opera of all time, The Who's Tommy, a whole new perspective, produced by SXSW co-founder and longtime musician/producer Louis Jay Meyers. They've also been dubbed 'Best Bluegrass' by RollingStone Magazine while reporting on SXSW's 2015 performances.
BONUS PLAYLIST!
For more information and a chance to listen to some of these awesome artists before the festival, check out the 2017 Musikfest Free Artists Spotify playlist!