10 Artists to See at Martin Guitar Lyrikplatz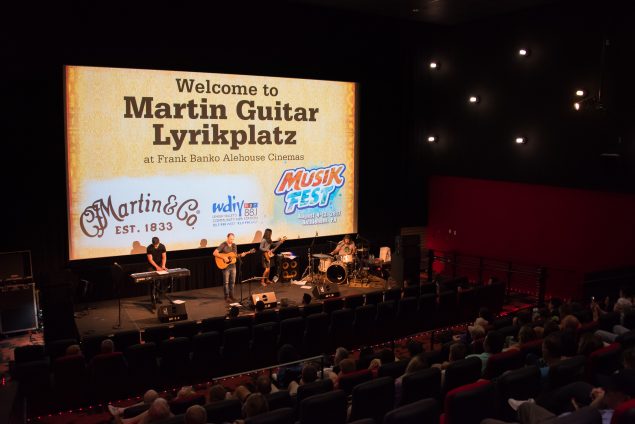 By Michael Guarino, ArtsQuest Marketing Intern / Photo: Diane Richter
Found inside the Frank Banko Alehouse Cinemas, Martin Guitar Lyrikplatz is Musikfest's air-conditioned, acoustic showcase! Below are 10 talented singer-songwriters you can see onstage!
You can find the full lineup of 500+ FREE performances at Musikfest here!
Saturday, August 4, 2018 @ 5:00 PM
The artist behind "The Song of Bethlehem" returns! The LA Hustle is an American "Dempsey Blues" band from Los Angeles, California formed by singer/songwriter Ken Goldstein and drummer Daniel Thomson in 2015. The duo recorded their first songs with legends Marty Rifkin (Springsteen), Benmont Tench (Tom Petty), Leland Sklar (James Taylor) and Leon Mobley (Ben Harper), after the completion of Goldstein's solo album at world-renowned label Capitol Records.
Saturday, August 4, 2018 @ 9:00 PM
Emerging singer/songwriter and Nashville-native Savannah Conley recently released her EP Twenty-Twenty, featuring stand out tracks "All I Wanted" and "Never Be Ourselves". Twenty-Twenty was produced by Grammy Award-winner Dave Cobb. Rolling Stone called her debut work an "emotionally rich collection of tracks full of moody instrumentation and whip-smart lines".
Sunday, August 5, 2018 @ 2:00 PM
Futurist is an alt rock and psychedelic-pop band originally hailing from storied Brooklyn, NY. With a unique take on psychedelic rock, dance-able grooves and earnest songwriting, the group has achieved a sound described as "future-classic." Through constant experimentation and an energetic stage presence, Futurist creates a unique style that inspires and uplifts audiences.
Sunday, August 5, 2018 @ 9:00 PM
Many of Heather Maloney's songs are recorded as single-take, live performances in a room where instruments bleed into vocal mics and vocals into instruments. The result is a raw and deeply vulnerable sound that follows Maloney's exploration of family history, childhood dreams and the adulthood realities that butt-up against them. She will be celebrating the release of her 2018 EP, Just Enough Sun, onstage at Lyrikplatz!
Tuesday, August 7, 2018 @ 7:00 PM
A local Bethlehem and Musikfest favorite, the Billy Bauer Band has played some of the most prestigious music festivals and venues in America. Their sound is craftily woven with electric violin and jam-based folky grooves. The band has opened for Grammy winners and top billboard artists such as Third Eye Blind, OAR, Blues Traveler, and Tim Reynolds.
Saturday, August 11, 2018 @ 2:00 PM
Lifelong friends and deep-north natives, the Michigan Rattlers play heavy-hearted folk-rock with a dose of classic Midwestern "nice". Graham Young (guitar), Adam Reed (upright bass), and Christian Wilder (piano) began writing music and performing together in their Northern Michigan high school, where the copious amounts of snow sure didn't hamper their musical dreams!
Friday, August 3, 2018 @ 9:00 PM
Belle of the Fall is an indie folk, rock pop, alternative Americana duo from CT. Consisting of Tracy Walton and Julia Autumn Ford, the group formed an epic collaboration after years of touring separately. 350 shows, 27 states, a tour of Canada, and two albums later, Belle of the Fall is ready to return to Musikfest in 2018!
Saturday, August 4, 2018 @ 8:00 PM
Inspired by an unwavering love for summers spent in the mountains, Jeremiah Tall is a one-man show based out of Bucks County, PA. Tall's tales range from the struggles of finding your feet to fictional stories of cowboys. A hand painted suitcase converted into a kick drum provides a backbone to his own throwback spin on folk rock. You can see Tall (and his crazy cool suitcase) on the Lyrikplatz stage!
Friday, August 10, 2018 @ 8:00 PM
Cubbage is a Philadelphia-based band rooted in alternative rock, with tastes of blues, jazz, folk, and pop sprinkled in. Put together The 1975's rhythmic pulse, John Mayer's vocals, and Sonny Rollins's saxophone lines and you'll arrive at the band's unique sound. After touring the country and Canada, Cubbage's music has recently been licensed for networks such as MTV, the Discovery Channel and Netflix!
Sunday, August 5, 2018 @ 8:00 PM
The River Drivers is an acoustic band from Bucks County, PA whose passion-infused style draws from Celtic, Americana and Mountain influences. The music of this multigenerational group of friends is known for its high energy, themes of social justice, and stories of hard-working people.
BONUS PLAYLIST!
For a chance to listen to some of these awesome artists before the festival, check out the 2018 Musikfest Free Artists Spotify playlist!