10 Artists to See at Martin Guitar Lyrikplatz!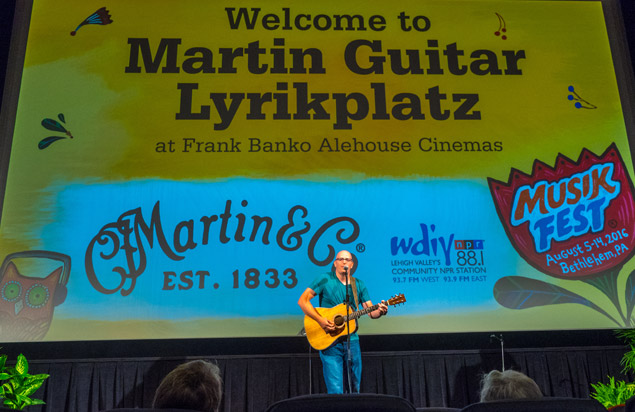 By Calla Kostelnik, ArtsQuest Marketing Intern
Martin Guitar Lyrikplatz at Frank Banko Alehouse Cinemas is Musikfest's air-conditioned, acoustic showcase! Here are just 10 of the many talented singer-songwriters you won't want to miss strumming away!
You can find the full lineup of 500+ FREE performances at Musikfest here!
August 11, 2017 @ 5:00 PM
You'd have to be crazy to not like this gifted young singer! 16-year-old Jordan Kenzie was recently named "Female Artist of the Year" at the Lehigh Valley Music Awards. Kenzie's soulful renditions of popular songs captivates audiences wherever she goes.
August 11, 2017 @ 8:00 PM
Mellow out with lead singer Stephanie Tschech's cello. Auralai's soft yet powerful sound is a blend of indie and pop. The duo's daydreamin' melodies transport their audiences to a place of peace and solitude.
August 9, 2017 @ 9:00 PM
This trio's unique sound is a blend of folk and punk rock and their vocals will remind you of your favorite emo 2000s band. Fun fact: Alex Mery & The Townsmen's first public performance was at none other than our very own ArtsQuest center!
August 10, 2017 @ 7:00 PM
Hip-hop and R&B artist Maria Rosé settles for nothing but the best. Hard work has paid off for for this talented singer-songwriter who recently released her first single "Settlin'". Rosé is very excited for her first 'fest performance and so are we!
August 10, 2017 @ 8:00 PM
Shelly can mend any broken heart with his uplifting music, which is a blend of Americana, folk and blues. He described his latest album, Hope For The Broken, as "a collection of songs filled with hope and peace in a world where people are constantly bombarded by fear and pain."
August 10, 2017 @ 9:00 PM
This indie folk duo and their gentle melodies make for a mesmerizing performance. Vents Magazine wrote, "Belle of the Fall has proven that musical soul mates do in fact exist." The angelic voice of Julia Autumn Ford is perfectly matched with her talented bassist and guitarist, Tracy Walton.
August 12, 2017 @ 6:00 PM
Porter & Sayles are always in sync on stage as they're strumming away. The duo's sound is a mix of pop and folk with vocals similar to the band Lady Antebellum. Porter & Sayles' performances are high-energy and fun!
August 13, 2017 @ 9:00 PM
Romance is alive and well in Laura Promiscuo's recent album Chasing Down the Dream. The up-and-coming pop vocal artist has an empowering voice matched with a spiritual sound but still manages to get her audience dancing!
August 4, 2017 @ 7:00 PM
Just call him Terry the Traveling Troubadour! Jesse Terry connects with his audience wherever he goes and shares his story through his talented songwriting. His warm and welcoming stage presence is bound to put a smile on your face!
August 5, 2017 @ 6:00 PM
Don't worry, you don't need "no money" to see acoustic rock group Billy Bauer Band at Musikfest! This Bethlehem-based band has opened for acts like Third Eye Blind, Uncle Kracker, OAR and more. The band's electric violin gives them their unique folk sound.
BONUS PLAYLIST!
For more information and a chance to listen to some of these awesome artists before the festival, check out the 2017 Musikfest Free Artists Spotify playlist!