10 Artists to See at Provident Bank Main Street!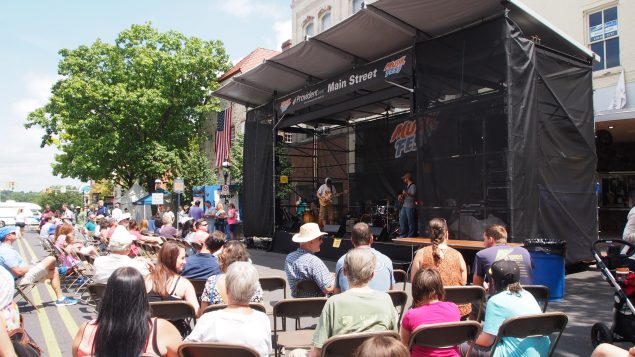 By Madison McCandless, ArtsQuest Marketing Intern
It's entertainment all day long in the heart of downtown Bethlehem! Provident Bank Main Street is home to an outdoor stage presenting rock, folk, jazz, world, and more! While you enjoy the music, you can gobble up some awesome eats, enjoy world-class street performers and support local businesses. Here are just 10 of the performances you have to look forward to!
You can find the full lineup of 500+ FREE performances at Musikfest here!
Tuesday, August 7 @ 5 PM and 6:30 PM
This five-piece, branded as maximalist rock, draws influences from funk, soul, and the blues. The band regularly tours the east coast, having played 54 shows in 2017 and opening ahead of Big Something, Atlas Road Crew, Spafford, Marcus King and more. Bencoolen has also made stops in the festival circuit, including at Firefly Music Festival.
Wednesday, August 8 @ 8:30 PM
With their first EP "Movie Was Bad," they've unveiled an offbeat pop sensibility which draws to mind both the manic spirit of the Talking Heads and the aching balladry of Roy Orbison. By setting the intimate details of singer Jody DeMarco's singularly queer experience against a soundscape which takes cues from the atmosphere of classic horror films, Sixteen Jackies have produced a unique set of torch songs for misfits and weirdos of all kinds.
Monday. August 6 @ 8:30 PM
Rolling Stone Country describes Forlorn Strangers as "a mix of harmony heavy Americana and Laurel Canyon inspired folk-pop." Each member of the band is a multi-instrumentalist and five part harmony weaves throughout every song. With four years of recording and touring experience, the band presents a seamless, high energy live show comprised of catchy, singable songs.
Saturday, August 4 @ 8:30 PM
Strange Familia is a three piece musical collaboration consisting of Brecken Jones, Garret Williams and Nate Bramhall. Established November 2014 in Salt Lake City, Utah, the group is influenced by the life and art of the 20th and 21st century.
Monday, August 6 @ 3PM
Whether you know them as the "dance band to ring in the end of the world with" or by their "raise a glass and drop a beat" attitude, they will leave their mark on you. EGRESS is equal parts unruly vaudeville, ebullient world-beat and three ring circus all the while playing an amalgamation of worldly genres. They catapult the audience with their rambunctious stage show while generating enough energy to light up a small city.
Wednesday, August 8 @ 3 PM
The decorated blues vocalist penned her first song at age 12 and, after the overwhelmingly positive response to her 2007 debut album, Allow Me to Confess, started touring all over the world. Today, Sicilia plays over 150 shows a year and is fiercely motivated to keep pressing forward in the name of musical progress.
Sunday, August 5 @ 6:30 PM
Paying homage to their grandmother, it felt natural for the multi-instrumentalists to orchestrate a line-up of support to flesh out the ethereal brilliance of their vocals. After a stint on one of America's most popular TV shows, the girls chose the less-traveled-grittier but more rewarding- path of an independent act ruled by its own creative convictions.
Friday, August 3 @ 8:30 PM
Few Miles South is a country southern rock group created by South GA raised, Blake English and Los Angeles native, Tori Lund. Tori, a classically trained singer and piano teacher and Blake, a multi-instrumentalist and producer connected over a shared love of country music.
Thursday, August 9 @ 3 PM
Medusa's Disco is a very peculiar high energy, psychedelic rock band from Lancaster, PA that has been captivating audiences for six years. Within this time, the band has released three full length albums and two EPs.
Tuesday, August 7 @ 3 PM
With vintage vibes and modern songs, they are a cross between Tom Petty and the Alabama Shakes. Wonderfully rich, bluesy, hook filled rock 'n' roll. The band hit their hometown scene of Rochester NY in 2016 with their debut EP release, There Goes The Heart. They have since opened for national touring acts Rusted Root, The Legendary Shack Shakers and Jesse Dayton.
BONUS PLAYLIST!
For more information and a chance to listen to some of these awesome artists before the festival, check out the 2018 Musikfest Free Artists Spotify playlist!