10 Artists to See at Provident Bank Main Street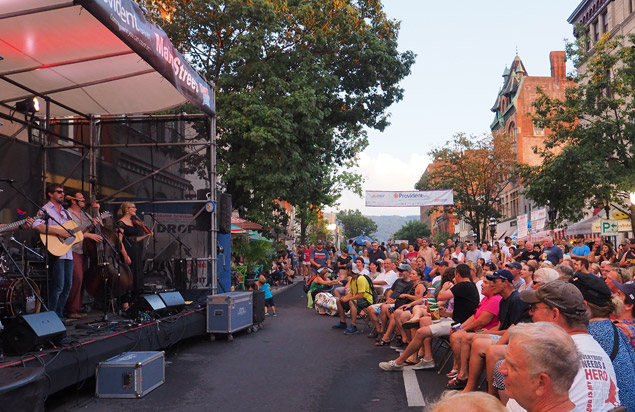 By Sherry Rodriguez, ArtsQuest Marketing Intern
From bluegrass and folk-punk to an indie multi-instrumentalist trio, Provident Bank Main Street's lineup is full of amazing musicians! Picture yourself walking through the historic streets of Bethlehem with a Musikfest mug listening to these ten artists!
You can find the full lineup of 500+ FREE performances at Musikfest here!
Friday, August 4 @ 6:00 PM
Philadelphia-based band, Cold Fronts, are inspired by the indie-rock of the early '00s and punk icons like Iggy Pop, with their own infectious punk rock twist. Sire Records Co-Founder, Seymour Stein, (the same man who signed The Ramones, Talking Heads, and Madonna) signed the group after spotting them playing an impromptu set at SXSW in 2012. The guys' most recent album, Forever Whatever, is a must-hear record!
Saturday, August 5 @ 9:00 PM
The Accidentals are a multi-instrumentalist trio, giving audiences the edgy folk they had no idea they needed. When they're not scoring for films and orchestras, or recording more original music, they're opening for artists such as Andrew Bird, Sixto Rodriguez (Sugar Man), Ladysmith Black Mambazo, Rusted Root, and many more. They were named Billboard Breakout Band at SXSW 2015, Huffington Post's Sweet Sixteen of 2016, and Yahoo Music's Top Ten Bands to Watch 2017. Keep an eye out for the release of their new full-length record under Sony Masterworks!
Saturday, August 5 @ 3:00 PM
The Fontaines are a new wave rock band based in Los Angeles. After debuting their first EP in 2015, the brother-sister duo began touring and playing different festivals including SXSW, Savannah Stopover Music Festival, Broke LA, & others. The band has released several catchy alt-pop singles over the past few months, to hold us over until the release of their upcoming full-length album.
Saturday, August 5 @ 5:30 & 7:00 PM
The Tillers, a Cincinnati bluegrass and folk-punk band, emerged in 2007 when they began playing songs that 'are older than their grandparents.' The band has released five albums that all demonstrate plenty of heart and grit. They have won CityBeat Magazine's Cincinnati Entertainment Award for best Folk and Americana act five years in a row and continue to travel and perform their music across the map.
Saturday, August 5 @ 8:30 PM
Hailing from Philadelphia, Kwesi K is putting his own soulful spin on folk-pop. He is a former Lehigh University football player turned singer-songwriter. His influences range from Dave Matthews to Alanis Moriestte, to Boyz II Men and Bone Thugs to traditional Ghanaian gospel reggae and his father's 70s and 80s soul music. This local star is not to be missed!
Friday, August 11 @ 5:00 PM
NYC surf rock band, High Waisted, is rock and roll and pop with an eccentric 60's garage band style. They sound like a unique cross between Best Coast and Rilo Kiley. GQ Magazine named them "best party band," so catch them when they play Provident Bank Main Street!
Friday, August 11 @ 8:30 PM
Philadelphia-based multi-genre indie band, The Lawsuits were founded in 2007. With a nod to the greats who came before them, modern production, and wide-ranging harmonies, the group has found their sound. Cool Cool Cool, their 2013 release, was produced by Bill Moriarty (Dr. Dog, Man Man), and got the attention of publications such as Rolling Stone, Spin, Paste & Philadelphia's WXPN!
Thursday, August 10 @ 8:30 PM
Precious Kid's sound is 70s punk and contemporary artists such as Arctic Monkeys, Arcade Fire, and St. Vincent. Always down to party, this four-piece has won LA County Fair Battle of the Bands and was added to Vans Warped Tour 2016. They also performed at the Roots N Blues N BBQ Festival in Columbia alongside The Avett Brothers, Grace Potter, Ben Folds, Houndmouth and more!
Saturday, August 12 @ 6:30 PM
Indie Rockers, VoirVoir, are local Bethlehem gems. The group released their debut album, There Are No Good Goodbyes, last year and have since received high praise. Not only have they opened up for The Flaming Lips at 'fest 2015, but they've performed at SXSW. Catch this band before they hit it big!
Wednesday, August 9 @ 8:30 PM
Indie-pop band, The Rare Occasions, was formed while attending Tufts University in 2012. Since then, the dudes have performed at SXSW, NAMM, CMJ, self-produced two critically-acclaimed EPs, and opened for internationally touring acts including Guster, Dirty Heads, and Smash Mouth. Their song "Dysphoric" took home the coveted 'Song of the Year' award in the John Lennon Songwriting Contest.
BONUS PLAYLIST!
For more information and a chance to listen to some of these awesome artists before the festival, check out the 2017 Musikfest Free Artists Spotify playlist!