10 Artists to See at Red Stag Pub Liederplatz!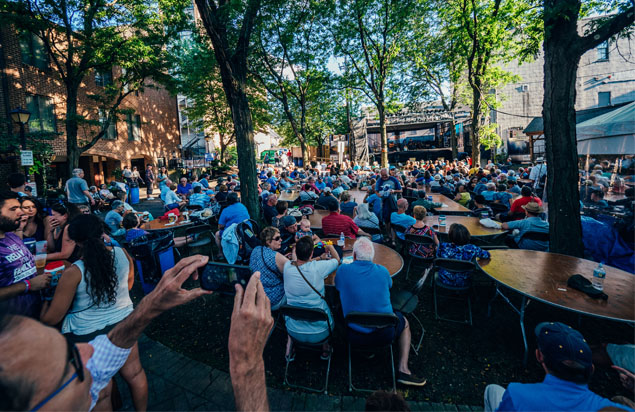 By Madison McCandless, ArtsQuest Marketing Intern / Photo: Ted Colegrove
Love the fresh air but want to cool off? Grab some shade at Reg Stag Pub Liederplatz during Musikfest! While you're there, enjoy a variety of performances from gypsy jazz to psychedelic rock. Here are just 10 of the chill artists playing the friendly confines of Red Stag Pub Liederplatz.
You can find the full lineup of 500+ FREE performances at Musikfest here!
Sunday, August 5 @ 7 PM
Blair Crimmins began his current music career in Atlanta, GA, with a determination to bring Ragtime and 1920s style Dixieland jazz to new audiences. While playing small rock clubs around the southeast he developed a sound that is at once modern while being deeply rooted in the past. A multi-instrumentalist and music academic, Crimmins writes songs and arrangements for a classic New Orleans style horn section consisting of trumpet, clarinet and trombone.
Friday, August 3 @ 7 PM
Sometimes you have to move forward in order to see where you started out-and the hardscrabble wisdom that one gains from that type of journey forms the backbone of Dave Hause's third full-length, Bury Me In Philly. The album is a love letter both to his hometown as well as the larger-than-life rock acts her grew up worshipping as a teenager.
Saturday, August 4 @ 12 PM
With songs like "Found Me A Woman" and the indelible title track reveal a gifted new tunesmith while masterfully reminding one and all of the simple beauty of a great American bar band – two guitars, organ, bass and drums rocking out in the corner, singing their songs to soundtrack the night.
Saturday, August 11 @ 5:30 PM
She was on ABC's American Idol, making it to the top 50.Burned with the sounds of Jimi Hendrix and Johnny Cash, the mistress of New Jersey's pine barren swamps, Carly Moffa kicked off 2018 crafting and releasing a new project "Letters to Myself."
Saturday, August 11 @ 9 PM
Their performances captivate listeners of all ages with a unique blend of styles ranging from blues to rock, finger-style to Celtic and everything in between. These award-winning musicians deliver their exciting sets with a vast selection of both original pieces as well as many songs you will certainly recognize but performed in a way you'll only be able to experience with Craig and Nyke.
Sunday, August 5 @ 4 PM
Massachusetts writer and song-singer Heather Maloney celebrates the release her 2018 EP, Just Enough Sun. The six songs (five new originals and a cover of Dylan's "A Hard Rain's A-Gonna Fall") were recorded as mostly single-take, live performances in a room where instruments bled into vocal mics and vocals into instruments. The result is a raw and deeply vulnerable collection songs that follow Maloney's literate and often heartbreaking exploration of family history, childhood dreams and the adulthood realities.
Saturday, August 4 @ 5:30 PM
Emerging singer/songwriter and Nashville-native, Savannah Conley recently released her EP Twenty-Twenty featuring stand out tracks "All I Wanted" and "Never Be Ourselves". Twenty-Twenty was produced by Grammy Award-winning producer Dave Cobb (Chris Stapleton, Sturgill Simpson, Anderson East) and is Conley's first release in partnership with Cobb's Low Country Sound imprint at Elektra Records.
Saturday, August 11 @ 3:30 PM
Wild Rivers immerse their folk-pop originals into the warm musical styles of the artists that influenced them. With over 20 million streams on Spotify, the four-piece band effortlessly blends exquisite harmonies, beautiful songwriting, and a captivating stage presence, while their vibe fits equally well in listening rooms and symphony halls.
Thursday, August 9 @ 9 PM
A Bethlehem, PA based acoustic rock group, the Billy Bauer Band has played some of the most prestigious music festivals and venues in America. Their sound is craftily woven with electric violin, and jam-based folky grooves. The band has opened for Grammy winners and top billboard artists: Third Eye Blind, OAR, Blues Traveler, Tim Reynolds (of Dave Matthews Band), Pete Francis (of Dispatch), Gin Blossoms, and more.
Monday, August 6 @ 9 PM
The Whiskeyhickon Boys are a three piece power trio. They take songs from all genres of music and make it there own with an eclectic mix of funk, rock, blues, bluegrass, and hip-hop that will make you say to yourself "what is going on". They have been compared to a helicopter – it doesn't look like it could fly, but there it goes, flying through the sky like a bird.
BONUS PLAYLIST!
For more information and a chance to listen to some of these awesome artists before the festival, check out the 2018 Musikfest Free Artists Spotify playlist!