10 Artists to See at Red Stag Pub Liederplatz!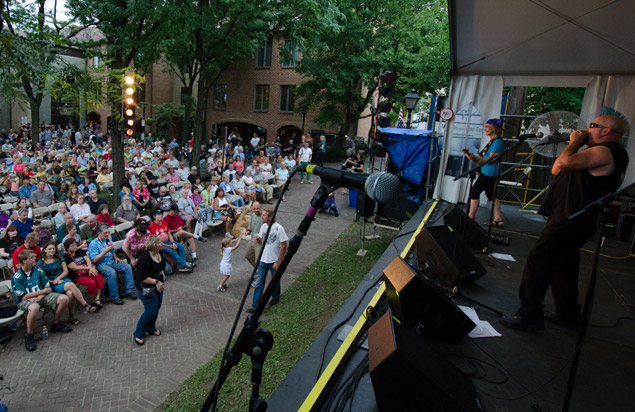 By Calla Kostelnik, ArtsQuest Marketing Intern
Grab some shade at Red Stag Pub Liederplatz during Musikfest! While you're there, enjoy a variety of performances from gypsy jazz to psychedelic rock. Here are just 10 of the chill artists playing the friendly confines of Red Stag Pub Liederplatz!
You can find the full lineup of 500+ FREE performances at Musikfest here!
August 4, 2017 @ 9:00 PM
Vanessa Collier puts heart, soul and sax into any performance. Although she may look sweet, Collier plays a mean saxophone with gritty solos and powerful vocals to match. The master musician is nothin' but smiles when she hits the stage and always leaves the crowd blown away!
August 5, 2017 @ 7:00 PM
Who said guys aren't in touch with their feelings? Heath Green and the Makeshifters use their soulful rock 'n' roll music to release all of their emotions. These deep feel musicians put on an electric and intense performance that you won't want to miss.
August 5, 2017 @ 9:00 PM
Let The Accidentals music take you on an adventure! The trio adds edge to folk music by pairing it with various genres and clever lyrics. The Accidentals are always on the move sharing their peaceful sound with the world.
August 6, 2017 @ 7:30 PM
Let's get wavy! This psychedelic rock band's mind altering music will take your ears on a colorful trip. The Big Drops high-energy performances always get the crowd on their feet and dancing the night away.
August 6, 2017 @ 9:00 PM
King's soulful sound is so hot you might get burned! Her strong southern roots and swagger allows her to stand out from other artists. King's music ranges from sultry to spiritual which makes for one unpredictable performance!
August 11, 2017 @ 9:00 PM
This talented guitarist prefers not to label his music as blues or rock 'n' roll but as "good music." Peter Frampton even called the young musician "the next guitar hero". Curry loves connecting with his bandmates and audience when he's on stage and putting on a great show.
August 7, 2017 @ 9:00 PM
The Billy Price Band lays down the rhythm and blues. With the help of lead singer and Pittsburgh Rock 'n' Roll Legend, Billy Price and his gritty vocals, the band covers blues and R&B classics and puts their own soulful spin on them.
August 10, 2017 @ 9:00 PM
The Vegabonds are a southern rock 'n' roll band that are unapologetically themselves. Their raw and soulful sound is perfectly paired with their lyrics which center around real life struggles. These country fellas love to share their musical journey with the world!
August 10, 2017 @ 7:00 PM
This husband-and-wife duo is the definition of relationship goals! These singer-songwriter soulmates have an Americana and folk sound that is soft and sweet. No matter where they are, Swearingen & Kelli are always in perfect harmony!
August 12, 2017 @ 5:00 PM
This trio's sound is a blend of gypsy jazz, bluegrass and hip-hop. Once described as "an exhilarating all acoustic swirl," Jon Stickley Trio captivates its audiences with their instrumental talent and unpredictable melodies.
BONUS PLAYLIST!
For more information and a chance to listen to some of these awesome artists before the festival, check out the 2017 Musikfest Free Artists Spotify playlist!