10 Artists to See at TD Community Stage!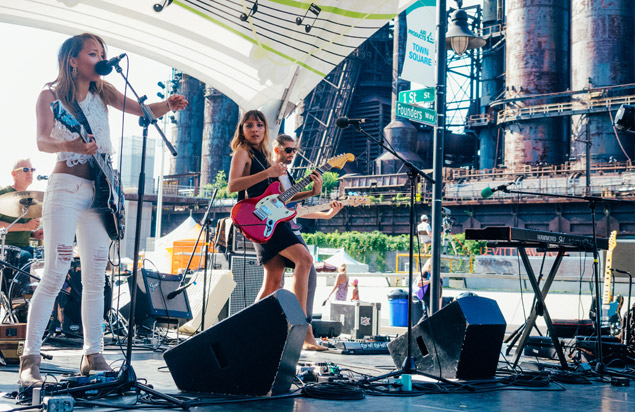 By Calla Kostelnik, ArtsQuest Marketing Intern
Who says the fun has to end at Musikfest? The TD Community Stage at Air Products Town Square keeps the party going past 11 pm! Here are 10 of the many acts you'll have a late night party with from Aug. 4th-13th!
You can find the full lineup of 500+ FREE performances at Musikfest here!
August 5, 2017 @ 11:00 PM
Groove god and band frontman, Nik Greeley, is known for being one of the best performers in Philadelphia and has opened for big name acts like George Clinton & Parliament Funkadelic, Ween and Robert Randolph & The Family Band. Nik Greeley & the Operators performances are a diverse musical experience with elements of rhythm, blues, jazz and a whole lotta funk.
August 13, 2017 @ 4:00 PM
The Blue Stones released their second album Black Holes last year and it is out of this world! This indie-rock band has an otherworldly and electrifying sound. The duo's performances are so intense they might put a black hole in the speakers!
August 12, 2017 @ 11:00 PM
Hailing from Bethlehem, this 5-piece exotic rock band has no limits when it comes to exploring different styles of music. When asked to list the band's genre on their Facebook page, The Insidious Rays wrote, "What?" The band's performances should come with their own warning label due to their explosive sound, high-energy and pure insanity.
August 10, 2017 @ 11:00 PM
When you search "sphynx" on Google, you get a hairless cat. BUT, when you search "Sphynx band," you'll get this unforgettable electronic trio. This groovy glam-rock band has been compared to big name artists like David Bowie and Prince. Sphynx's sound will transport you back to the madness of an '80s dance club.
August 6, 2017 @ 4:00 PM
If you love fuzzy guitars and electronic beats, then you'll love Revolution, I Love You. This electronic rock trio from Philadelphia puts their own spin on classic rock 'n' roll and incorporates alternative, pop and indie in their music. Revolution, I Love You's sound rattles the hearts of any rock 'n' roll junkie.
August 12, 2017 @ 4:00 PM
It's a family affair! Free Range Folk is an 8-piece Americana and bluegrass family band and defines their sound as "roots dirt rock." This country band isn't afraid to get political in their music but also sings about their love for the outdoors, farming and maple sugaring!
August 6, 2017 @ 11:00 PM
CLUBHOUSE is not just your ordinary boy band. This indie pop band, who recently performed at Firefly Music Festival and released their album Kyra, is making big moves this summer. CLUBHOUSE has an energetic and fresh sound that will have you fan-girling all night long!
August 8, 2017 @ 11:00 PM
Porter & Sayles are always in sync on stage as they're strumming away. The talented duo's unique sound is a mix of pop and folk with vocals that sound like the band Lady Antebellum. Porter & Sayles' performances are high-energy and fun!
August 11, 2017 @ 4:00 PM
Leader singer Liz Nordstrom sings from her heart no matter the song. The talented singer-songwriter and guitarist got her start performing at local open mikes before asking her father and uncle to join her. For this Americana and southern rock band, family bonding time is any time they perform together!
August 7, 2017 @ 4:00 PM
Pentley Holmes & the Lucid Dreamers are a breath of fresh air on a sunny day. The vocals of lead singer Pentley Holmes give the band its soulful sound. Dabbling in a variety of genres like pop, folk, soul and rock, Pentley Holmes & the Lucid Dreamers create their own unique music.
BONUS PLAYLIST!
For more information and a chance to listen to some of these awesome artists before the festival, check out the 2017 Musikfest Free Artists Spotify playlist!