10 Artists to See at the PNC Series at the Musikfest Cafe presented by Yuengling!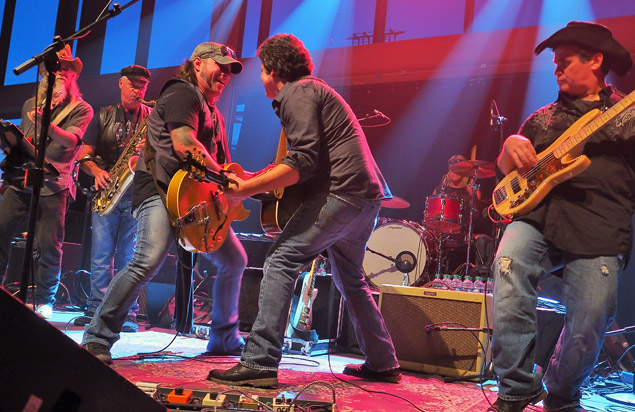 By Calla Kostelnik, ArtsQuest Marketing Intern
Need a break from the heat during Musikfest? Cool off at the PNC Series at Musikfest Cafe presented by Yuengling! Plus, you'll get a full view of the Bethlehem Steel blast furnaces. Check out 10 of the many great performers coming to the venue August 4-13!
You can find the full lineup of 500+ FREE performances at Musikfest here!
Saturday, August 5th @ 10:00 pm
Philadelphia Funk Authority puts the F-U-N in FUNK. The band is one of the largest dance and party bands in Philadelphia. They don't miss a note or a beat and recreate your favorite songs effortlessly. Philadelphia Funk Authority is sure to get the crowd on their feet and dancing the night away, so get ready to shake your groove thang!
Saturday, August 5, 2017 @ 8:00 PM
The Blackbird Society is Philadelphia's premier 1920s hot jazz and dance orchestra. Bravado and unpredictability are two words that describe this orchestra. Heavily influenced by the hot jazz bands of The Roaring '20s like Duke Ellington, Bing Crosby and the Rhythm Boys and Louis Armstrong, the orchestra will get your fingers snapping and foot tapping. Their sound will transport you back to a time of fringe dresses, bobbed hair and bootleggers.
Thursday, August 10, 2017 @ 9:30 PM
Lost in Place is New Jersey's premier classic rock band that plays a diverse mix of '60s, '70s, '80s and '90s songs from the Beatles, The Rolling Stones, David Bowie and more. If you close your eyes, you'll think you're listening to the original! The band always put on a rock-solid and high energy performance that gets the crowd going. Lost in Place is rock 'n' roll the way it was meant to be!
Sunday, August 6, 2017 @ 5:30 PM
Sunshine Symphony spreads a little sunshine your way by covering your favorite songs from the '80s to today. Sunshine Symphony lights up the stage and knows how to keep the party going with upbeat pop music that will put you in a cheerful mood. The band members' bright and energetic voices will have you dancing and singing along!
Friday, August 4, 2017 @ 10:00 PM
Based in the Lehigh Valley, Lucky 7 band is known for their renditions of classic funk and dance music. Lucky 7 gets the crowd movin' and groovin' to the funky beat and always dances along with you. The band's unstoppable energy and strong vocals make for an unforgettable performance that you won't want to end!
Sunday, August 6, 2017 @ 8:00 PM
The boys are back in town but left their long hair, leather pants and studded belts at home! Magnum established themselves as one of the Lehigh Valley's favorite bands when it formed in 1978. Magnum performed with great artists like Hall and Oates and Dave Mason. Although the band stopped performing in 1994, they continue to rock the stage at reunion concerts just like the old days!
Wednesday, August 9, 2017 @ 5:30 PM
Friars Point formed in 2006 and became one of the Lehigh Valley's top blues & rock bands. The band continues the evolution of the blues by covering the classics and also producing their own contemporary blues songs. Friars Point's high energy approach to the blues makes for one bold performance!
Saturday, August 12, 2017 @ 7:30 PM
Dustin Douglas & the Electric Gentlemen captures the old school vibe of the late 60s blues-laced rock 'n' roll. The trio band's retro and unique sound is described by lead singer, Dustin Douglas, as "Jimi Hendrix experience meets Zeppelin." Be careful not to stand too close because you may get ZAPPED by their electric sound!
Wednesday, August 9, 2017 @ 7:30 PM
Missed Jazz Fest in New Orleans this year? Don't worry! Philly Gumbo band is known for being the pioneers of New Orleans music in Philadelphia for more than a quarter of the century. The band offers a diverse blend of New Orleans R&B, blues and reggae. Philly Gumbo always gives their audience an authentic New Orleans musical experience!
Friday, August 4, 2017 @ 8:00 PM
Get ready to Jitterbug! Chelsea Reed and the Fairweather Five is devoted to swing and blues music. Chelsea Reed's outgoing stage swagger makes it easy for her to engage with any crowd when she sings. The band loves exploring jazz roots and keeping forgotten jazz songs alive as well as producing their own original songs.
BONUS PLAYLIST!
For more information and a chance to listen to some of these awesome artists before the festival, check out the 2017 Musikfest Free Artists Spotify playlist!