10 Artists to See at Wells Fargo Festplatz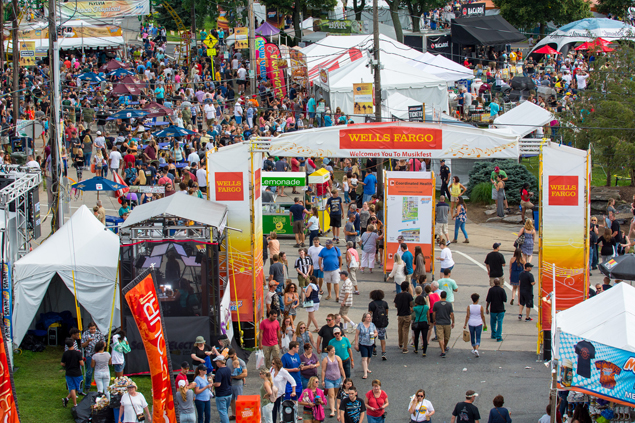 By Michael Guarino, ArtsQuest Marketing Intern / Photo: Keith Huylebroeck
Home to Musikfest's only dance floor (although we encourage dancing everywhere), the Wells Fargo Festplatz lineup has tons of FREE bands! You'll discover party and tribute bands, polka and funk music, and everything in between! Wells Fargo Festplatz truly has something for everyone.
You can find the full lineup of 500+ FREE performances at Musikfest here!
Saturday, August 4, 2018 @ 8:30 PM
From Bill Withers to The Rolling Stones, Kool and The Gang to Blondie, there's no artist, band, or genre untouchable to the Aardvarks! For more than 10 years, the 'Varks have been evolving into the premier rock band of the Lehigh Valley, mixing time periods, styles, and original music into their non-stop, high-energy sets. With the group's collective talent and tight delivery, they've got the real deal rock n' roll package.
Monday, August 6, 2018 @ 4:00 PM
The Nerds (Spaz, Mongo, Biff and Stretch) are America's Party Band Fun-omenon. Formed in 1985, their stage show was largely influenced by Monty Python's love of the absurd and Howard Stern's disregard for tact. They have performed on MTV, The View, Last Call with Carson Daly, and several other well-known TV shows. The band has shared the stage with some of music's biggest acts, including Sheryl Crow, Earth, Wind & Fire, Train, and Jon Bon Jovi.
Sunday, August 12, 2018 @ 7:30 PM
The Philadelphia Funk Authority was created with one thing in mind – to provide fans with the best in high-energy dance and party entertainment! These talented musicians bring together the experience of thousands of performances and are returning to Musikfest to deliver their thrilling entertainment experience once again.
Sunday, August 5, 2018 @ 7:30 PM
Get ready to release your inner flower child and take a groovy trip back in time with The Large Flowerheads! A seven-time winner of the Lehigh Valley Music award for Best Rock Band, the group delivers the sights and sounds of the 60s with their colorful music and paisley shirts. They are sure to rock your world in their return to Musikfest, with hits from The Beatles, Mama & the Papas, The Rolling Stones, and many more.
Tuesday, August 7, 2018 @ 8:00 PM
Blending the rhythms of dance music with popular melodies, Go Go Gadjet straddles the line between band and DJ like few others. Their innovative combination of traditional instruments with modern synths and controllers has allowed them to craft a sound and presentation that is uniquely their own. A decade on the road has molded this PA-based group into an entertainment machine.
Sunday, August 12, 2018 @ 3:30 PM
Not your ordinary oompah band! Polkadelphia plays both traditional tunes and modern covers by artists such as Radiohead and the Beatles. Whether rocking out at the local biergarden or strolling through the bustling tents at Oktoberfest, they always bring das haus down.
Tuesday, August 7, 2018 @ 12:00 PM
With over 20 years of combined experience in the music industry, LEGACY delivers a hot party package to the Festplatz stage! This 9-piece professional line-up packs a feel-great punch of a performance to keep the dance floor packed. From party classics to the top hits of today, the band captivates an audience of any age. Blend a full rhythm and horn section with unsurpassed vocals and you've got this top shelf musical cocktail.
Friday, August 10, 2018 @ 3:30 PM
Get ready to dance at Festplatz with this popular Musikfest returner! Fritz's Polka Band (FPB) was formed in 1978 by the late Fred Scherz Sr. and his eight-year old son, Fritz, for whom the band was named. The group performs an eclectic mix of musical styles, including modern-style polka, country, rock and even blues! FPB is not just an oompa-pa or stereotypical "polka" band, and have vowed to carry on Scherz Sr.'s legacy by breaking the "polka stereotype" show by show!
Friday, August 3, 2018 @ 8:30 PM
Pop band arranging music with a heavier EDM feel! The music of Flowers for Taco is great for singing along and partying at any event or venue.
Wednesday, August 8, 2018 @ 8:30 PM
One of Lehigh Valley's favorite country bands, Crazy Hearts plays a mix old and new hits. The band has opened for national recording stars such as Josh Turner, Big and Rich, Rodney Adkins, Billy Currington, David Lee Murphy, and many others. They have won over twenty music awards from the Lehigh Valley Music Association in the last several years and will bring their talents to the Festplatz stage this August!
BONUS PLAYLIST!
For a chance to listen to some of these awesome artists before the festival, check out the 2018 Musikfest Free Artists Spotify playlist!