10 Artists to See at Wells Fargo Festplatz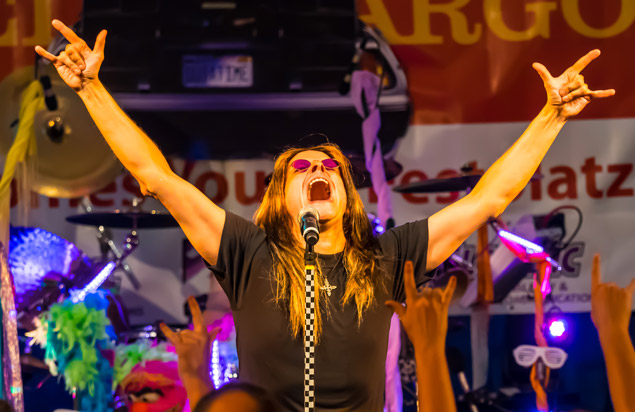 By Sherry Rodriguez, ArtsQuest Marketing Intern
Home to Musikfest's only dance floor (you can dance anywhere, really…but like, an actual dance floor), the Wells Fargo Festplatz lineup has all of the FREE party bands you can imagine. You will find unbelievable tribute bands, polka, funk, and everything in between, so there's something for every party animal.
You can find the full lineup of 500+ FREE performances at Musikfest here!
Sunday, August 13 @ 7:30 PM
We are thrilled to have Philadelphia Funk Authority back at this year's 'fest. The energetic group specialize in funk, R&B, soul, and 70s dance music. Several accolades have been awarded to the band on behalf of their incredible musicianship, including The Knot's 'Best of Weddings', five years in a row, Philly Hot List's 'BEST Music' 2012 winner, & Philly Happening List's 'Best Wedding Band' in 2016!
Monday, August 7 @ 8:00 PM
The '80s strike back with captivating tribute band, Rubix Kube. For over a decade, the New York-based band has been transforming before their audience's eyes, from Madonna to Bon Jovi, Boy George to Michael Jackson, and more. They have played on stage with members of Twisted Sister, STYX, Bret Michaels of Poison, Colin Hay of Men at Work, and many other '80s legends! See the band that Kelly Ripa praised as "Amazing. You definitely have to check it out, it's so much fun. It's like going back to The Eighties!"
Wednesday, August 9 @ 4:30 PM
Summer Son is a fresh take on old and new country hits, with their own Country/Folk/Electro-Bluegrass sound. Each member hails from a different part of the country, from Pennsylvania to Hawaii, and Austin, TX to Iowa and Chicago. They have traveled up, down, and all-around the U.S., playing festivals like Country Thunder, The Long Grove Strawberry Festival, The Forest Park Music Fest, Palatine's Hometown Fest & Street Fest, as well as a feature spot in Key West's world-renowned Fantasy Festival!
Saturday, August 5 @ 8:30 PM
Four out of the six original members of The Amish Outlaws had a strict Amish upbringing. After realizing life in Lancaster, PA wasn't for them, they left and delved deep into American pop culture, and fell in love with the music. At their shows, you can expect to see grown men in full Amish garb, shredding electric guitars, playing anything from Johnny Cash to Jay Z, Lady Gaga to Snoop Dogg and Dr. Dre, Bon Jovi to Elvis Presley, and much more!
Monday, August 7 @ 4:00 PM
Formed in Luzerne County in 2005, M-80 covers the soundtrack of the '80s. The multi-award winning cover band has performed thousands of shows through 12 US states and six countries, and has won several "Best Cover Band" awards. Although there have been member changes over the years, the crew seems to be getting better and better!
Friday, August 4 @ 8:30 PM
Five-member group, The Aardvarks are the premier rock band of the Lehigh Valley, and for good reason. For over 10 years, the band has been keeping the spirit of rock n' roll alive through their powerhouse covers of The Rolling Stones to Bill Withers, to Kool and the Gang to Blondie, and everything in between!
Saturday, August 12 @ 8:00 PM
Strawberry Fields is a look-alike, sound-alike Beatles tribute band committed to getting as close as possible to a real Beatles concert. They guys stay true to the Beatles brand by speaking in Liverpudlian accents and play on similar vintage musical instruments that Beatles members have used themselves. The band has shared the stage with the drummer for Paul McCartney, Tony Sheridan who recorded one of the Beatles' albums, and Pete Best, the early drummer for the Beatles!
Thursday, August 10 @ 4:00 PM
'50s & '60s Oldies Doowop Group, The Paramounts, are the real deal. They recorded a couple hits in the 50's titled "Trying" and "Girlfriend" which reached #100 on the Billboard Charts, and with the addition of a few new members, are still crooning today. These tri-state area favorites are not to be missed!
Saturday, August 12 @ 5:00 PM
Founded in 2001, tribute band to the British Invasion and beyond, The English Channel have been diligently recreating songs from the 60's and 70's to sound just like the original recording. Their dedication to their craft and their energy on stage had them voted "MOST FUN BAND" by the readers of Richmond, VA's Style Weekly magazine!
Friday, August 11 @ 3:30 PM
Dual-fronted, multi-instrumental band, Flowers for Taco has become a favorite musical group in the Lehigh Valley since their formation in 2013. They have played up and down the east coast with their diverse collection of current and recurrent tunes. The band doesn't play just one song at a time either- most tracks are groups of 3-5 songs that are fused together to ensure an uninterrupted dance party!
BONUS PLAYLIST!
For more information and a chance to listen to some of these awesome artists before the festival, check out the 2017 Musikfest Free Artists Spotify playlist!