10 Artists to See at Yuengling Lagerplatz!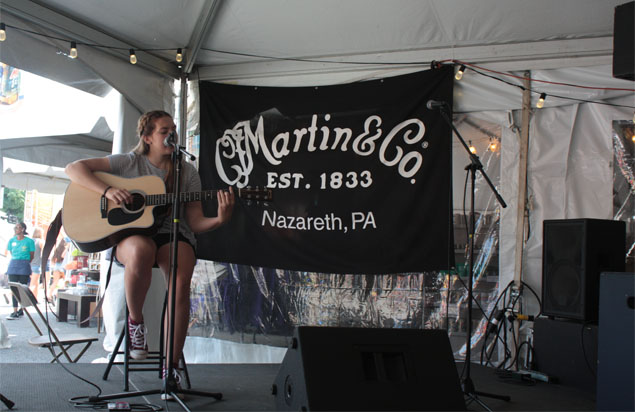 By Madison McCandless, ArtsQuest Marketing Intern / Pictured: Megan Hunter
Visit Main and Spring Streets on the North Side to experience this venue! Grab a mug full of your favorite Yuengling beer and enjoy acoustic "mini sets" by these artists at Yuengling Lagerplatz! You can also perform for the Musikfest crowds at the Martin Guitar Jam Stage and pick up some stylish Martin Guitar and Yuengling merchandise while you're there!
You can find the full lineup of 500+ FREE performances at Musikfest here!
Wednesday, August 8 @ 12:30 PM
Bencoolen is a rock band from Washington DC.The five-piece, branded as maximalist rock, draws influences from funk, soul, and the blues. One No Depression writer described Bencoolen's live act as: ""Everything I had hoped for. Their enthusiasm and energy filled the room as the crowd looked on, filling up the venue with a prominent and boisterous vibrancy."" The band regularly tours the east coast, having played 54 shows in 2017 and opening ahead of Big Something, Atlas Road Crew, Spafford, Marcus King and more. Bencoolen has also made stops in the festival circuit, including at Firefly Music Festival.
Saturday, August 4 @ 3 PM
With songs like "Found Me A Woman" and the indelible title track reveal a gifted new tunesmith while masterfully reminding one and all of the simple beauty of a great American bar band – two guitars, organ, bass and drums rocking out in the corner, singing their songs to soundtrack the night. The National Reserve is now planning to bring all the fun and fire of their fervent Friday night sets to the rest of the world, eager to pack as many folks into their late night scene as possible.
Saturday, August 11 @ 2:30 PM
She was on ABC's American Idol, making it to the top 50.Burned with the sounds of Jimi Hendrix and Johnny Cash, the mistress of New Jersey's pine barren swamps, Carly Moffa kicked off 2018 crafting and releasing a new project "Letters to Myself."
Sunday, August 5 @ 3 PM
Nalani & Sarina, identical twin sisters from New Jersey, have developed a distinctive and infectious blend of soul-rock and modern pop that is sure to keep their faces in the spotlight for years to come. Their smart, kinetic live show has made the sisters favorites on the Northeastern club circuit. Legendary rock critic and SiriusXM radio host Dave Marsh called their material "a splendid melding of 'classic' and contemporary styles" and "some of the best music being made today." Fans, critics, and taste-makers have echoed his high praise.
Saturday, August 4 @ 5 PM
Strange Familia is a three piece musical collaboration consisting of Brecken Jones, Garret Williams and Nate Bramhall. Established November 2014 in Salt Lake City, Utah, the group is influenced by the life and art of the 20th and 21st century.
Tuesday, August 7 @ 2 PM
Devastatingly powerful vocals and retro-rock guitar, with lyrics that run the gamut from vulnerable to all-out venomous: Jocelyn & Chris Arndt are creating a new generation of authentic album rock.
Sunday, August 5 @ 7 PM
A Bethlehem, PA based acoustic rock group, the Billy Bauer Band has played some of the most prestigious music festivals and venues in America. Their sound is craftily woven with electric violin, and jam based folky grooves. They built their fan base the old fashioned way, through years of touring and great live performances. The band has opened for Grammy winners and top billboard artists: Third Eye Blind, OAR, Blues Traveler, Tim Reynolds (of Dave Matthews Band), Pete Francis (of Dispatch), Gin Blossoms, and more.
Saturday, August 4 @ 3:30 PM
Fronted by vocalist Gretchen Klempa, Gretchen and the Pickpockets are a six piece soul/jazz rock band that features heavy horn lines and a healthy dose of improvisation. Accolades include two Iguana Music Fund grants from Club Passim, Best in State: New Hampshire 2015 from the New England Music Awards and Best Rock Band 2015 from the Seacoast, NH Spotlight Awards.
Saturday, August 11 @ 2 PM
Dave Cavalier is an alternative blues artist deeply connected to his roots in Chicago but firmly focused on establishing the potency of his sound in the City of Angels. Since HOWL was released in 2015, Cavalier has performed with Buddy Guy, Eddie Vedder, Don Henley, Kendrick Lamar, Kenny Wayne Shepard, Amos Lee, Band of Horses and many more at festivals across the country, continuing to fine tune his sound in the process.
Saturday, August 11 @ 4 PM
Cubbage is a Philadelphia-based band rooted in alternative rock, with tastes of blues/jazz, folk, and pop influence. Put together The 1975's rhythmic pulse, with John Mayer-like vocals, and Sonny Rollins-like saxophone lines and you've got an idea of the sound. Cubbage, winner of the Lehigh Valley Music Awards' "Best New Artist," has toured the country and Canada, played multiple festivals and conferences around the east coast, has been featured in top 2016/2017 playlists and has had his music recently licensed for networks such as MTV, Discovery Channel and Netflix.
BONUS PLAYLIST!
For more information and a chance to listen to some of these awesome artists before the festival, check out the 2018 Musikfest Free Artists Spotify playlist!