10 Artists to See at Yuengling Lagerplatz!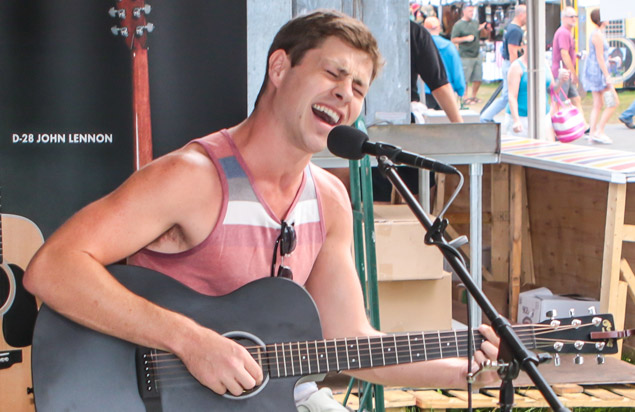 By Sherry Rodriguez, ArtsQuest Marketing Intern / Photo: Bob Yurko
Visit Main and Spring Streets on the North Side to experience this BRAND NEW venue! Grab a mug full of your favorite Yuengling beer and enjoy acoustic "mini sets" by these artists at Yuengling Lagerplatz! You can also perform for the Musikfest crowds at the Martin Guitar Jam Stage and pick up some stylish Martin Guitar and Yuengling merchandise while you're there!
You can find the full lineup of 500+ FREE performances at Musikfest here!
August 5, 2017 @ 7:00 PM
Philadelphia-based pop punk band, Above the Mendoza originated at Temple University in the Spring of 2015. Their music will give you serious teenage angst nostalgia. If you're a fan of popular alt-indie bands such as The Wonder Years and Modern Baseball, then these guys are for you!
August 8, 2017 @ 4:00 PM
Brian Fitzy has a knack for creating music that melds together different decades and transcends genre. The composer/singer/songwriter performed with the Foo Fighters at the 2008 Grammy Awards as a Top 3 finalist in the "My Grammy Moment" competition. His strong vocals, unique sound, and ability to play multiple instruments make for an incredible live show!
August 9, 2017 @ 6:00 PM
The Rare Occasions are a four-piece garage rock band hailing from Los Angeles. Their retro, surf-rock sound, and impressive lyricism have led them to perform at festivals such as SXSW and CMJ. They've been openers for huge acts including Dirty Heads, Lupe Fiasco and more!
August 4, 2017 @ 7:00 PM
New School rock band, Supérmac are here to make you dance and want to blow shit up. If you like garage rock and supporting local music then you'll love these young Bethlehem natives.
August 11, 2017 @ 6:00 PM
Nalani & Sarina are twin musicians and songwriters originally from New Jersey. The two have been making music together since they were kids and are multi-instrumentalists, playing guitar, piano, and ukulele. Their pop, rock, and soul fusion, along with their powerful harmonies are a must-see!
August 11, 2017 @ 9:00 PM
Allentown, PA is home to power pop band Summer Scouts. The four-piece has haunting female/male vocals and a similar overall sound to artists such as Paramore and Explosions in the Sky. The group has also shared stages with musicians such as Echosmith, Andrew McMahon in the Wilderness, Anthony Green, Body Language and others!
August 12, 2017 @ 1:00 PM
Philadelphia native, Cubbage is a multi-instrumental folk/pop singer-songwriter. He decided to leave Ithaca College School of Music after three semesters and dove head first into a life of recording music full-time. Other than playing Musikfest, he's performed at Millennium Music Conferece, Singer-Songwriter Cape May, and was featured as an artist on NoiseTrader's home page!
August 12, 2017 @ 9:00 PM
Time Gap is a teenage blues band from the Philadelphia area. The foursome met at blues jams and school and have been playing together ever since. They play songs by The Allman Brothers, BB King, Buddy Guy, and other blues legends, as several of their own originals!
August 7, 2017 @ 5:00 PM
Ecuadorian-American singer-songwriter, Sara Ontaneda is based in NYC. The musician has folk, R&B, and latin influences. The Huffington Post rates her most recent album, 'Entre Espacios y Colores' as "an excellent album overall, with mainstream appeal… there's no fluff, just great Nu-Latin jazz music. And Sara's voice is not to be missed."
August 8, 2017 @ 7:00 PM
Chicago musicians, Almond & Olive make music that goes beyond the traditional folk and Americana genres. Their modern acoustic pop flair and the duo's beautiful overlapping vocals are chill-inducing and not to be missed!
BONUS PLAYLIST!
For more information and a chance to listen to some of these awesome artists before the festival, check out the 2017 Musikfest Free Artists Spotify playlist!