10 New Treats to Try at Musikfest
By Emily Cummins, Public Relations Coordinator
As Musikfest returns for its 34th year, pig candy bacon, vegan Brazilian bowls, lobster mac & cheese and s'mores dumplings are among the hundreds of delicious eats and treats that attendees can enjoy at the festival Aug. 4-13.
Some 37 different food vendors – at 60 locations scattered throughout north and south sides of the festival – will be a part of Musikfest, with chefs, food trucks and other culinary gurus coming from as far away as North Carolina.
Check out our 10 picks for the coolest new bites coming to Musikfest!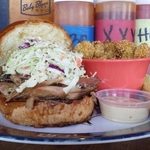 1. Pig Candy Bacon – Baby Blues BBQ
This Philadelphia-based food truck has been featured on Food Network's" Diners, Drive-Ins and Dives" and named to USA Today's "10 Best in Los Angeles" travel guide. From pulled pork to grilled wings, Baby Blue BBQ knows its meat but the standout dish has to be pig candy bacon, strips of bacon glazed with down-home sugary, spicy flavor and smoked to perfection. You can't have just one.
2. Red Velvet Funnel Cake – FryDay Concessions
The epitome of festival desserts, funnel cake is a North American delicacy with roots tracing back to Pennsylvania German immigrants. FryDay Concessions puts its twist on the classic by swapping the traditional dough with red velvet, a rich cocoa-flavored cake with a distinctive reddish color. The decadent dishes don't stop there. FryDay Concessions offers an array of deep fried foods like bacon-wrapped Reese's Peanut Butter Cups, chocolate chip cookie dough, N.Y.-style cheesecake and more.
3. Pie in a Cone – Pies to Die For
You've heard of walking tacos, now here's a walking pie. Grab mobile pie in a cone, filled with apple, cherry or blueberry, and topped with whipped cream from Bangor's own Pies to Die For Café.
4. Lobster Mac & Cheese – Harvest Specialty Catering
Fresh off the New Jersey Seafood Festival in Belmar and the Bradley Beach Lobster Festival, Harvest Specialty Catering serves up shrimp quesadillas, shrimp skewers and its signature dish, lobster mac & cheese, which pairs elbow macaroni and a classic cheese blend with large pieces of lobster meat.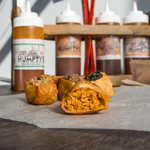 5. Jalapeno Bacon Mac & Cheese Dumplings – Humpty's Dumplings
Looking to try something outside of the box? Named the best food vendor at Bonnaroo in 2016 by Rolling Stone Magazine, Humpty's Dumplings of Elkins Park, Pa. offers crisply fried and generously stuffed dumplings featuring flavors like cheesesteak, roasted pork, broccoli cheddar, roasted cauliflower, chicken bacon ranch and the outrageously rich jalapeno bacon mac & cheese.
6. Apple Pie Dumplings – Humpty's Dumplings
What's better than dumplings? Sweet ones! The chefs behind this creative restaurant also fill the bite-sized morsels with cheesecake and apple pie. Yum!
7. Aladdin Naan – Grumpy's World B Que
This year, Grumpy's Bar-B-Que Roadhouse of South Whitehall Township is ditching its typical menu in favor of global cuisine with its all-new food truck! Grumpy's World B Que food truck offers unique flavors like Korean short rib tacos, Jamaican jerk shrimp and scallops and the Aladdin naan, which features curried chicken, mango chutney and mint lime yogurt.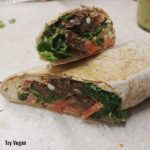 8. Brazilian Bowls – Try Vegan
A hit at Bonnaroo and New York's Governors Ball Music Festival, Try Vegan is the first all vegan food vendor at Musikfest. This food truck's grilled Portobello and falafel wraps, vegan burgers, hummus, salsa and guacamole are sure to excite vegan palates, but its Brazilian bowls, loaded with rainbow colored vegetables and tropical fruit, might steal the show.
9. Fried Mashed Potatoes – Couchpotadoh Food Truck
It's the best of both worlds. With a crispy outside and smooth creamy center, fried mashed potatoes make the Couchpotadoh Food Truck a pure tater haven. Other highlights include fresh cut fries, mozzarella empanadas and fried dough.
10. Local Pizza and Cheese Steaks – Hellertown Crossroads Hotel
A local legend, Matey's Crossroads Hotel first opened in 1953 serving up classic eats like cheese steaks served with onions, house sauce and pickles as well as thin and crispy pizza. After a brief closure, the historic joint reopened in 2016 and will make its first Musikfest appearance this year for those craving the comforting tastes they grew up.
For the complete list of Musikfest food vendors visit www.musikfest.org/lineup/food or download the free Musikfest App presented by PNC Bank, available at www.musikfest.org/app for all Apple iOS and Android operating systems.