Architects of Air: Step into a World of Wonder
Monumental Attraction At Musikfest Offers Dazzling Maze of Light & Color
By Emily Cummins, Public Relations Coordinator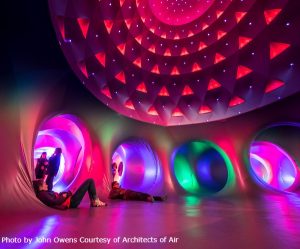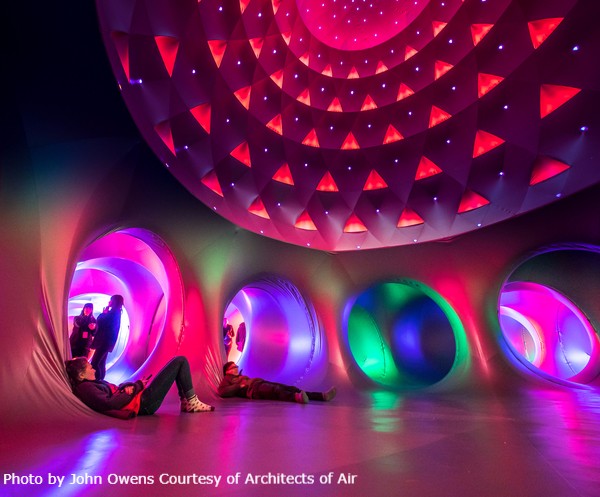 It's been described as "walking through a stained glass window" and more simply as a "gorgeous, transformative experience," but to witness Architects of Air from the outside, you may discount it as a plain looking inflatable structure. It's inside where the magic happens; the radiance of daylight transmitted by colored PVC creates a luminous effect that dazzles the senses. Through labyrinthine tunnels and cavernous domes, you move in a medium of saturated and subtle hues. Vivid reflections of liquid color spill through the curved walls creating a world apart from the normal and every day.
Architects of Air: Katena Luminaria, a massive inflatable art installation, will welcome visitors to the new Experienceplatz venue at Musikfest Aug. 4-13. Equivalent to half a football field in size, the monumental attraction, presented by Think Energy, invites visitors to enjoy a stunning experience as they walk through a maze of winding paths and marvel at the structure's 30-feet-tall domes.
"Over the past few years we've really expanded our art offerings at the festival and our patrons have responded very favorably to these additions," says ArtsQuest Chief Programming Officer Patrick Brogan. "Architects of Air, however, is unlike any of the other attractions we've presented before. This is a spectacle and an experience that has dazzled thousands of patrons at festivals and events across Europe, Canada and the U.S., so we're really excited to bring it to Musikfest. We know it will be a hit with all ages, both children and adults!"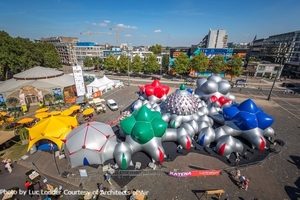 Designed by British artist Alan Parkinson, Architects of Air has enchanted audiences around the world since 1992 with more than 600 exhibits in 41 countries, including appearances at Hong Kong's Lantern Festival, the Kilkenny Arts Festival in Ireland and Edinburgh Fringe Festival.
"I design luminaria because I want to share my sense of wonder at the phenomenon of light," Parkinson says. "A luminarium provides the frame for an encounter with a light who's surprising and simple intensity cuts through conditioned perception."
Initially inspired by the basic concept of large bouncy inflatables, Parkinson set out to improve structural weaknesses of the children's recreational piece and later began experimenting with geometric design elements. Eventually he looked to the architecture of Gothic cathedrals and Islamic domes, as well as the work of innovators like Antoni Gaudi, Frei Otto and Buckminster Fuller.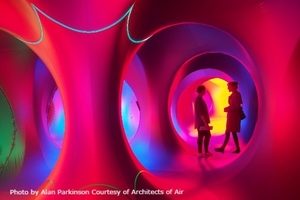 "As an energy supplier, we believe backing this innovative display of light is a natural fit for us and an extension of our parent company's rich tradition of supporting important civic causes. It's an honor to be a part of it," says John Henderson, head of Think Energy, a part of the international energy group ENGIE. "Think Energy is a longtime supporter of Musikfest, so we couldn't be more excited to help bring this unique experience to festivalgoers."
Interactive and immersive in design, Parkinson says that each guest of luminaria takes away something different from the experience, and that is the joy of his creation.
"I am continually amazed by how well the luminaria engage people's attention and enthusiasm. Perhaps there is a modern need that is met by this kind of secular hybrid cathedral/mosque structure in which light is the nourishment that feeds a hunger for meaning. Whatever its significance may be, I feel very fortunate to have stumbled across this way of making my living," Parkinson says.
Architects of Air
Presented by Think Energy
At Musikfest's Experienceplatz
Aug. 4, 6-10 p.m., and Aug. 5-13, noon-10 p.m.
$5 at the gate