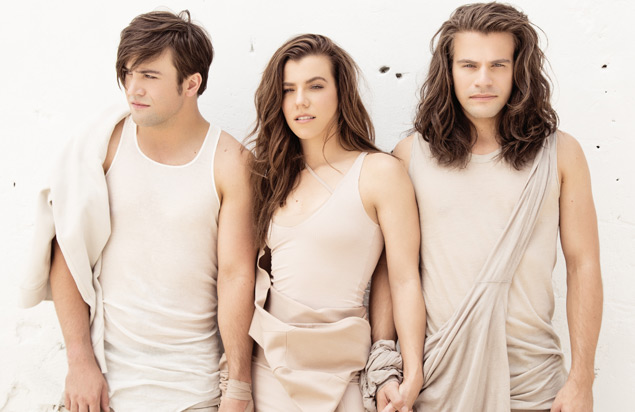 GRAMMY® Winners The Band Perry to Headline Musikfest Aug. 11
January 18, 2017
GRAMMY® winning superstar sibling trio The Band Perry will kick off Musikfest's final weekend with a sizzling performance at the festival's Sands Steel Stage Aug. 11, at 7 p.m. Tickets for the concert are $39-$59 and go on sale starting Jan. 24, 10 a.m., to ArtsQuest Members and Jan. 27, 10 a.m., to the public at www.musikfest.org and 610-332-3378.
Over the past few years, The Band Perry has been an unstoppable presence in music. Their 2010 self-titled debut recording featured five hit singles including the sextuple-platinum chart-topper "If I Die Young," as well as the platinum-selling "You Lie" and "All Your Life." In 2013, the trio followed their sensational debut with the gold-certified "Pioneer," featuring the platinum-selling No. 1 singles "Better Dig Two" and "DONE," as well as smash hits "Don't Let Me Be Lonely" and "Chainsaw."
During their career, Kimberly, Reid and Neil Perry have earned multiple awards from the likes of The Country Music Association, CMT Music Awards, the American Country Awards and the Academy of Country Music, and in February 2015, they captured their first GRAMMY® Award for Best Country Duo/Group Performance. The Band Perry were also named ambassadors for Teen Cancer America – a charity founded by The Who's Roger Daltrey – and in 2016 their single "Live Forever" was the official song of Team USA at the Summer Olympics in Rio De Janeiro.
The Band Perry concert is supported by Mane & Tail, along with media partner Cat Country 96. Other Sands Steel Stage headliners announced so far include Santana Aug. 4, Toby Keith Aug. 10 and Lee Brice and Justin Moore Aug. 12.
One of the largest music festivals in the nation, Musikfest features more than 500 performances on 15 stages throughout Bethlehem over 10 days. Dates for the 34th edition of the festival are Aug. 4-13, 2017. For more information, visit www.musikfest.org or follow the festival at facebook.com/Musikfest and twitter.com/Musikfest.