Kid's Activities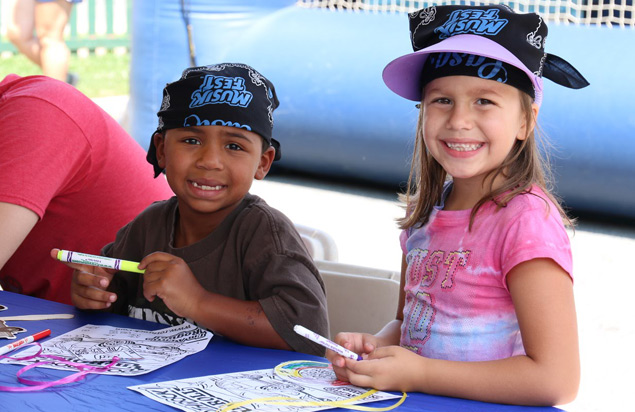 If you're a kid, or an aspiring artists at any age, then Spark Orthodontics Familienplatz is the place to be! The Crayola Creativity Tent is the destination for younger 'festers to get crafty with cool activities, embark on a treasure hunt or leave their mark on the Musikfest community mural.
Spark Orthodontics Kinderplatz Creativity Tent Hours
Aug. 5-14 | 12-8 PM
Spark Orthodontics Familienplatz Craft Themes
Friday, Aug. 5: Let the Games Begin!
Saturday, Aug. 6: Olympic Rings
Sunday, Aug. 7: Field Day
Monday, Aug. 8: Rio Instruments
Tuesday, Aug. 9: Go Team!
Wednesday, Aug. 10: On the Water
Thursday, Aug. 11: Around the World at Musikfest
Friday, Aug. 12: Rio Carnival
Saturday, Aug. 13: Goals
Sunday, Aug. 14: Closing Ceremony
PNC GROW UP GREAT – "LEARNING IS ALL AROUND ME!" MOBILE LEARNING ADVENTURE
Sponsored by PNC Bank
August 10 – 14 | 12 – 6pm
Spark Orthodontics Familienplatz
The Mobile Learning Adventure (MLA) is a traveling exhibit that provides an opportunity for parents and caregivers to learn about the importance of early childhood education while they engage in fun activities with their children. MLA is part of PNC Grow Up Great – a $350 million, multi-year initiative that began in 2004 to help children from birth to age 5 for success in school and life. It includes interactive kiosks and the "When I Grow Up" station, where kids dress up as different professionals and have their picture superimposed on an appropriate background. In addition, parents can take home activity books and learning kits that demonstrate how to take everyday moments and turn them into learning opportunities.

Rides & Games
provided by Zip and Bounce
Spark Orthodontics Familienplatz and FLYLVIA Plaza Tropical
Zip, bounce and swing away on our rides. Check the Spark Orthodontics Familienplatz Food and Beverage Ticket Booth for weekday price specials.
Musikfest Video Camp for Students in Grades 9-12
August 8-12
This exciting camp provides an all-access pass to Musikfest, as well as hands-on training in Penn State Lehigh Valley's state-of-the-art television studios. Students leave this immersive, weeklong opportunity with a dynamic 15-minute newscast detailing their experience at Musikfest including interviews with the artists and access to the media-only areas at the festival.
Complete details/register:
bananafactory.org | 610-332-1300
PHOTOPASS Musikfest Concert Photography Experience for Students in Grades 6-8
August 8-12
Guided by a professional, young photographers spend the morning learning tips and techniques for taking successful concert photographs in the Olympus Digital Imaging Center at the Banana Factory Arts Center. After the lunch, they travel to the Musikfest grounds to enjoy special access to prime photography spots including side stage and backstage access usually reserved only for working media.
Complete details/register:
bananafactory.org | 610-332-1300
Treasure Hunt
presented by 6abc
Use your map to help you find the five 6abc logos around Musikfest. Mark each space on the map using the hole punches or stamps located at each sign. When you have all five spaces filled, bring your completed form back to the 6abc booth to receive a 6abc backpack.
Spark Orthodontics Familienplatz Community Murals
Join us at the Crayola Creativity Tent to participate in the creation of our community mural. We invite children of all ages to visit us and leave their marks on our community mural. Once the mural is complete, it will become the perfect spot for Musikfest photos!
PBS39's TeleBear Summer Jam
Aug. 10-14 | 2-4 pm
Air Products Tell Me More Stage on the SteelStacks Campus
PBS39's TeleBear Summer Jam proudly joins the Musikfest lineup this year on SteelStacks Campus! On August 10th through the 14th from 2 – 4 PM, meet us at the PBS39 Air Products Tell Me More Stage on the SteelStacks Campus as we feature LIVE music from nationally acclaimed artists, make-and-take art activities, and lots of family fun!
See more at the PBS39 Event Page
Wednesday, Aug. 10: Key Wilde & Mr. Clarke
Thursday, Aug. 11: Kira Willey & Friends
Friday, Aug. 12: Dave Fry
Saturday, Aug. 13: Brady Rymer
Sunday, August 14: Ernie & Neal
Partners