Kid's Activities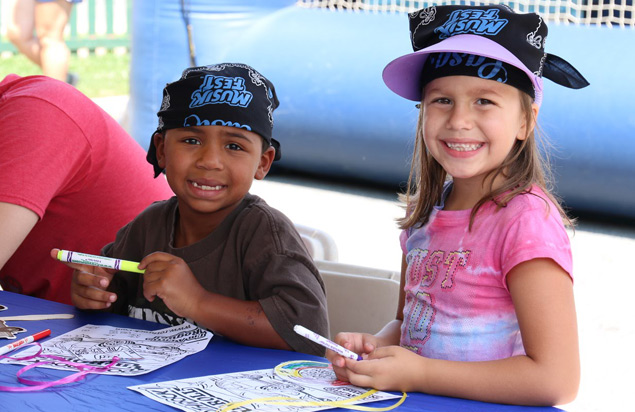 If you're a kid, then Spark Orthodontics Kinderplatz is the place to be! The Creativity Tent is the destination for younger 'festers to get crafty with cool activities, embark on a treasure hunt or leave their mark on the 32nd anniversary Musikfest community mural.
Spark Orthodontics Kinderplatz Creativity Tent Hours
Aug. 7-16 | 12-8 PM
Spark Orthodontics Kinderplatz Craft Themes
Friday, Aug. 7: A Musikfest Vacation
Activities:
Color Me In Musikfest Map
Create Your Own Musikfest Picture Frame
Memories Chain, Share your favorite Musikfest Memory
Saturday, Aug. 8: Space Race
Activities:
Community Chalk Drawing of Outer Space
Connect the Dots Coloring Sheet
Color Me In Wrist Communicators
Sunday, Aug. 9: Jukebox Heroes
Activities:
Giant Community Jukebox for Everyone to Decorate
Create your own musical instrument!
Monday, Aug. 10: Superheroes
Activities:
Color Me In Superhero Shield
Color Me In Superhero Mask
Tuesday, Aug. 11: A Musikfest Fantasy
Activities:
Giant Community Dragon for Everyone to Decorate
Create Your Own Wizard Hat
Wednesday, Aug. 12: The Great Outdoors
Acitivities:
Join Habitat for Humanity for its "Kids Can Build a Craft Day" at The Creativity Tent from 12-6 PM.
Create a Bird to Sit in the Community Trees
Decorate Your Own Musikfest Map
Thursday, Aug. 13: Around the World at Musikfest
Activities:
Create Your Own Heritage Flag
Make Your Own Musikfest Head Band
Create Your Own Suitcase
Friday, Aug. 14: Mad Scientists
Activities:
Giant Community Beaker for Everyone to Decorate
Color Me In Pocket Protector Sticker
Saturday, Aug. 15: Monster Mash
Activities:
Community Drawing of Monster Mash Land
Make Your Own Monster out of Model Magic
Sunday, Aug. 16: Musikfest Send-off
Activities:
Make Your Own Musikfest Head Band
Community Mural Chalk Drawing of a Musikfest Mug
Musikfest Send Off Sticker

Rides & Games
provided by Zip and Bounce
Spark Orthodontics Kinderplatz and FLYLVIA Plaza Tropical
Check out all the new rides this year!
Zip Line
Tropical Rainforest Inflatable Playground
Children's Swing Ride
Children's Train Ride
All-In-One Combo: includes Spider Climb with Slide, Rockwall & Bungee
Plus test your skills and your luck at classic carnival games.
Prices for rides vary.
Weekday Special:
$20 wristband good for all rides including one ride on the zip line. Monday-Friday, noon- 4:30 PM only. Available at Spark Orthodontics Kinderplatz Food and Beverage Ticket Booth.
NEW! Musikfest Video Camp for Students in Grades 9-12
August 3-14
Experience a dynamic, hands-on video production camp with veteran television journalist Liz Keptner while going behind the scenes at Musikfest to create a dynamic sizzle reel! Participants take part in a two-week program at both the Penn State Lehigh Valley campus and the Musikfest grounds.
Complete details/register:
bananafactory.org | 610-332-1300
Treasure Hunt
presented by 6abc and Utz Snacks
Use your map to help you find the five 6abc and Utz Snacks logos around Musikfest. Mark each space on the map using the hole punches or stamps located at each sign. When you have all five spaces filled, bring your completed form back to the Creativity Tent to receive a 6abc backpack filled with Utz Snacks!
Spark Orthodontics Kinderplatz Community Murals
Join us at the Creativity Tent to participate in the creation of our community mural. On Sunday, August 9 we invite children of all ages to visit us and leave their marks on our community mural. Once the mural is complete, it will become the perfect spot for Musikfest photos!
Partners