Kid's Activities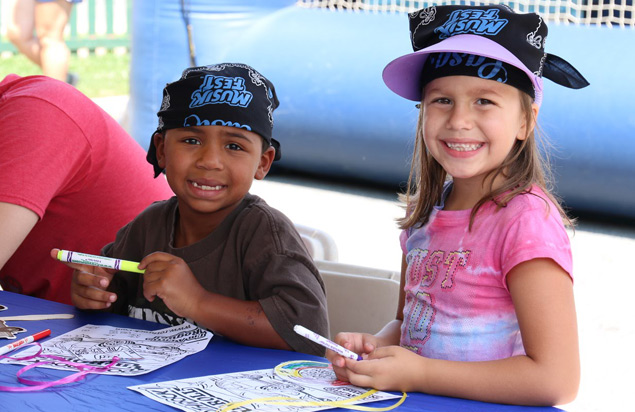 The newly redesigned Spark Orthodontics Familienplatz is the best place to relax in the shade with friends and family, and let your creativity run free with ArtsQuest's Banana Factory Arts Center! The Crayola Creativity Tent is the destination for younger 'festers to get crafty with cool activities and embark on a scavenger hunt, while daily Community Art projects, artist demos and interactive activities will engage festival-goers of all ages! Plus, the addition of ticketed workshops for adults on select evenings means kids aren't the only ones walking away with an amazing works of art for their homes.
Crayola Creativity Tent Hours
Aug. 4: 5-9 pm
Aug. 5-13: 12-9 pm
Spark Orthodontics Familienplatz Craft Themes
This year the natural elements are the focus of crafts, community art projects, and interactive elements at Spark Orthodontics Familienplatz. Inspired by earth, wind, fire and water, festival goers will make a superhero cape, play an oversized xylophone and paint the walls of a see-through room, and that's just one day! Complete interactive hands-on projects at the Crayola Creativity Tent that explore the natural elements, enter to win tickets to the Crayola Experience and bring your drawn creations to life with the Crayola Color Magic Station. Stop by daily for new creative projects and artist demos.
Rides & Games
provided by Zip and Bounce
Spark Orthodontics Familienplatz and FLYLVIA Plaza Tropical
Zip, bounce and swing away on our rides! Weekday wristbands are available Monday-Friday, noon-4:30 p.m. for $20, and include all rides plus one zipline ride.
Discover Workshops
Aug. 4-6, 10-12 | 6:30 pm
Tickets: $30; $27 for ArtsQuest Members
In the midst of all the amazing music at the festival, take a moment to make some beautiful art for your home! Teaching artists lead participants through an hour-long workshop, and all materials are included! These workshops are geared towards people ages 18 plus.
Aug. 4 – Moroccan Mason Jar Lantern
Aug. 5 – Geometric String Art "Painting"
Aug. 6 – Mosaic Tiles
Aug. 10 – Macramé Hanging Planter
Aug. 11 – Creative Doodling Wine Tumbler
Aug. 12 – Wire Wrapped Glass Pendant
Four Elements Fiber Art Installation
with The Knitter's Edge
Inspired by earth, wind, water and fire, local knitters and crocheters from The Knitter's Edge in Bethlehem crafted knitted, crocheted and woven pieces that will hang from the trees and create an artistic hanging art installation.
Musikfest Sculpture Garden: Spinning Skirts
With Michael Bianco and the NCC Fab Lab
Festival-goers can help sculpture come to life as they use various methods of momentum to spin colorful fabric panels. Using space, form, movement, color and light, these sculptures transform Familienplatz and the Historic Industrial Quarter into a color shaded playground.
Capturing Musikfest: Video & Marketing Camp for Teens
August 7-11, 11 am-6 pm
Penn State Lehigh Valley Campus & Musikfest
This exciting camp provides an all-access pass to Musikfest, as well as hands-on training in Penn State Lehigh Valley's state-of-the-art television studios. Students leave this immersive, weeklong opportunity with a dynamic 15-minute newscast detailing their experience at Musikfest including interviews with the artists and access to the media-only areas at the festival.
Complete details/register: sycroar.org
PHOTOPASS Musikfest Concert Photography
August 7-11, 11 am-5 pm
Campers in grades 6-8 enjoy exclusive access to the Musikfest stages as they learn the ins and outs of concert photography. Guided by a professional, young photographers spend the morning learning tips and techniques for taking successful concert photographs in the Olympus Digital Imaging Center at the Banana Factory Arts Center. After the lunch, they travel to the Musikfest grounds to enjoy special access to prime photography spots including side stage and backstage access usually reserved only for working media.
Complete details/register: bananafactory.org | 610-332-1300
ArtsQuest Glass Studio Tent
Visit the ArtsQuest Glass Studio Tent to participate in Hot Glass Experiences, create a Flame-worked pendant, watch live artist demos, and find unique handmade glass items for purchase from local artists.
Hot Shotz Competition
Aug. 5-12, 12-3 & 7-10 pm
Presented by Wale Apparatus & Bethlehem Burners
Come watch a live glass making competition hosted by the ArtsQuest Glass Studio. Each artist will have three hours to work in the Hot Glass Studio tent at Musikfest to create a one-of-a-kind shot glass that will be judged against the other works created during the competition. Prizes will be awarded for popular vote as well as judge's choice. Flame working artists interested in competing can register at bananafactory.org/hotshotz.
Hot Glass Experience
From paperweights to pendants, create your own glass work of art in just 20-30 minutes at Musikfest! The Hot Glass Experience, presented by ArtsQuest Glass Studio Artists, is open to the public daily for $50. No experience necessary. To ensure your time slot, reserve your ticket online.
Flame-worked Pendant (ages 10+)
Aug. 5-13, 3:30-6:30 pm
H.G.E. Wave & Air Trap Paperweight (ages 6+)
Aug. 4, 5-9 pm & Aug. 5-13, noon-4 pm & 5-9 pm
Note: Glass pieces need to cool overnight. Pieces can be picked up another day during the festival, or can be shipped for an additional $10 each for the first piece, and an additional $5 for each piece going to the same location.
ArtsQuest Glass Studio Retail Outlet
Visit the Glass Studio tent to find unique glass items, opening 12 p.m.-10 p.m. daily. Everything available has been handmade by ArtsQuest Glass Studio artists.
Partners