Musikfest Gets Inked: Montgomery County Tattoo Artist Designs 35th Anniversary Poster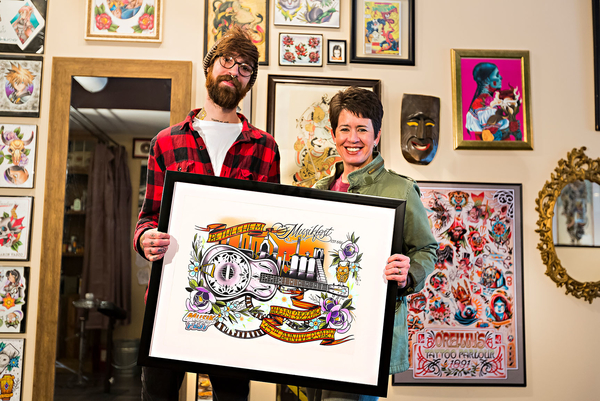 By Emily Cummins, Public Relations Coordinator
Like the legacy of body art itself, the new tattoo-inspired poster commemorating Musikfest's 35th year honors the past as much as it celebrates the future. Centered on a lushly contrasted steel guitar against a backdrop of the iconic blast furnaces at SteelStacks, the 2018 poster features a hidden Musikfest Lyre and Moravian Star, as wells as a nod to the original Musikfest logo.
"I really wanted to share what I think of Musikfest, as well as represent my art form and my style of doing things," says tattoo artist Dan Mugrauer, 28, of Lansdale, Pa., who adorned the piece with his signature purple, blue and teal flowers. "I wanted to put as much of myself into the piece as I could, while still trying to live up to what I was being asked to do. This is a very special year for Musikfest, and I'm honored I was invited to be part of it."
Mugrauer, the artist behind this year's official Musikfest artwork, is a successful tattoo artist of six years who co-owns Blood Moon Tattoo Syndicate in Ambler, Pa., and also does a handful of commissions each year including tattoos for Atlanta-based indie band Manchester Orchestra.
As fate had it, his girlfriend Sherry Rodriguez interned with ArtsQuest's Marketing Department last summer, and after months of admiring her stunning tattoos, ArtsQuest Lead Creative Juliann Masenheimer decided to connect with the artist.
"People look to ArtsQuest as leaders in the arts in the Lehigh Valley, and for the poster I wanted to explore different art forms and take us in an entirely different direction," says Masenheimer. "Tattooing is significant because it's an art form that hits every demographic. There's a purpose for every tattoo someone has so I see Dan's design as a way to celebrate Musikfest's purpose."
ArtsQuest Director of Marketing Jon Lunger was also thrilled with the design and described the
opportunity to work with a visual artist in what many consider to be a non-traditional discipline.
"it's particularly appealing to ArtsQuest because it's a reflection of the exciting and often surprising programming that's presented at Musikfest each year," Lunger says. "We're looking forward to using this in so much of our marketing and our merchandise. This poster is a truly dynamic piece that represents the history and tradition of tattoo art, as well as the traditions of the festival, pushing towards the future of both."
As a musician himself, Mugrauer's passion for the performing arts often inspires his tattoos including flash designs based on music and lyrics.
"My style is either neo-traditional or illustrative," he says, adding that he studied painting at the School of Art Institute of Chicago before leaving to pursue tattooing. "But I just really like to draw things the way I want to draw them and sometimes that doesn't fit into the aesthetics of certain styles. That's why this collaboration was great."
Kassie Hilgert, President & CEO of ArtsQuest, says that ArtsQuest was really looking to reimagine the Musikfest artwork for the festival's 35th Anniversary celebration and Mugrauer has truly left his mark.
"Dan's skill as a tattoo artist, coupled with some of his fine art training, really led him to develop his own style, combining classical artistic elements with the more contemporary stylings of tattoo art," Hilgert says. "This poster not only honors our festival and our city's history, it incorporates many of those timeless elements that people love about Musikfest. We were looking for something totally different this year and Dan really nailed it with this beautiful work of art."
Over the coming months, 'fest fans will see Mugrauer's work of art popping up everywhere, starting with the Musikfest website. It will also be used for the official festival poster and mug, while being incorporated into other official `fest merch and apparel throughout the year.
ArtsQuest is also looking to have the artwork transformed into temporary tattoos that people will be able to get during Musikfest.
"The fact that maybe a million or more people will see my work and even buy it is wild," Mugrauer says. "It's insane and makes me a little nervous, but I think after tattooing for as long as I have, you have to be ready for people to rip you to shreds or compliment your work.
"Tattooing is at the point where it's in the mainstream and I think that's reflected in the fact that it's hard to find someone now without a tattoo. Tattooing is starting to make its way into graphic design and parts of life, and that will only help tattooing as an industry and art form. Even in the last decade, the quality of tattoos as well as the technology behind them is ever-evolving and I don't think it will stop. It will keep shifting and changing and growing until people see their parents with tattoos and think maybe they don't want one anymore."
One of the largest music festivals in the nation, Musikfest features more than 500 performances on 16 stages throughout Bethlehem over 10 days. Dates for the 35th edition of the festival are Aug. 3-12. For more information, visit www.musikfest.org.