Superstar Toby Keith to Headline Musikfest Aug. 10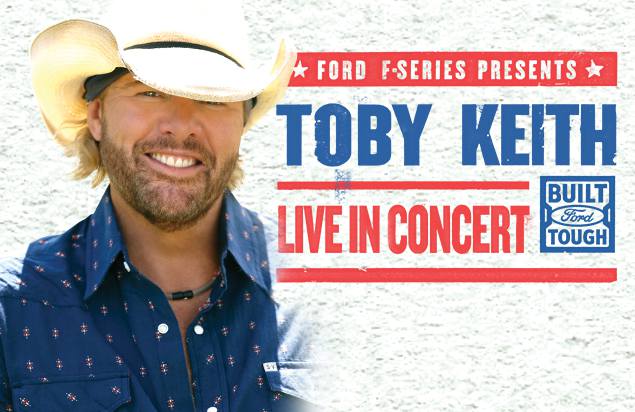 Tickets for Sands Steel Stage Show Go on Sale Next Week
It's a night of nonstop hits as chart-topping superstar and American Country Awards "Artist of the Decade" Toby Keith headlines Musikfest 2017 with a performance at the Sands Steel Stage Thurs., Aug. 10, 7 p.m. Tickets for Toby Keith presented by Ford F-Series are $59-$99 and go on sale starting Tues., Dec. 20, 10 a.m., to ArtsQuest Members and Fri., Dec. 23, 10 a.m., to the public at www.musikfest.org and 610-332-3378.
From the moment Toby Keith's debut single "Should've Been A Cowboy" shot up the charts to become his first No. 1 hit, the engine driving everything else has been the music. At the core is Keith's songwriting, as recognized in his 2015 induction into the Songwriters Hall of Fame in New York City.
The Nashville Songwriters Association International named Keith Songwriter/Artist of the Decade, and he is a three-time BMI Country Songwriter/Artist of the Year. His songs have received more than 87 million BMI performances on commercial radio stations worldwide, while his albums have sold more than 40 million copies. Keith has won numerous honors and awards during his career including Artist of the Decade nods from Billboard and the American Country Awards, as well as the ACM's Career Achievement honor. His most recent album release is 2015's 35 mph Town, which reached No. 2 on Billboard's Top Country Albums chart.
The Toby Keith concert is supported by Highmark Blue Shield, in association with media partners Cat Country 96 and The Morning Call.
One of the largest music festivals in the nation, Musikfest features more than 500 performances on 15 stages throughout Bethlehem over 10 days. Dates for the 34th edition of the festival are Aug. 4-13, 2017. For more information, visit www.musikfest.org or follow the festival at facebook.com/Musikfest and twitter.com/Musikfest.