10 Artists to See at Air Products Americaplatz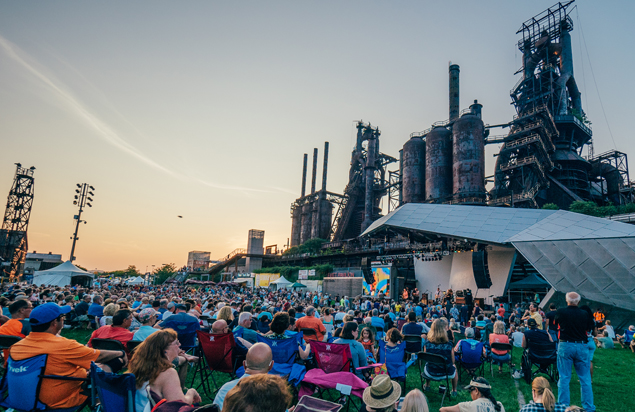 By Gabrielle Rhoads, ArtsQuest Marketing Intern / Photo: Ted Colegrove
During Musikfest, SteelStacks' beloved Levitt Pavilion becomes AirProducts Americaplatz! You'll enjoy acts playing blues, rock, soul, country and more! Below are 10 of our all-American favorites playing Air Products Americaplatz this year.
You can find the full line up of Musikfest's 500+ FREE performances here!
Wednesday, August 7 @ 9:20
Since their humble beginnings at Tufts University in 1991, Guster has produced 8 studio albums, and various other EP's, singles, and live albums. Having toured with the likes of the Barenaked Ladies, Dave Matthews Band, and Ben Folds of Death Cab for Cutie, this is one busy band! Touring for the release of their newly released album, this is a performance that will surely make you "Look Alive"!
Sunday, August 4 @ 7:00pm
At just 16 years old, Brandon "Taz" Niederauer has already shared the stage with names like Stevie Nicks and Gary Clark Jr. Making his national debut at the age of 10, Brandon has performed on many stages, from talk shows to Broadway theaters to Madison Square Garden. Nicknamed "Taz" for his ferocious guitar playing, this young man's precocious talent brings fresh perspective to beloved classics.
Tuesday, August 6 @ 9:00
'Fest favorite MarchFourth returns with their joy-inducing visual kaleidoscope of performers for another year of amazing shows! Combining the sounds of funk, rock, and jazz with the visual splendor of acrobatics, MarchFourth is a spectacle of high-energy compositions, colorful costumes and irresistible charisma. Bringing a spirit of celebration wherever they go, their performance is sure to be a wonderful "Shindig"!
Thursday, August 8 @ 7:30
Returning for another year at the 'Fest, The New Respects catchy hooks and heavy grooves cannot be placed in one genre alone. Meshing pop, soul, and rock & roll to create their unique sound, the group of cousins cites Aretha Franklin, The Beatles and Led Zeppelin as core influencers of their music. If you missed their show at Levitt Pavillion in June, or just wanted more, this is not a show to be missed!
Thursday, August 8 @ 9:30
The Brummies music is reminiscent of another time. Combing the psych-rock sounds of the Sixties with the soft-indie folk of the Nineties, the Brummies create an immersive and adventurous listener experience. Their debut album Eternal Reach, which features 6-time Grammy award winner Kacey Musgraves, is "perfectly suited for losing yourself".
Friday, August 2 @ 7:00
Previous ArtsQuest artists in residency, Ceramic Animal are just a couple of nasty boys from outside of Philadelphia playing psychedelic garage-yacht. Known for their quirky live performances and psychedelic sound, the 5 piece band has two self-produced albums. You may remember them as Kesha's opener when she played the 'Fest in 2018, and they're back again with a must see free show!
Sunday, August 4 @ 9:00
A 30 year veterean of Chicago's blues scene, Nick Moss "is at the top of the blues world," Blues Review says. Performing with his new project, The Nick Moss Band, the bona fide bluesman performs alongside lifelong friend and musician Dennis Gruenling.
Saturday, August 10 @ 5:00
With their rich harmonies and unforgettable songs of love, heartbreak, and exploration, rising folk/Americana band Roanoke has the best of everything. Roanoke has struck a balance between the narrative songwriting of folk, the ear candy appeal of pop, and the roots authenticity of country music, giving them a unique and unforgettable sound.
Saturday, August 3 @ 7:00
Humming House maintains that sense of intimacy that derives from making music with friends altogether in the same room. It is fun combined with substance. With Tam's sincerity, Jones' groove, and Chase and Wolak's charm, their live shows extend the invitation to participate.
\
Wednesday, August 7 @ 5:00
Sarah Borges brings all the feels. Her new record "Love's My Middle Name" sees unbridled joy mixing with raw gritty emotion to create her signature Americana roots rocker sound.