10 Artists to See at Air Products Americaplatz at Levitt Pavilion SteelStacks!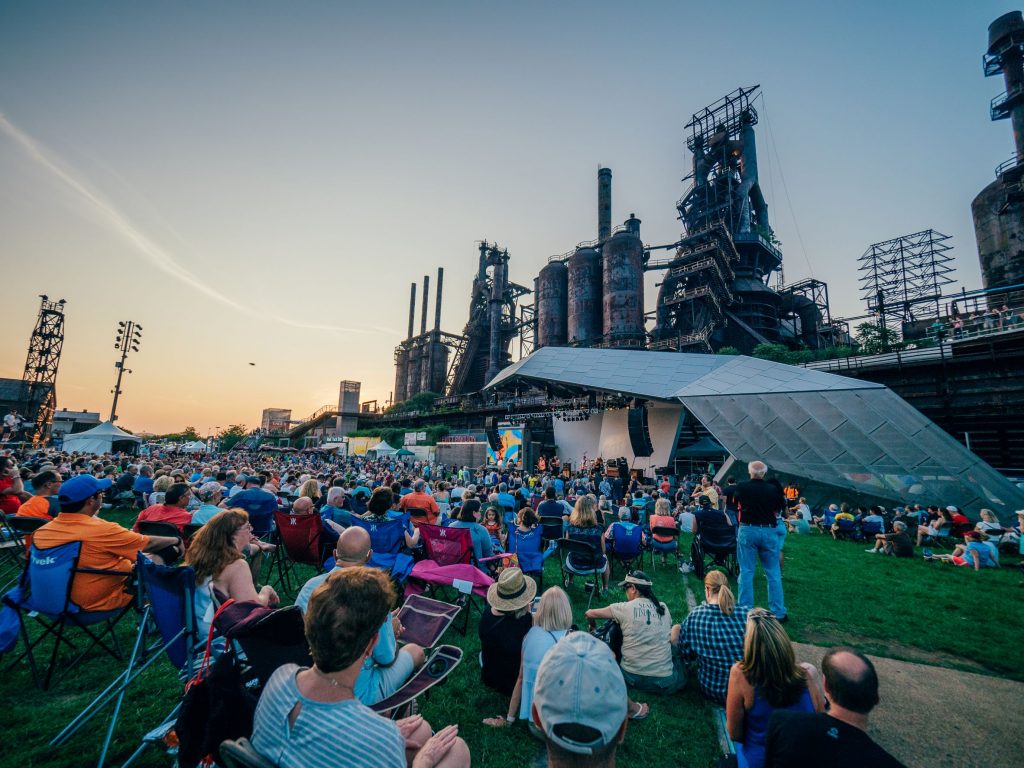 By Allison Toth, ArtsQuest Marketing Intern | Photo by Ted Colegrove
Enjoy the breathtaking view of the Bethlehem Steel blast furnaces while listening to blues, rock, soul, country and so much more at Air Products Americaplatz at Levitt Pavilion SteelStacks! Below are ten performers you won't want to miss on our Air Products Americaplatz Stage at Levitt Pavilion SteelStacks!
You can find the full lineup of 500+ FREE performances at Musikfest here!
Friday, August 6, 2021 @ 4:00 PM
Seth Witcher is an up and coming music artist/college student who was recently featured in the Lehigh Valley Style Magazine, and was described as being CURRENT, CONTAGEOUS, AND IN DEMAND!
Saturday, August 7, 2021 @ 7:30 PM
Steven Page's distinctive and powerful voice is among the most instantly recognizable in popular music. Inducted into The Canadian Music Hall of Fame with former bandmates, Barenaked Ladies, Steven has continued his creative journey releasing original music, touring with his band and by immersing himself in an extensive array of diverse projects in music, film, theatre and television.
Sunday, August 8, 2021 @ 5:00 PM
There is a door, a door you unlock with a key. This key comes in the form of a band. A band from another dimension – a dimension of not only sight and sound but of mind. This band takes you into a land of both shadow and substance, through the smallest crack in the sidewalk that is our consciousness – the gray space which is the middle ground between light and shadow, science and superstition. This band lies between the pit of man's fears and the summit of his knowledge. This band, is Ruby Dear.
Monday, August 9, 2021 @ 7:00 PM
Blair Crimmins began his current music career in Atlanta, Georgia, with a determination to bring Ragtime and 1920's style Dixieland Jazz to new audiences. While playing small rock clubs around the Southeast he developed a sound that is at once modern while being deeply rooted in the past. He has toured the country playing large venues and has opened for acts such as Mumford & Sons and Preservation Hall Jazz Band!
Tuesday, August 10, 2021 @ 5:00 PM
Under the tutelage of legendary Jersey Shore sax player Screamin' Steve Barlotta, who has been the captain of this fantastic soul cruise for over 30 years, has catapulted this band from the recesses of a dingy basement to over 200 performances a year while capturing the true essence of the Jersey Shore sound and its true R&B roots.
Tuesday, August 10, 2021 @ 7:00 PM
Mike Mains and The Branches is a pop-rock band based in Michigan. Since their conception in 2012, the group has built a reputation for their fantastical instrumentation and unforgettable live performances!
Wednesday, August 11, 2021 @ 7:00 PM
Poor Man's Gambit is a trio of traditional artists comprised of Corey Purcell (button accordion, cittern, vocals, bodhran, dance), Federico Betti (guitar, fiddle), and Deirdre Lockman (fiddle, vocals, dance). Initially formed in 2015, the band has performed hundreds of shows around the U.S., and has completed two tours of the UK and Ireland.
Thursday, August 12, 2021 @ 7:00 PM
Motherfolk, Cincinnati's strongest gift to the indie rock scene, have been the focus of increasing attention with every release and tour since 2014. Their last release, Fold, earned serious industry and tastemaker praise, and the energetic live shows that followed created a loyal and significant fan base!
Friday, August 13, 2021 @ 7:00 PM
Yam Haus invites everyone into the embrace of their neon-hued, dancefloor-tailored alternative pop. The Minneapolis quartet-Lars Pruitt [lead vocals], Jake Felstow [drums], Zach Beinlich [bass], and Seth Blum [guitar]-fuse together intimate songcraft with stadium-size ambition.
Sunday, August 15, 2021 @ 7:00 PM
Nik Greeley is known for being arguably the best frontman and performer in Philadelphia, and his band The Operators has been described as "the new-school Philadelphia soul-sound."

BONUS PLAYLIST!
Get to know all of the awesome artists playing Musikfest before the 'fest begins! Check out the Musikfest 2021 Free Stage Playlist!