10 Artists to See at Guardian Life Insurance Company of America Zinzenplatz!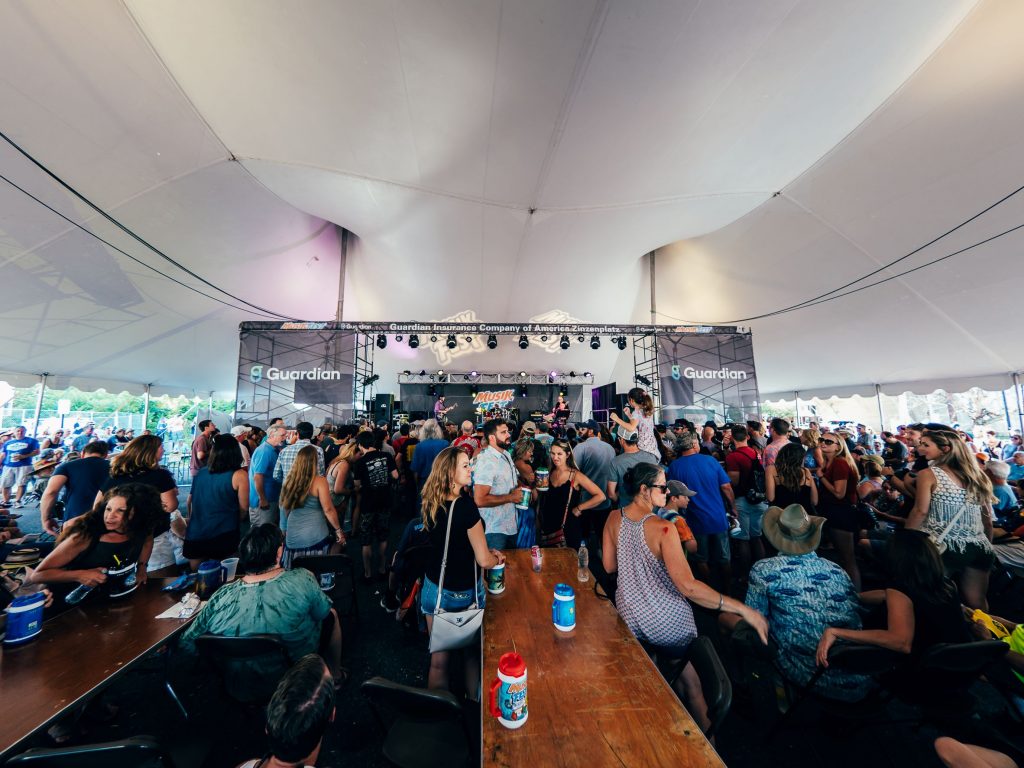 By Allison Toth, ArtsQuest Marketing Intern | Photo by Ted Colegrove
With high-quality music and attractions, Guardian Life Insurance Company of America Zinzenplatz is the venue you want to experience! Featuring live music from all genres on our Moravian University stage and some of your favorite food and beverages on the North Side! Come see these ten amazing artists and many more at Guardian Life Insurance Company of America Zinzenplatz!
You can find the full lineup of 500+ FREE performances at Musikfest here!
Friday, August 6, 2021 @ 5:30 PM
Tedious & Brief is a Chicago based alternative pop artist who's airy synth and smooth vocals create nostalgic anthems. With strong family ties to music, Jacobsen, now 22, took up guitar and songwriting at a young age. Jacobsen identifies some of her earliest influences as Stevie Ray, Muddy Waters and the Red Hot Chili Peppers, though her style has strayed greatly from the nostalgic rock of her childhood to form a more polished sound featuring airy synth elements and smooth vocals akin to Maggie Rogers or Lorde.
Friday, August 6, 2021 @ 7:00 PM
Born and raised in the heart of New York City, Cinnamon experienced the passion of music at an early age through Brooklyn's neighborhood gospel choirs. Audiences in the Bay area were drawn to the religious fervor Cinnamon brings to her music, and as a reward, she was awarded "best female vocalist in the Bay area" by top star awards a consecutive 3 years in a row. She was also featured in Billboard magazine as one of the year's "up and coming" new performers!
Saturday, August 7, 2021 @ 2:00 PM
Known for their memorable melodies and haunting, honest lyrics, Homestead Collective is Caitlyn Deviney & Ben Morris – an indie-folk duo based just outside Philadelphia. Having met in high school and grew up playing instruments, the two friends started collaborating musically and Caitlyn & Ben have crafted a unique sound influenced by artists such as Maggie Rogers, Nickel Creek, Josh Garrels, and Gregory Alan Isakov.
Saturday, August 7, 2021 @ 7:00 PM
It's not easy to put Nashville-based artist Jon Worthy into a genre box. He's equal parts rock, americana and pop. "I'm comfortable with whatever anyone listening to my music wants to call me," shares Worthy. "I make the music I want to make so I don't care about genre that much!"
Sunday, August 8, 2021 @ 12:00 PM
MindMaze perform a unique mix of hard rock and various heavy metal genres. Their high energy live performance is second to none, focusing on delivering a 100% live performance with no backing tracks. Fronted by powerful female vocals, featuring memorable and melodic guitar playing and solidified with a technical and rock solid rhythm section, MindMaze are sure to leave an impression.
Sunday, August 8, 2021 @ 5:00 PM
Catbite is a neo-two tone band from Philadelphia. Influenced by the jolting energy of the Specials, the Selector's edged lyrics, and Elvis Costello's love of melody, the group cranks out short, catchy tunes that usually have a deeper meaning… and sometimes don't.
Tuesday, August 10, 2021 @ 5:00 PM
Steel Blossoms is the musical collaboration of Sara Zebley and Hayley Amour, artists (and former school teachers) who met by chance at a festival in their home state of Pennsylvania. With skilled harmonies and musicianship, they sing about life's challenges, all with a refreshing sense of humor.
Thursday, August 12, 2021 @ 5:00 PM
Born in Philadelphia, music was calling Hayward's name from a very early age. Hayward's vocal ability and stage presence are potent for all who dare to experience it without a filter. She was a Winner of the President's Choice Award for Indie Soul Café Radio in New York in November 2020, Winner of Soul Tracks "New Artist of the Year" in December 2020 and nominated for "Best International Artist" for UK's Bright Star Awards in December 2020!
Friday, August 13, 2021 @ 7:00 PM
With the energy and sound of a full four-piece band, Carly Comando and Tom Patterson — the husband and wife team that make up Allentown, Pennsylvania's Slingshot Dakota — craft unapologetic, heavy pop tracks that showcase their years of experience and punk influences.
Sunday, August 15, 2021 @ 5:00 PM
Summer Scouts is a five-piece power-pop rock band based out of Allentown, PA. The band infuses and eclectic mix of pop sensibilities and driving rock, with a tinge of post-rock dynamics to cast a signature sound that is both anthemic and intimately heartfelt.
BONUS PLAYLIST!
Get to know all of the awesome artists playing Musikfest before the 'fest begins! Check out the Musikfest 2021 Free Stage Playlist!