10 Artists to See at Highmark Blue Shield Community Stage on Air Products Town Square!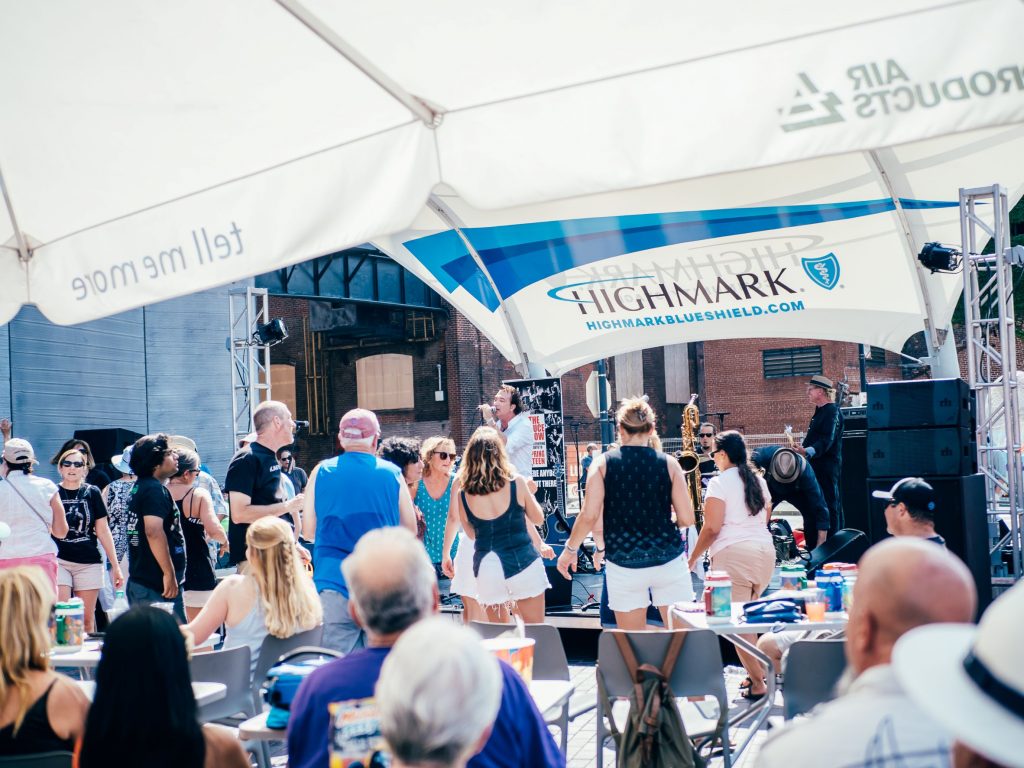 By Allison Toth, ArtsQuest Marketing Intern | Photo by Ted Colegrove
Right outside our brand new restaurant Palette & Pour you can find Highmark Blue Shield Community Stage on Air Products Town Square! Enjoy the music from local and regional performers, while sitting at our covered or uncovered outdoor seating! Here are ten performers you won't want to miss at Highmark Blue Shield Community Stage on Air Products Town Square!
You can find the full lineup of 500+ FREE performances at Musikfest here!
Friday, August 6, 2021 @ 6:30 PM
Born in Philadelphia in 1995, Luke took up a serious interest in music at age 12, after his parents bought him a Peavey electric guitar set for Christmas. Now, over thirteen years later and entirely self-managed, Luke has multiple releases on multiple distribution platforms. His sound is often compared to the likes of Dave Matthews, Paul Simon, and John Mayer, combining acoustic neo-folk melodies with the sensibilities of blues and jazz.
Saturday, August 7, 2021 @ 4:00 PM
New York singer-songwriter, harpist and guitarist Lizzie No is one of the most exciting new voices in contemporary Americana music. Her 2017 debut album, 'Hard Won,' was hailed as "simultaneously understated and fervent" by Billboard Magazine. Rolling Stone Magazine called the first single, "Narcissus," a "crisp alt-rock gem" and a "Song You Need To Know."
Sunday, August 8, 2021 @ 4:00 PM
The Gabe Stillman Band is a three-piece machine that runs at full tilt for every performance. While their sound is unmistakably rooted in the blues, the band draws from the deep well of all American roots music.
Monday, August 9, 2021 @ 11:00 PM
This Way to the EGRESS are equal parts unruly vaudeville, ebullient world-beat and three-ring circus all the while playing an amalgamation of worldly influences which defies genres. They are known to catapult the audience with their rambunctious stage show while generating enough energy to light up a small city.
Tuesday, August 10, 2021 @ 4:00 PM
Award-winning singer, songwriter, and guitarist Erin Harpe has been called "Bonnie Raitt on modern performance enhancing drugs". Erin has recently been gaining attention as an esteemed acoustic fingerstyle blues guitarist, a style she learned from her dad. She gets back to her roots for her new group, Erin Harpe Country Blues Duo (or "CBD"), featuring her husband and longtime musical partner, Jim Countryman.
Thursday, August 12, 2021 @ 11:00 PM
Sandwiched between citywides and cheesesteaks, you'll find the stomping grounds of TIOGA, a quartet that sounds like they grew up on New Order and Springsteen, but listened to a lot of The Killers and Bleachers as impressionable college kids. The group marries their meaningful lyricism and endearing style of alternative indie with a hearty bass and danceable synth-pop sound.
Friday, August 13, 2021 @ 4:15 PM
OSTON's musical journey began in Park City, Utah, where she grew up writing and performing songs throughout her childhood. After finishing high school, she spent the next five years in Chicago attending school for music and marketing, while also working with a multifaceted studio. The now LA-based musician is making a name for herself for her vulnerable, diary-like writing style.
Saturday, August 14, 2021 @ 12:00 PM
Born from the spirit of Jerry Garcia and The Grateful Dead, Steal Your Face is a high energy band known for mind-blowing jams, innovative lead guitar and emotional vocals. From Gathering of The Vibes in 2009, sharing a bill with legends like Bob Weir and Crosby, Stills and Nash to headlining Philly's Trocadero Theatre, Steal Your Face continues to build on their own wild legacy – always looking to take the music, their fans and their adventures together further.
Saturday, August 14, 2021 @ 11:00 PM
Space Kamp has created a fresh new sound and buzz. Their high energy and good vibes live show along with an undeniable personal connection to their audience has created more of a family and friends feel then the normal artist to fan relationship.
Sunday, August 15, 2021 @ 9:00 PM
Up and coming band Kelley, Ellis and Flynn is a new collaboration of veteran musicians playing soulful, rocking blues. They are known for their creative interpretations of blues, blues rock and R&B classics and original songs, instrumental virtuosity, dynamic vocals and energetic performances.
BONUS PLAYLIST!
Get to know all of the awesome artists playing Musikfest before the 'fest begins! Check out the Musikfest 2021 Free Stage Playlist!