10 Artists to See at Highmark Blue Shield Community Stage on the Air Products Town Square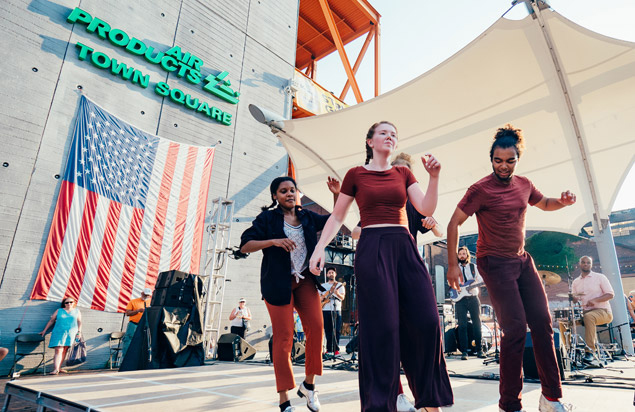 By Gabrielle Rhoads, ArtsQuest Marketing Intern / Photo:
Highmark Blue Shield Community Stage on the Air Products Town Square is an intimate stage highlighting local and regional performers. With outdoor seating, relax with some grub from nearby vendors including the Yuengling Bar & Grill while you enjoy rising stars and nostalgic cover bands.
You can find the full line up of Musikfest's 500+ FREE performances here!
Friday, August 2 @ 11:00
Slingshot Dakota is the little band with big sound. Their fuzzed-out rhythms and walls of sound may deceive you, but it is all the work of husband-wife duo Tom and Carly from Bethlehem, PA. It's a little bit pop; it's a little bit punk; but it's 100% fun.
Saturday, August 3 @ 11:00
Nik Greeley is known for being one of the best performers in Philadelphia, often being compared to the likes of James Brown, Joe Cocker, and Jim Morrison. Their performances are one of the most infectious live music experiences you'll ever have.
Sunday, August 11 @ 4:00
Secret American blends indie soul with retro and contemporary pop-rock, with vocals rich in moxie, a groovin' rhythm section and sunny, twangy guitars, Secret American brings a fresh perspective to a time tested sound. Since their debut album, "Warmth & Shelter", the group's studio experiments have expanded into an electrifying 7-piece live band.
Thursday, August 8 @ 4:00
Hailing from Memphis, Tennessee, Dirty Streets have spent years on the road and in the studio forging their own style of heavy, soulful and sometimes psychedelic rock. Recently, their song "Good Pills" was featured in the Netflix Original series "Sex Education".
Monday, August 5 @ 4:00
Originally the members of a Talking Heads cover band, Ruby Dear is comprised of Jenny Founds and brother duo Jon and Jesse Braun. After playing together for years on the road paying tribute to some incredible music, these seasoned musicians have crafted original material that is loud and evolving.
Saturday, August 10 @ 12:00
We May Be Right brings their exciting and energetic combination of Billy Joel hits and deep cuts back to Musikfest after their successful debut last summer! This 5 piece band has all this hits you know and love waiting for you to sing and dance along!
Come celebrate Woodstock's 50th Anniversary with cover bands of original performers, and other bands exemplifying the Sixties sound you love!
Saturday, August 3rd @ 12:00 pm
Their attention to detail in authentic equipment and wardrobe allows replicating that unmistakable signature Doors sound and look that makes them stand above all others.
Saturday, August 3rd @ 2:00 pm
CC Coletti channels the spirit of Janis Joplin, belting out hit after hit in a heartfelt tribute performance.
Friday, August 9th @ 11:00 pm
Steal Your Face has spent more than a decade on their own "long, strange trip," paying tribute to The Grateful Dead with fire and passion.
Saturday, August 10th @ 2:00 pm
Brain Damage has been entertaining fans of the US East Coast for over 15 years, recreating the magic of Pink Floyd's music.
BONUS PLAYLIST!
Get to know all of the awesome artists playing Musikfest before the 'fest begins! Check out the 2019 Musikfest Free Artists Spotify playlist!