10 Artists to See at Hotel Bethlehem Platz!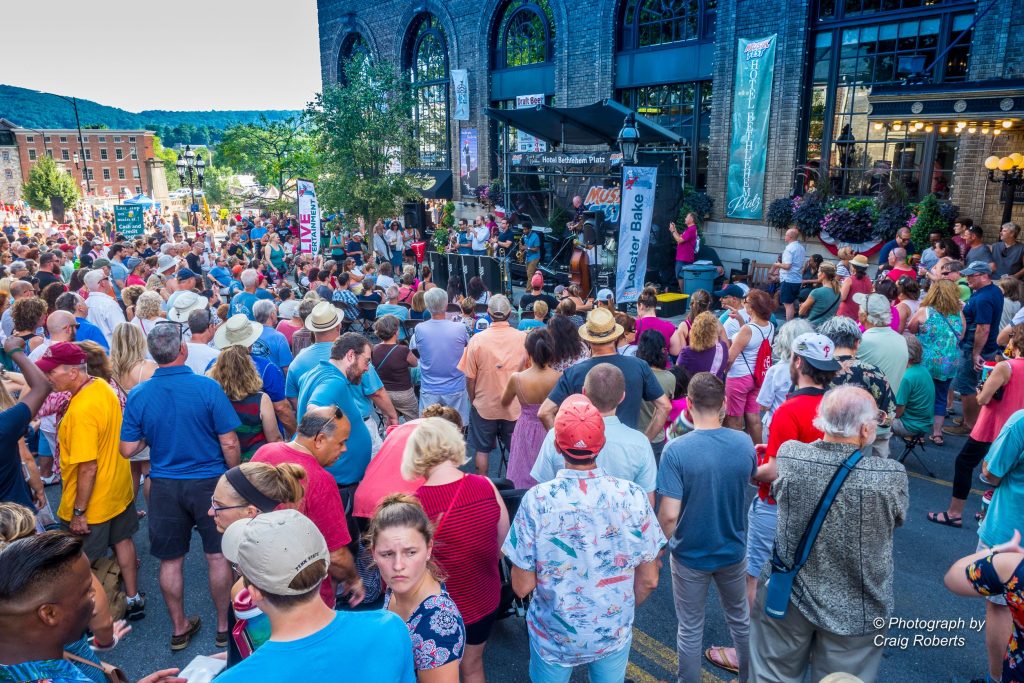 By Allison Toth, ArtsQuest Marketing Intern
Located on Historic Main Street, Hotel Bethlehem Platz is an intimate performance space, where you can listen to jazz groups, singer-songwriters and acoustic acts! Enjoy these 10 performers you can find at Hotel Bethlehem Platz!
You can find the full lineup of 500+ FREE performances at Musikfest here!
Saturday, August 7, 2021 @ 1:00 PM
A troubadour, a poet with a guitar, a stage banter-conversationalist – all terms that describe Matt Wheeler's music & performance style well. Matt's songwriting paints pictures with words, often drawing inspiration from classic works of literature or simply spinning new original stories in song. Lyrics & dynamics play a key role, as each song really means something, and each one is delivered with an honesty that is compelling.
Saturday, August 7, 2021 @ 5:00 PM
Doug Kaetz is a professional full time performing musician based out of Bethlehem, PA. Doug has performed at more than 150 venues across PA, NJ, NY, and DE with new venues scheduled this year in Washington D.C. and Virginia. Mainly solo acoustic, Doug specializes in the "one man band" live looping performance style incorporating bass and percussive elements all from a single guitar!
Sunday, August 8, 2021 @ 1:00 PM
A velvety mix of Erykah Badu & Billie Holiday paired with the cool grooves of her 007 on bass" is how one reviewer described Acute Inflections, New York's sultry duo led by a former Broadway singer. They have even shared the stage with Jennifer Hudson, Keith Urban, and other notable artists!
Sunday, August 8, 2021 @ 5:00 PM
Praised by JazzTimes for "superb technique", American jazz singer, songwriter, arranger, recording artist and bandleader Corinne Mammana is passionate about preserving the music of the past while placing her own personal spin on the American Songbook, as well as popular tunes from the past few decades. With creative arrangements sung in a sophisticated and soothing style, fans have described Mammana's voice as a cross between Norah Jones, Jane Monheit and Stacey Kent.
Monday, August 9, 2021 @ 5:00 PM
Sara Ontaneda is an award-winning singer-songwriter based in New York City. Her music is a colorful blend of Pop, R&B and Folk sounds with heart-felt lyrics in both Spanish and English. In 2019 Sara won the award for "Best World Music" at the Richmond Film and Music Festival and the award for "Artist Revelation of the Year" at the Premios Unidad in NYC (Ecuadorian Music Awards). Sara continues to tour internationally, playing music from the heart.
Tuesday, August 10, 2021 @ 5:00 PM
This band can play anything and can do it well. Focusing on contemporary jazz and r&b/soul, they are cutting a new path that is pleasing to the ear and satisfying to the soul. So, join them on their journey as Last Thursday Band!
Thursday, August 12, 2021 @ 5:00 PM
Lehigh Valley's Dolcetto Trio performs jazz standards and smooth jazz with a fresh, fun and entertaining groove. From jazz clubs, wineries and restaurants to weddings and corporate and private events, Dolcetto is always exploring new ways to create musical revues of Standards, Contemporary Jazz, Pop, Blues, Swing and even Dixieland.
Friday, August 13, 2021 @ 5:00 PM
Adam Web = optimistic acousitfunk.
The music that emerged was shaped with percussive guitar grooves, soulful vocals, and spiritually conscious sentiment. With his rootsy approach he has drawn comparisons to contemporary singer/songwriters Jason Mraz and Jack Johnson.
Saturday, August 14, 2021 @ 1:00 PM
Acoustic pop-rock trio Blue Jean combines the pop sensibility of Weezer with the melodic touch of Spill Canvas and the bright hue of New Found Glory.
Saturday, August 14, 2021 @ 5:00 PM
2021 marks 23 years since The Slicked-Up 9's first swung at Lehigh University and their 16th performance at Musikfest. The 8-piece band unleash a high-energy tribute to the original R&B music: Jump Blues. Decades ago Jump Blues was belted out from blazing horns, but forgotten after as it was simplified and repackaged as Rock 'n Roll.
BONUS PLAYLIST!
Get to know all of the awesome artists playing Musikfest before the 'fest begins! Check out the Musikfest 2021 Free Stage Playlist!