10 Artists to See at IBEW Local 375 Volksplatz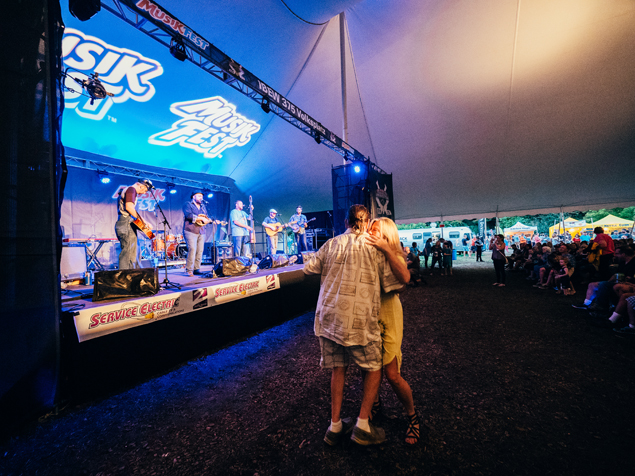 By Michael Guarino, ArtsQuest Marketing Intern / Photo: Ted Colegrove
Bethlehem's beautiful Johnston Park is home to the one and only IBEW Local 375 Volksplatz! You'll find groups ranging from rock 'n roll veterans to brassy jazz bands! Below is our list of 10 artists we think every "volk" will get excited about!
You can find the full lineup of 500+ FREE performances at Musikfest here!
Monday, August 6, 2018 @ 9:00 PM
Squirrel Nut Zippers is an American jazz band that formed in 1993 in Chapel Hill, North Carolina. The band's music is a fusion of Delta blues, ska, gypsy jazz, 1930s–era swing, klezmer, New Orleans Jazz, and various other styles. They found commercial success during the swing revival of the late 1990s, with their 1996 single "Hell", written by Tom Maxwell. In 2016, the band reunited with a new lineup to tour in support of the 20th anniversary of their highest selling album, Hot.
Tuesday, August 7, 2018 @ 9:00 PM
In 1974, Bob Marley surprised the music community by choosing soft spoken, American-born Al Anderson as his lead guitarist. Anderson remains the sole member of the Wailers mid-1970s line-up in The Original Wailers. Nonetheless, it was his stunning lead work on such classics as "No Woman, No Cry", "Dem Belly Full" and "Curfew" ("Three O' Clock Road Block") that first alerted rock fans to the Wailers' music.
Friday, August 3, 2018 @ 9:00 PM
An artist so great we booked him twice! Returning for his second spell at Musikfest, Freekbass is a master funk bassist known for his technical virtuosity and dynamic, infectious live performances. He brings monster grooves that showcase his superlative technical ability, master showmanship and solid musical sensibility. In addition, Freekbass has played onstage and recorded with a multitude of notable musicians including Bernie Worrell, Victor Wooten, DJ Logic, Bootsy Collins, Mike Gordon, and Buckethead.
Saturday, August 4, 2018 @ 7:00 PM
Fresh off their show at Levitt Pavilion SteelStacks pres. by Coordinated Health, The Funky Dawgz Brass Band are back for another live performance at Musikfest! Emerging from Connecticut, they have adopted the spirit and traditions of New Orleans and earned the respect of musicians who grew up and reside in the city. It's impossible not to enjoy yourself during their show, as they play a contagious mix of traditional New Orleans R&B, hip hop, and today's top hits, all with a funky brass twist.
Sunday, August 5, 2018 @ 7:00 PM
For nearly half a decade, The National Reserve has spent its Friday nights lighting it up at a Brooklyn bar, winning over patrons with epic sets and a remarkable combination of songcraft and showmanship. Songs like "Found Me A Woman" and "Motel La Grange" reveal the band's broadening sound horizons, while masterfully reminding one and all of the beauty of an American bar band. All it takes are two guitars, an organ, a bass and a drum set rocking out in the corner, crafting a soundtrack to the night.
Monday, August 6, 2018 @ 7:00 PM
No stranger to ArtsQuest music programming, Blair Crimmins is determined to bring Ragtime and 1920s Dixieland jazz to modern audiences. While playing small clubs around the southeast, he developed a modern sound rooted in music of the past. Five hundred shows later, he has toured the country and opened for acts such as Mumford & Sons and Preservation Hall Jazz Band. A multi-instrumentalist and student of music, Crimmins pens and arranges music for a classic New Orleans style horn section, consisting of trumpets, clarinets and trombones.
Tuesday, August 7, 2018 @ 5:00 PM
Kat Wright's voice is one of her most powerful tools. Equal parts sultry and dynamic, it balances a delicate touch with soaring solos and led to her reputation as "a young Bonnie Raitt meets Amy Winehouse." Her sweeping stage presence proves immediately enchanting, with soul flowing in and out of her seductive rock 'n' roll. Wright's gentle approach to soul may contrast with the legendary figures of years past, but the effect of her music remains the same – a captivated, appreciative audience.
Wednesday, August 8, 2018 @ 7:00 PM
Bacon! Everyone's favorite party band is back at Musikfest! If Igor and Red Elvises aren't in the middle of a tour, they are getting ready for the next one! This traveling "Rokenrol" party (after their 2002 album) is constantly evolving. Singer, songwriter, guitarist, and showman extraordinaire Igor Yuzov is perpetually globetrotting, and it is through this wanderlust that he discovers scores of talented performers to recruit for this Russian-American musical phenomenon.
Thursday, August 9, 2018 @ 5:00 PM
With a lifetime of touring experience between them, musicians Josef Crosby and Victor Gagnon have joined forces to create something new – a sound that's rooted in tradition, but with the voice and spirit of today. Pigeon Kings draws from Celtic and Rock influences, combining traditional elements and a unique, modern sound. Their show explores elements of Americana and Bluegrass while remaining true to their distinctive style. This high energy performance is supported by unique compositions, honest lyrics and the experience of career musicians.
Saturday, August 11, 2018 @ 7:00 PM
Unclassifiable as a musical act, Qiet defies the bounds of traditional music, borrowing from every culture on the planet and orchestrating those influences into a high-energy pop package. It is as fun as is it is unique, with its blend of rock, jazz, gypsy, funk and beyond. Notorious for moving even the most stoic to dance, Qiet's chemistry resonates with the audience to create a captivating experience and a whole new perspective on musical performance.
BONUS PLAYLIST!
For a chance to listen to some of these awesome artists before the festival, check out the 2018 Musikfest Free Artists Spotify playlist!