10 Artists to See at IBEW Local 375 Volksplatz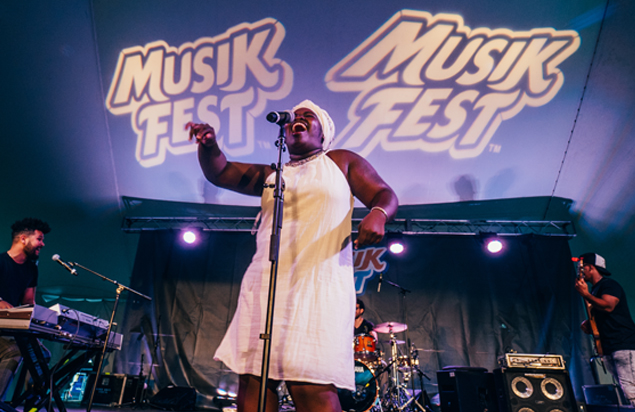 By Gabrielle Rhoads, ArtsQuest Marketing Intern / Photo: Ted Colegrove
One of the most active stages at the 'Fest, IBEW 375 Volksplatz offers music and performances from all over the world. Bursting With cultural richness, Volksplatz has something for everyone!
You can find the full line up of Musikfest's 500+ FREE performances here!
Friday, August 9 @ 9:00
!!! (generally pronounced "chk chk chk") is a dance-punk band that formed in Sacramento, California in 1996. The band's name was inspired by the subtitles of the movie, The Gods Must Be Crazy, in which the clicking sounds of the Bushmens' Khoisan language were represented as "!".
Monday, August 5 @ 9:00 and Wednesday, August 7 @ 9:30
'Fest favorite MarchFourth returns with their joy-inducing visual kaleidoscope of performers for another year of amazing shows! Combining the sounds of funk, rock, and jazz with the visual splendor of acrobatics, MarchFourth is a spectacle of high-energy compositions, colorful costumes and irresistible charisma. Bringing a spirit of celebration wherever they go, their performance is sure to be a wonderful "Shindig"!
Wednesday, August 7 @ 7:30 and Thursday, August 8 @ 7:00
Founded almost a decade ago, Scythian (sith-ee-yin) plays roots music from Celtic, Eastern European and Appalachian traditions with thunderous energy, technical prowess, and storytelling songwriting, beckoning crowds into a barn-dance, rock concert experience.
Sunday, August 4 @ 9:00
Beginning in 1990, the Pietasters played covers and originals they wrote trying to emulate their favorite bands. The idea was to make music for house parties, not to make a career out of music, yet 29 years later, they're still playing their same funk/soul sound.
Sunday, August 4 @ 5:00
With two full length albums and a few singles under their belt, Motherfolk has toured heavily all over the country and has made a name for themselves with their high-energy performances of alternative indie-rock.
Saturday, August 10 @ 5:00
With their rich harmonies and unforgettable songs of love, heartbreak, and exploration, rising folk/Americana band Roanoke has the best of everything. Roanoke has struck a balance between the narrative songwriting of folk, the ear candy appeal of pop, and the roots authenticity of country music, giving them a unique and unforgettable sound.

<h5
Saturday, August 10 @ 5:00
This rap/hip hop duo is moving quickly through the ranks since appearing in January of 2018. The Philly duo has opened for former First Lady Michelle Obama at The Liacouras Center in Philadelphia and appeared on the Emmy Award-winning PBS T.V. series Articulate.
Friday, August 9 @ 7:00
Nik Greeley is known for being one of the best performers in Philadelphia, often being compared to the likes of James Brown, Joe Cocker, and Jim Morrison. Their performances are one of the most infectious live music experiences you'll ever have.
Saturday, August 3 @ 9:00
Conceived by dhol player Sunny Jain, the group has drawn worldwide praise for its singular sound, a merging of hard driving North Indian bhangra with elements of hip-hop, jazz and raw punk energy. Created with no less a purposeful agenda than manifesting joy and unity in all people, Red Baraat's spirit is worn brightly on its sweaty and hard-working sleeve.
Sunday, August 11 @ 1:30
The Easy Leaves songs are meticulously crafted with the intention of moving people. With the inspiration of Merle Haggard's music, and countless other important poets, The Easy Leaves have written their own collection of poetry for the common man.
BONUS PLAYLIST!
Get to know all of the awesome artists playing Musikfest before the 'fest begins! Check out the 2019 Musikfest Free Artists Spotify playlist!