10 Artists to See at PNC Series at Musikfest Café Presented by Yuengling!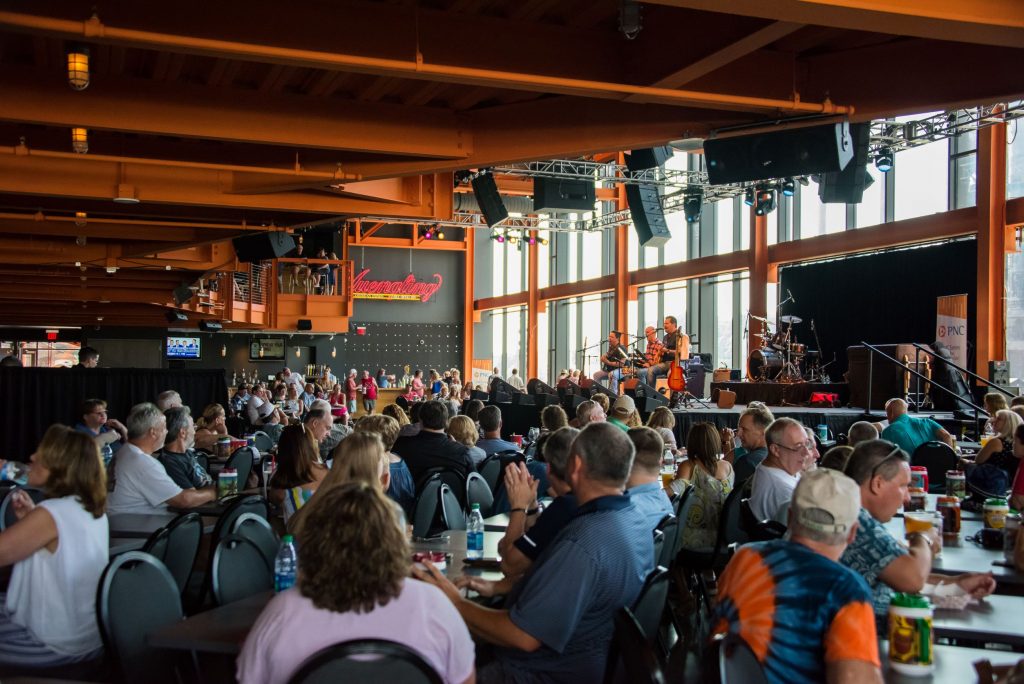 By Allison Toth, ArtsQuest Marketing Intern | Photo by Diane Richter
Enjoy an indoor, air-conditioned venue, while listening to rock, blues, dance and party bands at the PNC Series at Musikfest Café Presented by Yuengling stage!
You can find the full lineup of 500+ FREE performances at Musikfest here!
Friday, August 6, 2021 @ 7:30 PM
Cunningham & Associates is a rock n' roll cover band featuring former Bethlehem Mayor and Lehigh County Executive Don Cunningham. A Musikfest veteran of 20 years, Cunningham is back with a new lineup of standout Lehigh Valley musicians and a slightly different setlist of classic FM radio rock n' roll hits featuring more guitar.
Saturday, August 7, 2021 @ 5:30 PM
From the White House to the Kennedy Center United Nations and beyond pianist and composer Eric Mintel and the Eric Mintel Quartet have been thrilling audiences of all ages with their unique style of energetic contemporary jazz originals.
Saturday, August 7, 2021 @ 9:30 PM
Common Bond is anything but a common band. Whether you enjoy hearing classics from Pink Floyd, AC/DC and RUSH or hitting the dance floor with Bruno Mars, Pitbull and Ed Sheeran, Common Bond spans many genres with skilled musicianship, enthusiasm and high energy. Love of music is the common bond that brought them together and it's what keeps them rocking today!
Sunday, August 8, 2021 @ 7:30 PM
Svetlana's New York Collective has become a staple on the jazz scene as a joyous ensemble that truly uplifts its audience musically and spiritually. The band's sound and repertoire are a tasteful blend of swing and straight-ahead jazz intermingled with occasional original compositions. The strong vocal delivery paired with exciting virtuosic improvisation from the City's finest allows the band to move seamlessly from sophisticated, sultry retrospection to a rowdy, joyous carnival.
Friday, August 13, 2021 @ 5:30 PM
The multigenerational Horizons Quartet celebrates the release of their self-titled album on PM Records this year at Musikfest 2021. Saxophonist Dan Wilkins and pianist James Collins are joined by esteemed bassist Gene Perla and master drummer Byron Landham, performing music composed by Wilkins, inspired by his interest in oil painting. "Creating music at its best has always been a visually inspired, viscerally cinematic experience for me."
Friday, August 13, 2021 @ 7:00 PM
Popular Multi-Award Winning Lehigh Valley/Allentown Singer/Songwriter, Recording Artist and Entertainer SCOTT MARSHALL brings his own unique, genuine and heartfelt brand of Americana music that's as inspiring as it is fast and fun. No matter what roads life has you on, Scott and his cast of stellar musicians he refers to as "The Highway Souls", take you on a ride that delivers all the elements needed for an honest to goodness, fun filled, foot stomping, soul shaking, hand clapping good time.
Friday, August 13, 2021 @ 9:30 PM
The SuperNaturals are a seven-piece band playing great music from the 1960s, 1970s and 1980s with an emphasis on musicianship and an incredible sound. We perform a mix of dance music, great listening tunes, and even some instrumentals. We cover Chicago, Steely Dan, Elton John, Billy Joel, The Doobie Brothers, the Beatles and many more – we do the classic rock you love that no one else plays!
Saturday, August 14, 2021 @ 7:30 PM
Ginger and The Schnappes is a 6-piece jazz and swing band based in Bethlehem, PA. They play jazz standards, swing tunes and jazzed-up versions of pop tunes. They perform regularly at ArtsQuest and for organizations and concerts around the Lehigh Valley. The band is fun, engaging and gets people dancing.
Saturday, August 14, 2021 @ 9:30 PM
Seven veteran musicians, with a true passion for the music, bring all the original excitement to both a new generation and to those who experienced it the first time. Their high energy, show stopping performances continue to have audiences on their feet and reliving the promise of the grooviest music ever written!
Sunday, August 15, 2021 @ 5:30 PM
THE FOZTONES, five of the finest seasoned players in the Lehigh Valley based in Historic Bethlehem, Pa. A must see band with JAZZITUDE and influence of Blues, Swing, Latin, Ska and Funk…performing some great original tunes and selected covers…like POGO STICK, GIRL WHAT'S GOT IT ALL, BOOGIE MAN, SHE'S A DANCER and FLITCH&THE STEEL!
BONUS PLAYLIST!
Get to know all of the awesome artists playing Musikfest before the 'fest begins! Check out the Musikfest 2021 Free Stage Playlist!