10 Artists to See at Red Stag Pub Liederplatz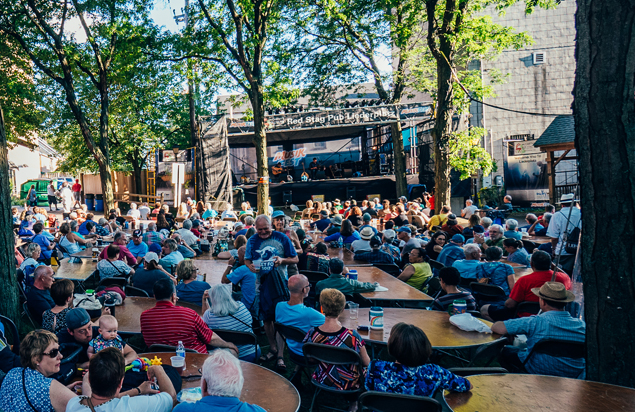 By Sarah Nekich, ArtsQuest Marketing Intern / Photo: Ted Colegrove
Join in on the Musikfest festivities at the Red Stag Pub Liederplatz in the courtyard tucked away just off of Main Street for some outdoor fun! Enjoy Folk, Blues, Celtic, Americana, and more while enjoying some food and beverages in the shade! Check out our list of 10 artists we think you will enjoy.
You can find the full lineup of 500+ FREE performances at Musikfest here!
Tuesday, August 6, 2019 @ 7:00 PM
One of the best live acts to come out of Ireland in recent years, the multi-award winning We Banjo 3 combine supergroup credentials with a breathtaking command of the emotive power of fiddle, guitar, mandolin and banjo. Simply put — the gold standard of Irish and American roots music!
Thursday, August 8, 2019 @ 7:00 PM
Johnny Hayes is a Folk/Americana/Bluegrass artist who was featured on NBC's The Voice in 2016. Johnny gained over 2 million views on YouTube, and received invaluable vocal and performance training from Grammy award winning artists and coaches such as John Legend and Adam Levine! Johnny is currently working on a solo Americana EP with new songs, stories and performances that capture the essence of a man with a thick southern background.
Friday, August 2, 2019 @ 5:30 PM
Dave Fry has been at the center of the Lehigh Valley folk music scene for fifty years, as a family music performer, adult soloist and performer with numerous bands: Steppin' Out!, Pavlov's Dawgs, Shimersville Sheiks and more. Dave has numerous LV Music Awards for Best Folk, Children's Performer and Radio Personality as well as a Life Time Music award. Dave is also one of the few performers who has played at every Musikfest!
Saturday, August 3, 2019 @ 7:00 PM
Motherfolk is an Alternative, Indie – Rock band that started as a writing project between two college friends, and has now grown into a phenomenon that has captured the hearts and souls of dozens of people all over the world. With two full length albums and a few singles under their belt, Motherfolk has toured heavily all over the country and has made a name for themselves with their high-energy performances!
Sunday, August 4, 2019 @ 12:00 PM
The Billy Bauer band includes electric violinist, Chris Lorenzetti, Drew Somers on drums and Steve Zalalas on bass. The four members combine the musicality and groove of contemporary jam bands with the storytelling and accessibility of heartland rock. This captivating sound has earned the band noteworthy gigs at high-profile venues and festivals across the nations, including Musikfest!
Sunday, August 4, 2019 @ 12:00 PM
Little Buddy is a celebrated guitarist and a major player in the Philadelphia rock and blues scene. He has devoted his life to his instrument, resulting in signature LB solos. The band, featuring Ken McCoy on sax, Tom Webb on drums and Anton Marc Clockson on bass is grooving hard – and as always – the guitar is on fire!
Sunday, August 4, 2019 @ 4:00 PM and 5:30 PM
Inspired by an unwavering love for summers spent in the mountains, along with the tall tales from his youth, Jeremiah Tall is a one-man show based out of Bucks County, Pennsylvania. Tall puts his own spin on Folk/Americana, and Bluegrass tunes with fictional stories of cowboys and a man's battle with the devil. A hand painted suitcase converted into a kick drum provides the backbone to his own throwback spin on folk rock.
Sunday, August 4, 2019 @ 7:00 PM
Cleveland-born David Wilcox is a father, a husband, a citizen and a songwriter. Wilcox is now 20 records into a career marked by personal revelation and wildly loyal fans. His lyrical insight is matched by a smooth baritone voice, virtuosic guitar chops, and creative open tunings, giving him a range and tenderness rare in folk music.
Monday, August 5, 2019 @ 7:00 PM
William Wild is the moniker of 26-year-old Knoxville, Tennssee based singer-songwriter, Garrett Sale. For William Wild's recent singles "Wound Up" & "Who Do You Love" (Sony Music Masterworks), he blends traditional songwriting with modern, adventurous production aesthetics and plush nostalgic pop sensibilities.
Wednesday, August 7, 2019 @ 5:00 PM
Serene Green is the collective musical vision of Pennsylvania natives Quentin Fisher, Michael Johnson, Shane McGeehan, and Steve Leonard. The members of Serene Green share a common goal to influence the legacy of bluegrass music with original songwriting and compositions, while honoring the traditions set forth by the pioneers. The band released its first, all-original studio album, "To Whom It Pertains", in June 2017, and is set to release its second studio album in 2019!
BONUS PLAYLIST!
Get to know all of the awesome artists playing Musikfest before the 'fest begins! Check out the 2019 Musikfest Free Artists Spotify playlist!