10 Artists to See at T-Mobile Plaza Tropical!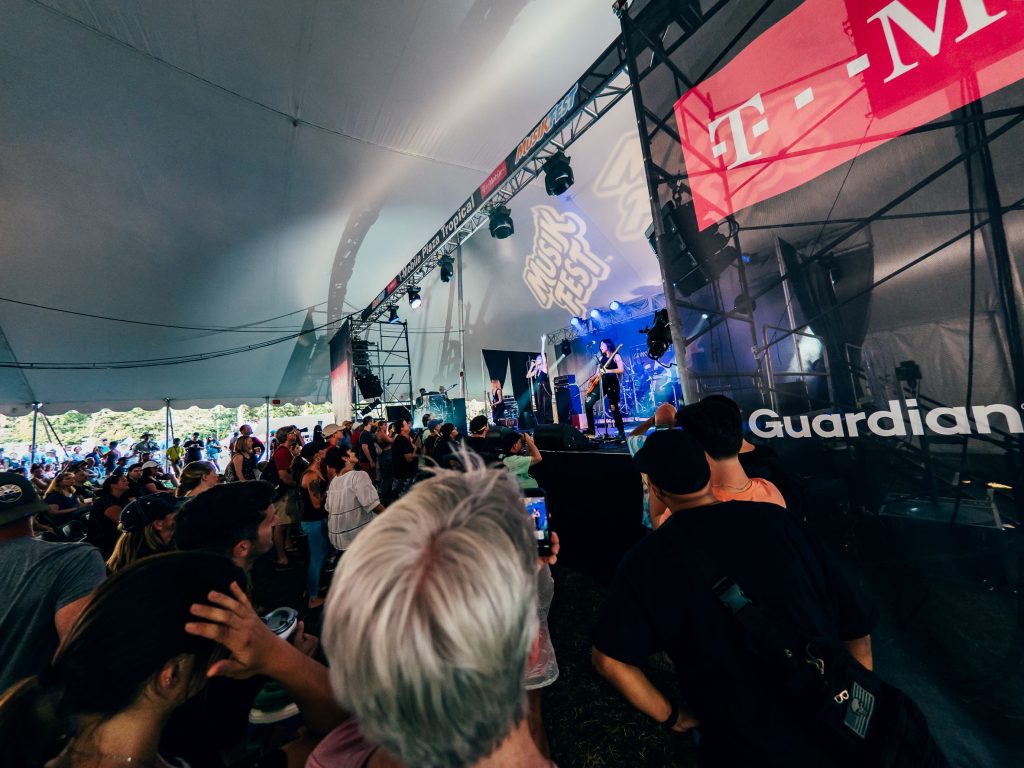 By Allison Toth, ArtsQuest Marketing Intern | Photo by Ted Colegrove
Listen to World, Latin, funk, rock and much more, while enjoying our outdoor, covered venue at T-Mobile Plaza Tropical! Grab some Latin and Caribbean food and beverage favorites and dance the night away! Below are ten performers you won't want to miss on our T-Mobile Plaza Tropical Stage!
You can find the full lineup of 500+ FREE performances at Musikfest here!
Sunday, August 8, 2021 @ 7:30 PM
Formed in 2014, The Great Heights Band has released 2 full length albums entitled "rad-pop." (2018) and "Songs in Eastern Standard Timing" (2015) via CI Records (August Burns Red, The Pink Spiders, Carousel Kings). The quartette also released an EP called "Cabin Fever" during 2020 on their own label rad-pop. records. Since its inception, TGHB has been a DIY effort, with songwriting, production, and art handled primarily within the band or by friends.
Sunday, August 8, 2021 @ 9:30 PM
What happens when you put together 3 dudes with musical ability, a love for Blink 182 and a similarly warped sense of humor? You get The Dude Ranch! Consisting of guitarist/vocalist Gerard Canonico, bassist/vocalist Zach Falkow and drummer Micah Cowher, The Dude Ranch will transport you straight back to the late 90's when the US only had three major music festivals and Furbees were still being sold un-ironically.
Monday, August 9, 2021 @ 9:30 PM
Start Making Sense presents Tom Petty's "Wildflowers" and More. Start Making Sense will be performing the entire Wildflowers album in order. Plus a few classic Tom Petty songs, and a few from the "All The Rest" album as well. The time is now for them to pay tribute to what they feel is one of the greatest, most honest, beautiful and perfect albums ever made.
Tuesday, August 10, 2021 @ 7:00 PM
Curley Taylor's bluesy, soulful vocals and his band's hard driving Zydeco beat blend to create high-energy dance music for all audiences. His music is true to its roots in Louisiana Zydeco, but contemporary enough to appeal to a broad range of music lovers. With seven CDs of original music, Curley Taylor and Zydeco Trouble play their own style of Zydeco, infused with old school R&B, Blues and Southern Soul.
Tuesday, August 10, 2021 @ 9:00 PM
Named after Ukrainian nomads, Scythian (sith-ee-yin) plays roots music from Celtic, Eastern European and Appalachian traditions with thunderous energy, technical prowess, and storytelling songwriting, beckoning crowds into a barn-dance, rock concert experience. Nashville's Music City Roots says Scythian is 'what happens when rock star charisma meets Celtic dervish fiddling', and the Washington Post claims "Scythian's enthusiasm is contagious, and shows seem to end with everyone dancing, jumping around or hoisting glasses."
Wednesday, August 11, 2021 @ 2:30 PM
While the band takes their name from a mystical folklore creature of the night, Galipote is anything but a nightmarish concoction. In fact, its deft and ease with various Caribbean rhythms and instruments of West Indian folklore, within a rock format that doesn't shy away from the blues, makes Galipote a unique world beat rock band with a potent, high energy sonic recipe sure to delight even the most jaded of listeners.
Wednesday, August 11, 2021 @ 7:30 PM
Joe Hertler & The Rainbow Seekers will make a sprightly young groove doctor out of anyone. With spectacular energy pulsating from every member of the band, the Rainbow Seekers could illuminate the very chambers of Heaven.
Friday, August 13, 2021 @ 6:00 PM
The Contact Collective family is a musical unit with five members, all coming from unique backgrounds to come together to create a wonderful blend of sound. Come journey through music with us as we tell stories through both original and covered content.
Saturday, August 14, 2021 @ 12:00 PM
ELJURI is an Ecuadorian singer-songwriter whose compelling global fusion, soaring guitars and socially conscious lyrics inspire culturally diverse audiences. Touring internationally as a power trio these seasoned musicians deliver hip-shaking infectious grooves.
Sunday, August 15, 2021 @ 8:30 PM
Hector Rosado, an accomplished percussionist, has toured with the best in the business. He has traveled nationwide, as well as world tours with music titans such as David Burne, Dave Valentine, and the legendary Tito Puente. The list goes on and on.In addition to performing, Hector has recorded for Warner Bros. and has created tracks for "video Jams" as seen on the BET Network.

BONUS PLAYLIST!
Get to know all of the awesome artists playing Musikfest before the 'fest begins! Check out the Musikfest 2021 Free Stage Playlist!