10 Artists to See at T-Mobile Plaza Tropicalz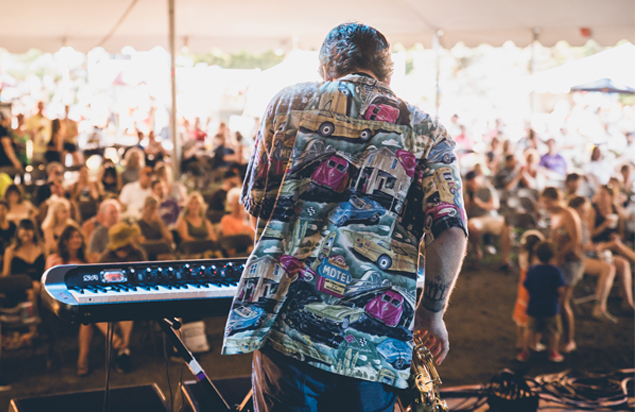 By Sarah Nekich, ArtsQuest Marketing Intern
Get ready to dance and get funky at T-Mobile Plaza Tropical! Enjoy outdoor and covered seating while you enjoy World, Latin, Funk and much more. Get some of your favorite Latin and Caribbean food and beverages and enjoy these 10 artists we think you will love!
You can find the full lineup of 500+ FREE performances at Musikfest here!
Friday, August 9, 2019 @ 7:30 PM
&More is a Rap/Hip Hop duo from Philadelphia. The duo's single, "My Own Light" appeared in February, followed by the official music video which featured Grammy Award-winning spoken word artist J. Ivy. &More has opened for former First Lady Michelle Obama at The Liacouras Center in Philadelphia, appeared on the Emmy Award-winning PBS T.V. series, Articulate, and to top it off Powerhouse Rockers Low Cut Connie invited &More to join their tour in Fall 2018!
Sunday, August 4, 2019 @ 6:00 PM
Crimson Apple is a pop-alt band from Hawaii, now based in Los Angeles. The band is comprised of sisters: Colby, vocals; Shelby, guitar; Carthi, bass; and Faith Benson, drums. The band's aesthetic is a vibrant mosaic of the sisters' influences, including pop, alternative, K-pop and J-pop. In 2017, the band signed with Amuse Group,and has since toured in numerous venues and festivals across the US and released brand new music, including singles "Can't Get Out of Bed" and "Somebody"!
Sunday, August 4, 2019 @ 8:00 PM
Wife and husband duo, Carly Comando and Tom Paterson come together to make Slingshot Dakota, the little band with the big sound. Combining a robust low-end with sweet and delicate melodies, Carly makes full use of her heavily effected keyboard while also providing vocals that are, in turn, sweet and polished or earnest and raw. Tom fills out the sonic middle ground with his drum kit, knowing just when to hold back, and when to let loose and whale away. It's a little bit pop; it's a little bit punk; but it's 100% fun!
Saturday, August 10, 2019 @ 5:00 PM
Drawing from diverse musical backgrounds, Austin's Cilantro Boombox creates an energetic, positive vibe that flows from the dance floor to the soul! Cilantro's explosive sound merges elements of Latin, Pan-African, brass bands, and electronic music's in a unique flavor as bold as its namesake.
Saturday, August 3, 2019 @ 9:00 PM
The Empresarios sound is best described as "Tropicaliente," and that is the vibe that the band brings to the stage as well. Mixing together the warm sounds of the Caribbean comes with ease for this group of talented musicians. Band leader Javier Miranda and lead singers Frankie Rosado and Felix Perez all hail from Puerto Rico, which comes through in the band's unique blend of salsa, reggae, cumbia, dub and house!
Sunday, August 4, 2019 @ 9:30 PM
KC has been honing his lyrical skills for the past 15 years, but has recently made a sole vocation of creating music. His usage of different genres such as Indie, Pop, and Rap/Hip Hop blended together showcases his flexibility in musical expression. As of November 10, 2018, "Powerless", his debut album dropped on all streaming services. In the album's first weekend of release, "Powerless," broke the top 100 on the ITunes Hip Hop Charts, peaking at #72.
Jordan Meyer is a classically trained vocalist, and musician, with a soulful, pop-rock sound. His music covers topics such as mental health, substance abuse, love, and the ups and downs of life. His raw emotion & vulnerability have gained him notoriety as both a singer-songwriter, and advocate for mental health/substance abuse.
Tuesday, August 6, 2019 @ 7:30 PM
Nalani & Sarina, identical twins sisters from New Jersey, have developed a distinctive blend of traditional soul-rock and modern pop likely to keep their faces in the spotlight for years to come. Their most recent album, The Circle, is being digitally distributed worldwide by Kobalt/AWAL Music and has been called "some of the best music being made today" by legendary music critic/SiriusXM radio host Dave Marsh.
Friday, August 9, 2019 @ 3:30 PM
Sean McConnell, a Grassroots/Folk/Country singer and songwriter, has had his songs recorded by some of music's biggest names – Tim McGraw, Martina McBride, Brad Paisley, Rascal Flatts, Meat Loaf, and Christina Aguilera – just to name a few! Sean earned his first no. 1 single on the country charts in early 2018 with breakout artist Brett Young's delivery of "Mercy," which the two co-wrote. As a performer Sean packs performances and entertains them with his warm tenor voice and acoustic guitar.
Thursday, August 8, 2019 @ 9:30 PM
Hailing from Memphis, Tennessee, Dirty Streets have spent years on the road and in the studio forging their own style. Their fifth, and latest, LP, Distractions, is an explosively charged follow-up to their acclaimed 2015 release White Horse, which contains a unique style of heavy, soulful and sometimes psychedelic rock.
Thursday, August 8, 2019 @ 3:30 PM
Fronted by the charismatic Jamaican-born singer and songwriter Nee Nee Rushie, the seven-piece New York band The Big Takeover plays original music that is rooted in and reverent toward the genres and rhythms of Jamaican pop: reggae, rocksteady, ska. Their complex arrangements and big hooks connect with the spirit of Motown and the uptown sophistication of the 21st century retro soul and R&B revival scene.
BONUS PLAYLIST!
Get to know all of the awesome artists playing Musikfest before the 'fest begins! Check out the 2019 Musikfest Free Artists Spotify playlist!