10 Artists to See at the BB&T Jazz Cabaret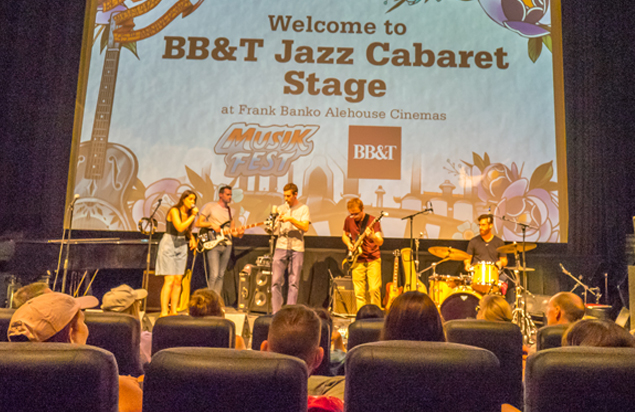 By Gabrielle Rhoads, ArtsQuest Marketing Intern / Photo: Craig Roberts
Beat the heat at this indoor platz! BB&T Jazz Cabaret Stage is presented inside Frank Banko Alehouse Cinemas, an intimate 200-seat venue. Enjoy Musikfest's showcase for jazz in your comfy seats while enjoying your food and drinks from outside!
You can find the full line up of Musikfest's 500+ FREE performances here!
Saturday, August 3 @ 5:30
A professor at both Lehigh University and The New School University, Gene Perla has an impressive career. He has performed and/or recorded with Frank Sinatra, Nina Simone, Joni Mitchell, Chet Baker, Miles Davis, and many more. He has also won Tony Awards for his sound design on Disney's "Beauty and the Beast" and "The Lion King" on Broadway. Despite his extensive behind the scenes work as a music publisher, manager, menot, and professor, he still finds time to perform.
Sunday, August 4 @ 1:00 and 3:00
Returning to the MusikFest stage for a second year, American jazz singer Corinne Mammana is passionate about preserving the music of the past while placing her own personal spin on the American Songbook. Her debut EP received national praise and an interview with AXS who said, "Mammana loves the music of the past, but she just might be the voice of the future."
Saturday, August 10 @ 8:00
The SwingTime Dolls is an all-female vocal group inspired by The Andrews Sisters. Keeping listeners engaged with intricate harmonies and energetic choreography, The SwingTime Dolls are sure to capture the hearts of any age.
Saturday, August 3 @ 8:00
Black Tie Brass is a horn driven jazz funk band based out of New York City.Black Tie Brass has been the backing band for numerous acts from Nick Tangorra to Robbie Rosen to Sal "The Voice" Valentinetti. BTB arranged, produced, and performed on Sal Valentinetti's "The Voice" EP which hit #1 on the iTunes and Amazon Jazz chart and Billboard Jazz chart.
Monday, August 5 @ 8:00
Stephanie Chou is a saxophonist, singer and composer based in New York City. Her music combines classical and Chinese influences with jazz and pop harmonies and rhythms. She has written for ballet and theater, and her work "C for G" was commissioned and choreographed by American Ballet Theater principal ballerina Susan Jaffe.
Friday, August 2 @ 8:00
Founded in 1997 by guitarist, Richard Barnes , the band had one simple mission – to preserve the music of an era forgotten , the "Roaring 20s" , the "Jazz Age" , the "Gatsby Era".
Monday, August 5 @ 5:30
MusikFest veterans, The Bryan Tuk Complex is an instrumental guitar/bass/drums group that stylistically plays 1970s and 80s tunes in our own style, that fuses funk, jazz & rock together.
Friday, August 9 @ 5:30
Mike Lorenz & the Witherbee's performs at MusikFest just ONE day before the release of their debut album! Led by Lehigh Valley music teacher, Mike Lorenz, and up-and-coming vocalist/violist/songwriter Jacqui Armbruster (a previous student of Lorenz), the band resembles a folk-rock band that snuck into the jazz club with improvisational expression and might.
Wednesday, August 7 @ 5:30
The Jazz Thieves revitalize jazz by reconnecting it to its roots through evocative lyrics, soulful improvisation and wide-ranging originals. The Jazz Thieves's sound has been forged in the grit and hustle of New York City's jazz and independent music scenes, absorbing their aesthetic and spirit from venues which feature modern pop, old-school soul, eclectic rock and straight ahead jazz.
Saturday, August 10 @ 5:30
Passarinho [português for "little bird"] is a vivacious quartet that performs instrumental music from around the world. Passarinho seeks to transcend the confines of borders and genre, taking listeners on a journey through the Americas and beyond.
BONUS PLAYLIST!
Get to know all of the awesome artists playing Musikfest before the 'fest begins! Check out the 2019 Musikfest Free Artists Spotify playlist!