10 Artists to See at the Hotel Bethlehem Platz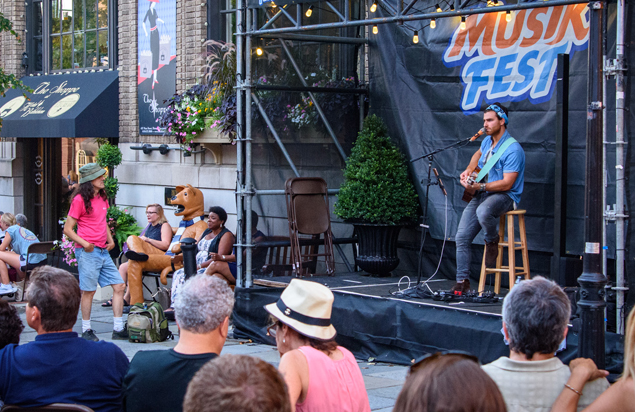 By Gabrielle Rhoads, ArtsQuest Marketing Intern / Photo: Keith Huylebroeck
Hotel Bethlehem Platz sets soft acoustic tunes against one of the city's greatest historical landmarks. Located on the North Side of the festival, Hotel Bethlehem Platz features personal and intimate performances. Here are just 10 performers you can check out August 2-11!
You can find the full line up of Musikfest's 500+ FREE performances here!
Sunday, August 11 @ 5:00
Tim Harakal's self-taught hands are at one with the guitar strings. Influenced by his favorite band Metallica, his music morphed into an acoustic art form with a pop-rock edge. He was recently awarded the titles of "Best Singer/Song Writer" and "Best Lyricist" and has been featured numerous times in local print, television, and radio.
Saturday, August 3rd @ 5:00 and Friday, August 9 @ 5:00
2018 marks 20 years since The Slicked Up 9's first swung at Lehigh University. The Slicked Up 9's play homage to the incredible music of the Jump Blues artists of the past, laying down the groove for dancers of every generation.
Friday, August 2 @ 5:00
Andrea Nardello's music explores relationships, romance, and family life. Nardello's refined accessibility draws from folk, pop, rock, and even the swagger of hip-hop. Her songs, "Leave The Light On" and "Home To Me" as well, each won WSTW's Award for Folk Song Of The Year.'
Sunday, August 4 @ 5:00
Believe in Ghost! is a band that goes through phases. Their distinct harmonies, ear-catching melodies, and unique songwriting create a live show full of surprises. Unbound by convention, Believe in Ghost! offers tastes of blues, folk, hip-hop, rock, and pop.
Sunday, August 4 @ 1:00
Matt's songwriting paints pictures with words, often drawing inspiration from classic works of literature or simply spinning new original stories in song. His work is reminiscent of wordsmiths like Denison Witmer, Iron & Wine, and James Taylor.
Saturday, August 3 @ 1:00 and Saturday, August 10th @ 5:00
Adam's musical journey began in Australia while studying abroad. The music that emerged was shaped with percussive guitar grooves, soulful vocals, and spiritually conscious sentiment. Most recently, Adam and his wife Amanda have won a Parents' Choice Silver Honor Award for their lullaby album, "As The Seasons Go."
Monday, August 5 @ 5:00 and Saturday, August 10th @ 1:00
GT3 averages more than 100 performances annually at local restaurants, hotels, and private events. Their repertoire includes Broadway, film and other hit songs recorded by jazz greats over the years.
Thursday, August 8 @ 5:00
Najwa Parkins and the Resolute sound is a Philadelphia based organ quartet. Each player brings a unique musical quality to the stage, bolstering the colorful stories told in Najwa's original compositions and arrangements.
Tuesday, August 6 @ 5:00
Zaire started as a 3-piece acoustic trio, playing classic rock with an emphasis on strong 3-part harmonies. They play music from The Eagles, Tom Petty, Crosby, Stills & Nash, Radiohead, Stevie Ray Vaughn and more – they also take requests!
Wednesday, August 7 @ 5:00
Musette Project is an exciting accordion led project by accordionist Dallas Vietty that explores the blend of Parisian accordion waltzes, the music of Django Reinhardt and the rich traditions of New Orleans and St. Louis early jazz music.
BONUS PLAYLIST!
Get to know all of the awesome artists playing Musikfest before the 'fest begins! Check out the 2019 Musikfest Free Artists Spotify playlist!