10 Artists to See at the Martin Guitar Lyrikplatz!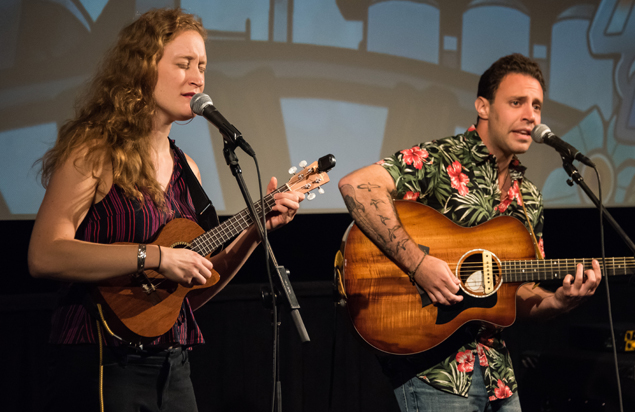 By Sarah Nekich, ArtsQuest Marketing Intern / Photo: Diane Richter
Beat the summer heat and come indoors in the air conditioned Martin Guitar Lyrikplatz! Enjoy an intimate concert experience with only 100 seats, while getting some food at ArtsQuest Center's Mike & Ike Bistro and the Yuengling Bar & Grill. Sit back and relax, and check out 10 of the singer-songwriters we think you will enjoy at the Martin Guitar Lyrikplatz!
You can find the full lineup of 500+ FREE performances at Musikfest here!
Tuesday, August 6, 2019 @ 6:00 PM
Country music artist Lauren Davidson has earned the opportunity to play numerous venues around the country and has opened for significant Country Music Acts such as Old Dominion, LOCASH, Carly Pearce and Justin Moore among many others. Lauren's recent release Ballads EP has been exclusively featured on "The Boot" and she was named Nash FM 94.7's Nash Next Top 10 finalist.
Saturday, August 10, 2019 @ 3:00 PM
Though live shows and recordings consist of a full band, at its core, Michigander is a solo project formed by front man, Jason Singer. Releasing music and touring since 2016, the band has attained recognition on a national scale while becoming a staple of the Midwest music scene. Michigander has also played festivals alongside bands such as Foster The People, Father John Misty, alt-J, Local Natives and Solange!
Tuesday, August 6, 2019 @ 8:00 PM
Amy Faden is an American indie singer/songwriter recording artist currently residing in Philadelphia, PA. She breaks through to listeners with her lyric-driven songs, sweet melodies, and ethereal voice. Having the constant desire to evolve as an artist which enables her to create music ranging from folk, to pop, to electronic.
Saturday, August 3, 2019 @ 4:00 PM
Jordyn Kenzie is a talented, inspiring 19 yr. old singer/songwriter from the Lehigh Valley. She has recently released her debut single "Stir the Sky" coinciding her first ever music video. She has opened for/performed alongside many touring acts, such as Jay Allen, Tony Orlando, The Cowsills, and Sarah Blacker.
Tuesday, August 6, 2019 @ 5:00 PM
Singer-songwriter Carly Moffa hails from a small New Jersey town. Her recent Her 2018 original song "Let the Lion Out" was dedicated to her mother and earned her a place in the top 50 of ABC's American Idol. Recently, Carly collaborated with Ray Mamrak, assist. director of Silver Linings Playbook, on a music video for her new song "Harbor".
Saturday, August 10, 2019 @ 4:00 PM
Sarah Winston is a singer-songwriter from the Lehigh Valley. She released her debut single "Peach Crush" in 2019. Influenced by artists like Norah Jones and Amy Winehouse, her soft and soulful sound meets indie-pop production in recent years. Her group "Winston" formed in 2017. The trio has been working on an EP coming in the Fall of 2019.
Monday, August 5, 2019 @ 8:00 PM
New York City native, Yaniza, is a bilingual singer-songwriter whose music can be described as pop with acoustic undertones. Yaniza's tunes bring joy and sunshine to its listeners through catchy lyrics meshed with acoustic guitar, ukulele or piano base. From sweet and sorrowful "Worthless," to fun and playful "Any Time of Day," you're bound to experience a roller coaster of emotions that will always land back to positivity.
Sunday, August 4, 2019 @ 5:00 PM
Kate Mills sound is rooted in the classic songwriters she grew up listening to and is inspired by modern powerhouses in the Americana genre. Kate has forged her own style through the fires of NYC, playing many shows at some of the city's legendary. Kate is now recording her full-length album, due to be released this fall. She recently released her newest single from the album, "What Did You Think" on the main stage at Rockwood Music Hall.
Friday, August 2, 2019 @ 7:00 PM
Kayla Avitabile is a fan favorite for her powerful and soulful voice. She is a five-time nominated (Industry and Fan) LVMA singer in catagories such as Best New Album (2019) and Best New Artist (2014). Avitabile has an ever-growing catalog of music, including her Shadows & Fate EP (2018) and The Difference Between Fine and Okay album (2017).
Saturday, August 3, 2019 @ 5:00 PM
Ahli is a Jersey-born songwriter with a passion for indie-rock, folk and all things R&B. With influences that span from Thundercat to Joni Mitchell, their music is as original as it is catchy. Keep a look out for their upcoming single "HONEY" on August 3rd!
BONUS PLAYLIST!
Get to know all of the awesome artists playing Musikfest before the 'fest begins! Check out the 2019 Musikfest Free Artists Spotify playlist!