10 Artists to See at PNC Series at Musikfest Café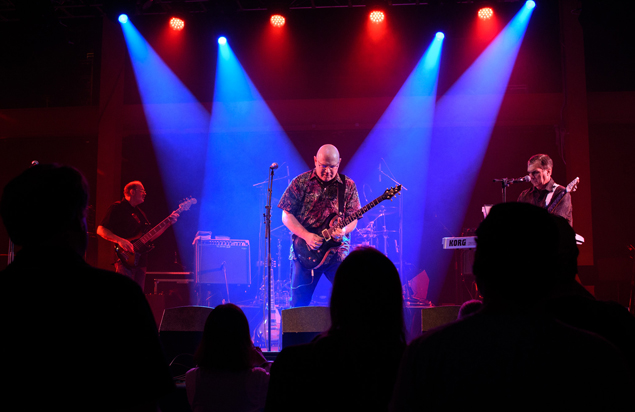 By Sarah Nekich, ArtsQuest Marketing Intern / Photo: Keith Huylebroeck
Enjoy the comfort of the indoors at PNC Series at Musikfest Café presented by Yuengling! Enjoy rock, blues, dance, and party bands complete with an awesome view of the SteelStacks blast furnaces. Below are 10 artists we think will make you get up out of your seat and dance!
You can find the full lineup of 500+ FREE performances at Musikfest here!
Thursday, August 8, 2019 @ 7:30 PM
Friday, August 9, 2019 @ 7:30 PM
Saturday, August 10, 2019 @ 7:30 PM
Choir! Choir! Choir! is a Toronto-based singing group led by creative directors Nobu Adilman and Daveed Goldman. The duo takes a non-traditional approach; there are no auditions, and the audience is the choir. Just show up and they'll teach you an original arrangement to a song you love! The group has performed with renowned artists such as Patti Smith, Tegan and Sara, and Rufus Wainwright, and onstage at New York's Carnegie Hall and Radio City Music Hall with the likes of Debbie Harry and The Flaming Lips.
Wednesday, August 7, 2019 @ 11:00 PM
DJ Kilmore has been DJing since the tender age of 13. Fueled by his love of music, he has been rocking parties since his 8th grade middle school dances. Little did he know, his dedication and hard work would evolve into a career of worldwide recognition as the turntablist and keyboardist of the band Incubus.
Saturday, August 10, 2019 @ 5:30 PM
The band Looseleaf was born from their love of tight vocal harmonies and music from the 60s-70s. In an age of synthetic sound effects and overproduction, Looseleaf prides itself on a no-frills, vintage sound inspired by the blues, classic rock, funk and reggae. Originally a trio, the band is now a 4-piece featuring Rhett Tierney and Andrew Napoli, drummer Ryan Lutz and guitarist Kyle Sparkman.
Sunday, August 11, 2019 @ 5:30 PM
Wylder writes rhythmic, haunting and lyrically driven indie folk music. With a unique blend of indie rock and chamber folk combines the spirit of alternative rock giants like Arcade Fire and The Shins with the sounds of Fleet Foxes and Radical Face. The band's music has recently been featured on the ABC show "The Good Doctor" as well as many popular MTV programs.
Friday, August 2, 2019 @ 5:30 PM
With a fiddle on fire, powerful vocals and a fierce band behind singer Jess Novak, this pop, rock, soul-pumped group brings passion to every performance. Known for their energy, superb musicianship, engaging songwriting and ability to win any crowd, this is a band on the rise
Friday, August 9, 2019 @ 5:30 PM
James Arlowe + the Primal Daze is an Indie Rock Band from NYC that stands out with their blend of modern synths with classic rock elements and crafty lyrics. They have made an impression at many NYC clubs such as Rockwood Music Hall, The Bitter End, Arlenes Grocery, Coney Island Baby, The Delancey and Niagara. They have 2 new EP's on the way in addition to the 4 singles they have released.
Saturday, August 3, 2019 @ 7:30 PM
New Jersey blues legend, Billy Hector is a two-time winner of East Coast Rocker's, "Best Guitarist" award, with more than 35 years of live performances, including two appearances at the Rock and Roll Hall of Fame American Masters Series. His new CD, Some Day Baby, features horns, keyboards and harp added to Hector's more familiar styling of bass, drums and guitar.
Thursday, August 8, 2019 @ 5:30 PM
Sunshine Symphony aims to bring back the fun songs that you remember, while performing today's hits as well. With versatile male and female vocalists and talented instrumentalists, and an unbeatable energy and chemistry, Sunshine Symphony will have you dancing and singing along!
Wednesday, August 7, 2019 @ 7:30 PM
Scott Marshall is a Lehigh Valley Native who has and continues to make quite a name for himself. Along with the charisma and charm he brings to his shows, his band Marshalls Highway have established a brand of Americana music to bring a top shelf musical experience that continues to entertain audiences of all ages and musical tastes.
Sunday, August 4, 2019 @ 5:30 PM
Rock Steady is a Lehigh Valley based acoustic trio. Focusing on three-part vocal harmonies, the band covers artists such as The Little River Band, The Eagles, Boston, Gerry Rafferty and many more from the 1970s and 80s.
BONUS PLAYLIST!
Get to know all of the awesome artists playing Musikfest before the 'fest begins! Check out the 2019 Musikfest Free Artists Spotify playlist!