10 Artists to See at Provident Bank Main Street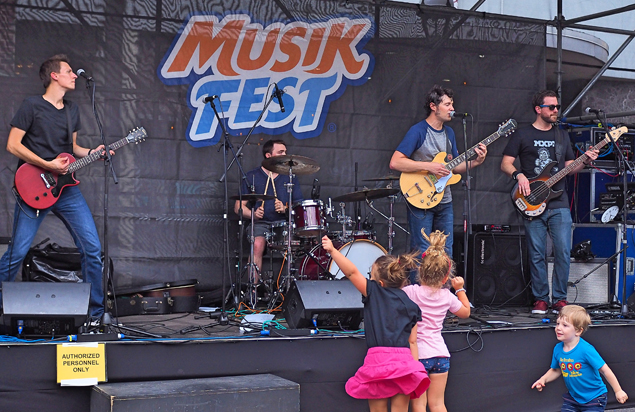 By Gabrielle Rhoads, ArtsQuest Marketing Intern / Photo: Dave Happel
Smack dab in the middle of Main Street, Provident Bank Main Street isn't hard to find! Lined by restaurants and shops, you can enjoy all Main Street has to offer while seeing extraordinary performers and musicians!
You can find the full line up of Musikfest's 500+ FREE performances here!
Saturday, August 10 @ 8:30
TIOGA is a modern alternative indie rock band blending new wave indie rock with a "a danceable sound" to create music reminiscent of "early 2000s new wave revival acts." Their influences include some of today's hottest indie bands such as The 1975, The War On Drugs, and Bleachers.
Wednesday, August 7 @ 5:00
Tim Harakal's self-taught hands are at one with the guitar strings. Influenced by his favorite band Metallica, his music morphed into an acoustic art form with a pop-rock edge. He was recently awarded the titles of "Best Singer/Song Writer" and "Best Lyricist" and has been featured numerous times in local print, television, and radio.
Saturday, August 10 @ 6:30
Honeysuckle is a progressive folk act that blends older influences and traditional instrumentation with modern effects and inspiration. They have been nominated several times in the Folk and Americana categories of the Boston Music Awards.
Saturday, August 3 @ 8:30
The maximalist rock band, Bencoolen achieves their bold, signature sound by weaving blues, funk and soul through songs, teetering on the edge of the mainstream. They have opened for Marcus King, Big Something, Mondo Cozmo, CBDB, & Spafford, and performed at festivals nationwide.
Monday, August 5 @ 5:00
Nalani & Sarina, identical twins sisters from New Jersey, have developed a distinctive blend of traditional soul-rock and modern pop. In the review of their new album, The Circle, NJArts.net praised Nalani & Sarina as "one of the best new musical acts to come out of NJ in a long time. (I) believe that Nalani & Sarina are a voice for their generation."
Sunday, August 4 @ 12:00pm
Jackson Pines has been described as a "mash-up of James Taylor and Tom Petty…that presents a unique lyrical take on life, bringing a rustic flair to the world of indie-folk/acoustic music," by Billboard Magazine. The duo from Jacson, New Jersey is fresh off the release of their debut LP Purgatory Road.
Saturday, August 3 @ 6:30
Minos the Saint is a chamber-folk group featuring a "romantic tornado" of strings, brass, and accordions. They liken themselves to Simon and Garfunkel at their most intricate amended to include Antonio Jobim and Philip Glass.
Tuesday, August 6 @ 8:30
TJ Kong and the Atomic Bomb are idiots manufacturing joy and dancing out the door. They play "Americana 'slash blues', they sing, wail, lament, and brood over being drunk, hungover, alone, depressed, sweaty, and lost," according to Pop Montreal.
Thursday, August 8 @ 8:30
Big Boy Brass is an eight-piece brass band based out of Lancaster, Pennsylvania. They play energetic jazz based brass band music, that pulls inspiration from many of the brass bands that came before them as well as rock, pop, and funk influences. They go back to their roots at this Platz, as they got their start in 2016 by playing on street corners in Lancaster.
Thursday, August 8 @ 3:00
Cubbage is a Philadelphia-based band rooted in alternative rock, with tastes of blues/jazz, folk and pop influence. Winner of the 2018 Lehigh Valley Music Awards' "Best New Artist," has toured the country and Canada, played multiple festivals and conferences around the east coast, has been featured in top 2016/2017 playlists.
BONUS PLAYLIST!
Get to know all of the awesome artists playing Musikfest before the 'fest begins! Check out the 2019 Musikfest Free Artists Spotify playlist!