10 Artists to See at Wells Fargo Festplatz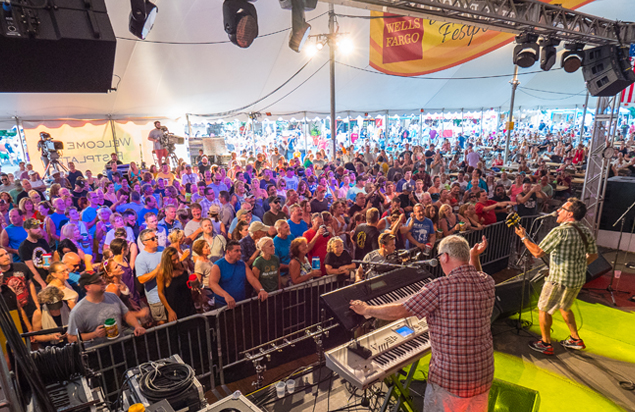 By Sarah Nekich, ArtsQuest Marketing Intern / Photo: Craig Roberts
If you are ready to party – Main and Spring Streets' Wells Fargo Festplatz is where the party is at! You can find party bands, polkas, theme days, and more at this beautiful outdoor venue. You can even buy your very own iconic Musikfest mug! Below is our list of 10 artists that we think you will enjoy at the Festplatz!
You can find the full lineup of 500+ FREE performances at Musikfest here!
Sunday, August 11, 2019 @ 8:30 PM
For over 10 years The Aardvarks have been one of the premier rock bands in the Lehigh Valley, mixing time periods and styles of covers and original music into their non-stop, high energy sets. Paired with the groups individual and collective talent The Aardvarks are a real rock 'n' roll package!
Tuesday, August 6, 2019 @ 8:00 PM
Garden State Radio knows how to create the ultimate audio/visual experience. The band plays everything you know and love, bringing to life the biggest multi-genre anthems of the 80's, 90's, 2000's, and today spanning four decades of music. Get ready for a sensory overload with Garden State Radio!
Friday, August 2, 2019 @ 8:30 PM
Philadelphia Funk Authority was created with one thing in mind-to provide you with the very best in high-energy dance party! They play a wide range of the best dance and party music from the past five decades. From small intimate pre-party jazz, to a full-out dance floor frenzy, The Philadelphia Funk Authority will always have you up on your feet.
Saturday, August 3, 2019 @ 4:00 PM
Dynamic accordionist, Alex Meixner mixes an array of musical styles into traditional, exuberant Central European party music, letting die-hard polka fans to enjoy the evolution and letting hipsters discover all there is to love in the innately fun genre. Based out of Palm City, Florida, solo and with his band he has performed at major venues and festivals around the world, as well as at uncountable accordion-centric events.
Wednesday, August 7, 2019 @ 8:00 PM
RUBIX KUBE is led by a male and female dynamic duo able to transform in the-blink-of-an-eye into the voice & character of any 80s icon. It's like Madonna, Prince, Devo, Bon Jovi, Guns 'N' Roses and more are teleported right before your eyes on the same stage, in one concert! The band performs pop, rock, new wave, dance, and all the hair metal hits of the 80's!
Saturday, August 3, 2019 @ 7:30 PM
The Sofa Kings are a high energy ten-piece band from Southeastern Pennsylvania that is taking the Delaware Valley by storm! The combination of fine musicianship, extraordinary vocals, and an exceptional horn section sets the Sofa Kings apart from the rest. They cover all genres including all forms of Dance Music, Motown, RB, Classic Rock, and the current hot tunes on the Billboard charts.
Monday, August 5, 2019 @ 8:00 PM
The Nerds are America's party band phenomenon! They have performed on shows like "The View" and "Last Call with Carson Daly," and named the house band for MTV's Ultimate Cover Band Contest. The Nerds have even shared the stage with some of music's biggest acts – including Sheryl Crow, Earth Wind & Fire, and Train. Don't miss your chance to rock out with the nerds!
Sunday, August 4, 2019 @ 4:00 PM
This 9-piece professional line-up packs a high-energy, feel-great punch of a performance, to keep the Musikfest dance floor packed all night long. From party classics to the top hits of today, the band carries out the legacy of the most popular dance music throughout the decades.
Sunday, August 4, 2019 @ 9:00 PM
With four out of the original six of the band members being born and raised in Lancaster, PA – their spirits were too wild for the Amish lifestyle! The Amish Outlaws constantly surprise their audiences and keep them guessing as to what they could possibly play next, from Johnny Cash to Snoop Dogg and Dr. Dre, Bon Jovi to Elvis Presley, System of a Down to Shaggy. Throughout, The Outlaws spin yarns about the Brothers' upbringing and adventures since Rumpsringa.
Monday, August 5, 2019 @ 12:00 PM
Slippery When Wet is truly the ultimate Bon Jovi experience. From performing over 1500 shows throughout the U.S. alone, to traveling to Africa, Mexico, Singapore, Puerto Rico, Honduras and the Dominican Republic – the bands shows are the most attended and highest grossing of any Bon Jovi tribute in the country. Their drive, musical ability, showmanship and dedication will have you thinking they are the real thing!
BONUS PLAYLIST!
Get to know all of the awesome artists playing Musikfest before the 'fest begins! Check out the 2019 Musikfest Free Artists Spotify playlist!