10 Artists to See at Wells Fargo Festplatz!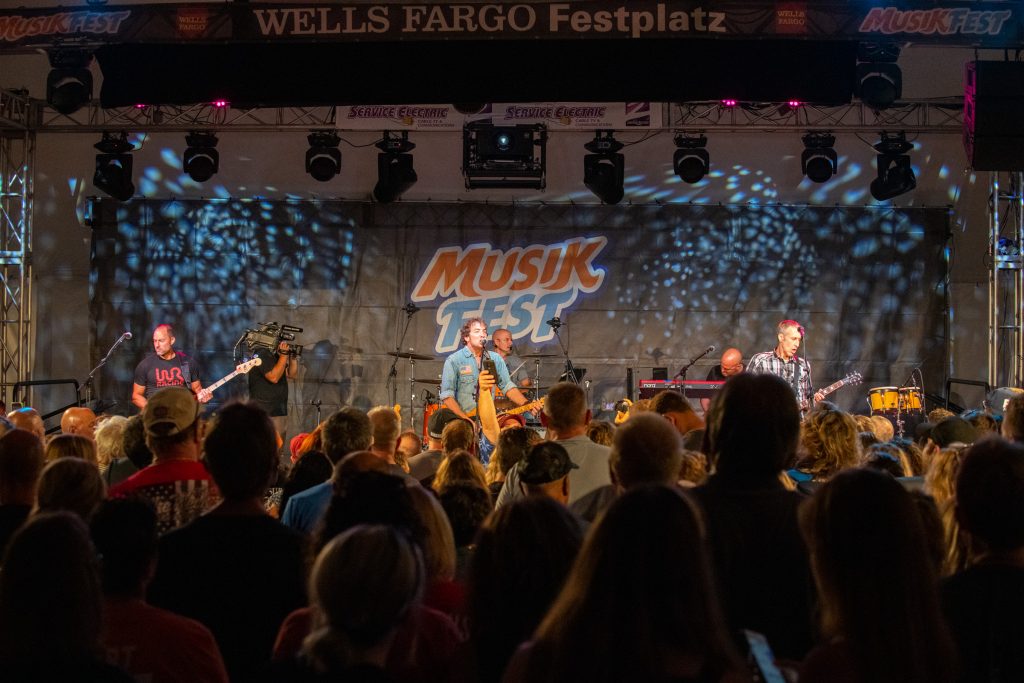 By Allison Toth, ArtsQuest Marketing Intern | Photo by Keith Huylebroeck
Party bands, polkas, theme days and more at Wells Fargo Festplatz! Enjoy energetic live music while eating and drinking from some of your favorite food vendors! Plus, every day from Noon to 5 PM, show your Wells Fargo card at the merch tent to receive special discounts! Here's a sneak peak at some artists you won't want to miss at Wells Fargo Festplatz!
You can find the full lineup of 500+ FREE performances at Musikfest here!
Friday, August 6, 2021 @ 7:00 PM
Josh Squared features two (you guessed it!) JOSHES! With the ability to play music from The Doobie Brothers to Robin Thicke and Frankie Valli to Bruno Mars, they are quickly becoming widely known on the private party circuit for the ability to get the crowd on its feet. Josh Tindall leads and fronts the band after spending many years with his parents' group "The Headliners", performing throughout the Northeast.
Saturday, August 7, 2021 @ 9:00 PM
Powerhouse ensemble "WE MAY BE RIGHT" deliver an electrifying performance as they authentically re-create the music of one the greatest Rock and Roll Keyboard Players "Piano-Man" Billy Joel. A New York City Skyline sets the backdrop with the band delivering hit after hit along with some of Billy's best deep cuts.
Sunday, August 8, 2021 @ 9:00 PM
Four out of the original six members of The Amish Outlaws were born and raised in Lancaster, PA and had a strict Amish upbringing. No electricity from land lines, no alcohol, no musical instruments, but their spirits were too wild for the Amish lifestyle. Once they trampled in the Devil's Playground, there was no turning back. In the years since Rumspringa, the members of the Amish Outlaws have become very well acclimated to the pleasures and vices of the modern world… music, most of all.
Monday, August 9, 2021 @ 7:00 PM
Floxy Bee, the Queen of Hikosso Music has devoted her career to furthering the musical & cultural traditions of Nigeria throughout the diaspora. She has received numerous awards for her Hikosso music, a mixture of highlife, makossa, soukous, juju, afrobeat and neo-traditional Yoruba.
Tuesday, August 10, 2021 @ 7:00 PM
The Wonton Soups are known as one of the most influential ska/funk/pop/punk/ shanty/swing bands in the Lehigh Valley, PA. From humble beginnings playing covers at local watering holes, The Wonton Soups have grown to selling out every, limited-capacity-due-to-COVID-19, non-ticketed, dingy bar gig that they play.
Tuesday, August 10, 2021 @ 9:00 PM
Your new favorite band! If Igor and Red Elvises aren't in the middle of a tour, they are getting ready for the next one – this traveling rokenrol party is constantly in motion and consistently evolving. Singer, songwriter, guitarist and showman extraordinaire Igor Yuzov is perpetually globetrotting and in the process he has found scores of wildly talented, entertaining performers to bring into the fold.
Thursday, August 12, 2021 @ 9:30 PM
Blending the rhythms of dance music with familiar melodies from the past and present, Go Go Gadjet straddles the line between band and DJ like few others. Their innovative combination of traditional instruments with modern synths and controllers has allowed them to craft a sound and presentation that is uniquely their own. A decade and a half on the road has molded this PA based group into an entertainment machine!
Saturday, August 14, 2021 @ 5:00 PM
These four acclaimed musicians deliver a unique theatrical experience. They take audiences of all ages on a chronological journey through the Beatles timeless catalogue. The use of costumes, vintage instrumentation and amplification delivers a truly authentic audio and visual experience.
Saturday, August 14, 2021 @ 9:00 PM
Pittsburgh-based Bastard Bearded Irishmen is one of the most entertaining and energetic live shows today. Their sound is an original, ferocious blend of traditional and contemporary Celtic music, mixed with punk, gypsy and high-energy rock n' roll.
Sunday, August 15, 2021 @ 7:00 PM
Brother Moses was formed in 2014 by a group of friends who wanted to try and find a place for themselves in the small-but-vibrant Fayetteville, Arkansas music scene. Childhood friends and college roommates James Lockhart and Moses Gomez wrote songs in their spare room and showed them to friends and fellow University of Arkansas student John-Lewis Anderson, who invited them to play an annual Halloween house party they hosted. The experience bonded the band together and with a later addition of drummer Corey Dill, Brother Moses was born and set out to recreate the spirit of that night over and over.
BONUS PLAYLIST!
Get to know all of the awesome artists playing Musikfest before the 'fest begins! Check out the Musikfest 2021 Free Stage Playlist!