10 Artists to See at Yuengling Lagerplatz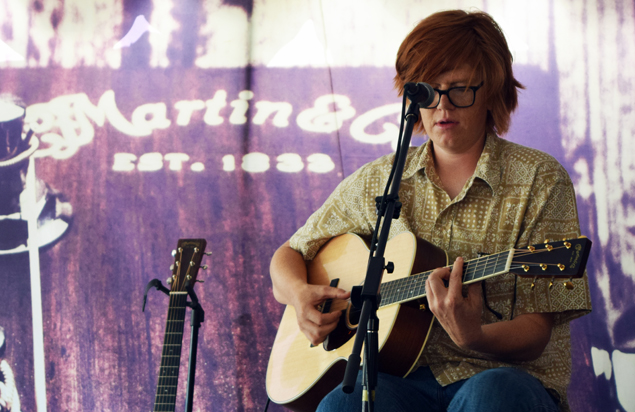 By Sarah Nekich, ArtsQuest Marketing Intern / Photo: Maya Rodgers
Yuengling Lagerplatz is home to the coolest "mini sets" by festival artists! You could even try your hand at the Martin Guitar open mic stage! Grab a Traditional Lager, Golden Pilsner (or your other favorite Yuengling beer) and check out our list of 10 artists we think you will enjoy!
You can find the full lineup of 500+ FREE performances at Musikfest here!
Saturday, August 3, 2019 @ 4:00 PM
Bencoolen is a maximalist rock band that weaves blues, funk, and soul through their songs. Together they moved into tour slots ahead of artists such as Marcus King, Big Something, Mondo Cozmo, CBDB, & Spafford, and into festival lineups at Firefly, the Big What, Savannah Stopover, and now Musikfest!
Thursday, August 8, 2019 @ 3:00 PM
What started as a tribute band to Talking Heads called Start Making Sense – evolved into what is now Ruby Dear, a band comprised of Jenny Founds and brother duo Jon and Jesse Braun. After playing together for years on the road paying tribute to some incredible music, these seasoned musicians have crafted some original material that is loud and evolving!
Friday, August 9, 2019 @ 7:00 PM
MiZ is an Americana/roots-rock artist from Northeast PA known for masterful guitar playing, well-crafted songwriting, and powerful and energetic live performances! MiZ is a two-time winner of the tristate indie award for "acoustic artist of the year and is currently on tour promoting his second studio album A Year Ago Today.
Saturday, August 10, 2019 @ 1:00 PM
Cubbage is a Philadelphia-based band rooted in alternative rock, with tastes of blues/jazz, folk and pop influence. Put together with The 1975's rhythmic pulse, and John Mayer-like vocals with Sonny Rollins-like saxophone lines and you've got an idea of the Cubbage sound! Cubbage was the winner of the 2018 Lehigh Valley Music Awards' "Best New Artist," and has toured the country and Canada.
Saturday, August 10, 2019 @ 4:00 PM
The Easy Leaves write, record, and perform meticulously crafted Folk, Country, and Bluegrass songs – with great capabilities to move their audience. Under the guidance of Merle Haggard's music, and countless other important poets, The Easy Leaves have written their own collection of poetry for the common man.
Sunday, August 11, 2019 @ 12:00 PM
TIOGA is a modern alternative indie rock band hailing from Philadelphia, Pennsylvania. Growing into their current lineup in 2017, the quartet has established a blend of new wave indie rock sound. Channeling influences from the likes of The 1975, The War On Drugs, and Bleachers, TIOGA exudes a young confidence that is demonstrated through their energetic live performances!
Friday, August 2, 2019 @ 9:00 PM
Twin Ghost is the musical pseudonym for singer, songwriter and producer Eric Steven. His music is a mix of eclectic, soul-infected and acoustic rock. Eric Performs over 200 shows a year along the East Coast and has shared the stage with artists such as CeeLo Green, Disco Biscuits, Jennifer Nettles, Miguel, Jeffery Gaines, Edgar Meyer and Government Mule.
Saturday, August 3, 2019 @ 12:00 PM
Steel Blossoms is the musical collaboration of both Sara Zebley and Hayley Prosser. Together they create a country, folk, and bluegrass sound that has traveled the country and touched fans everywhere. Hear them perform songs from their debut EP, Year Number One and their full length album, Country Enough!
Saturday, August 3, 2019 @ 1:00 PM
Dentist comes from the oceanfront urban landscape of Asbury Park, NJ. Their sound combines the freedom of the beach atmosphere and the urgency of the city into a fuzzed out, surf punk-tinged brand of indie pop with hooks and infectious melodies to keep you rockin'!
Friday, August 2, 2019 @ 8:00 PM
Seth Witcher, a 20-year-old college student/music artist based out of Allentown, PA is a self-made alternative pop artist. He not only taught himself how to play guitar and how to sing, but he performs on his semi-hollow electric guitar that he built himself in high school! He is a prolific song writer and loves to give his lyrics life with melody.
BONUS PLAYLIST!
Get to know all of the awesome artists playing Musikfest before the 'fest begins! Check out the 2019 Musikfest Free Artists Spotify playlist!