10 Artists to See at IBEW Local 375 Liederplatz!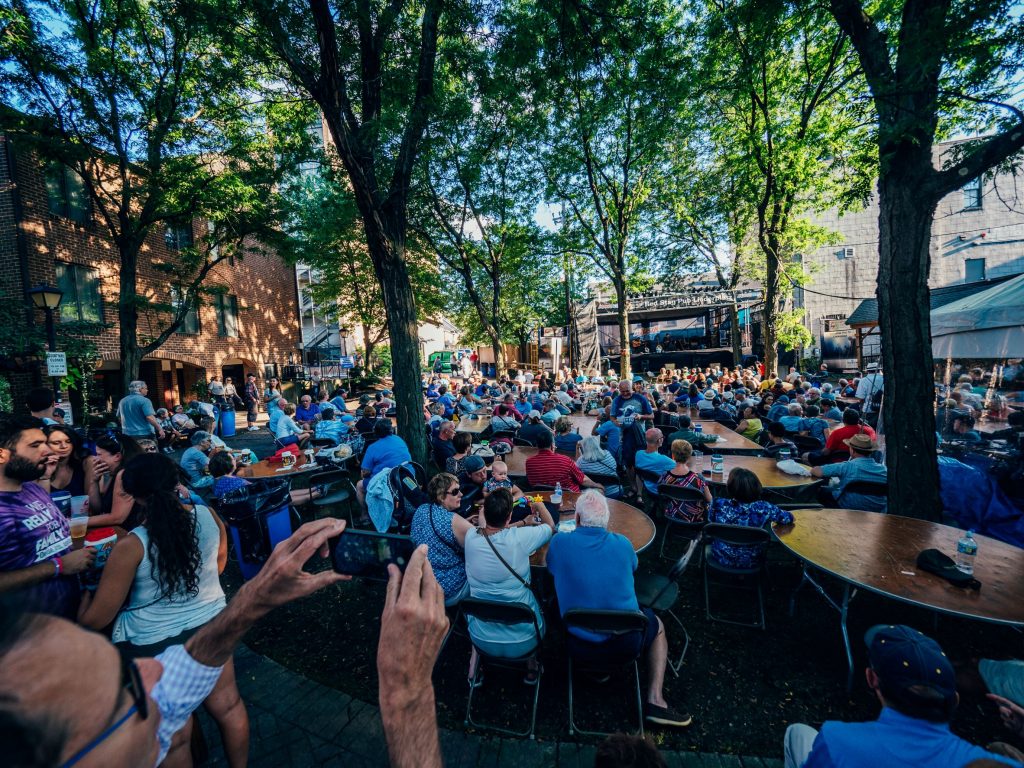 By Allison Toth, ArtsQuest Marketing Intern | Photo by Ted Colegrove
Located in the Sun Inn courtyard off Main Street, IBEW Local 375 Liederplatz is the perfect shaded area to enjoy folk, blues, Celtic, Americana and more! Stop by to see these ten artists and many more amazing performers on the McCarthy's Red Stag Pub Stage at IBEW Local 375 Liederplatz!
You can find the full lineup of 500+ FREE performances at Musikfest here!
Friday, August 6, 2021 @ 5:00 PM
Graffiti Smile is all about positivity, comradery, wicked ollies, Super Smash Bros.™, and most importantly, sufficient potassium intake. Graffiti Smile is a power quintet composed up of the conductor: Chaz, the Swiss Army knife: Ash, the key killer: Troy, the string slinger: Alex, and the Brainchild: Drew. They are currently working on new material to bring you to a smile ear to ear to be released this summer!
Saturday, August 7, 2021 @ 3:00 PM
Little Buddy was born for the stage. Like a freight train full of dynamite, LB steams into town to blow your mind sky high with his explosive solo's, dynamic stage presence and heartfelt lyrics, all wrapped up in his own original compositions. Backed by Tom 'World-Wide' Webb (drums) and Anton (bass), his is a show that you surely don't want to miss.
Saturday, August 7, 2021 @ 5:00 PM
Polished and precise, yet buoyed with an airy grace, Joy Ike paints with a broad palette that defies easy categorization. Born to Nigerian immigrants, the singer/songwriter's music, voice, and writing have drawn comparisons to female musicians such as Nina Simone, Laura Nyro, and Regina Spektor. But her percussive piano-playing and soaring vocals give homage to her African upbringing.
Sunday, August 8, 2021 @ 12:00 PM
Drawing inspiration from rock and roll's past and American roots music, Brother Starling takes you on a journey through Laurel Canyon with songs that capture the essence of artists such as Neil Young, Wilco, Fleetwood Mac, The Band, and Dawes.
Sunday, August 8, 2021 @ 1:50 PM
Bethlehem, Pennsylvania-based rockers, Crossroads, is an alternative/indie band that has been around since 2017. Their major influences include Radiohead, Muse, The Strokes, Weezer, Arctic Monkeys, and more. The band was born of a need to write and perform original music. Listen to their live performance and you'll find yourself consumed by their energetic sound.
Sunday, August 8, 2021 @ 6:30 PM
Reservoir Hill- is an original americana rock band co-founded by friends Dylan Flaherty and Brad Kramer in Allentown, PA in the winter of 2017. Influenced by bands like; Zac Brown Band, Chris Stapleton, U2, The Allman Brothers, Tom Petty and The Heartbreakers, The Black Keys and more. They have captivated audiences all over the Lehigh Valley playing their lyrically driven, diverse and catchy originals with a wide variety of covers.
Monday, August 9, 2021 @ 7:00 PM
The Muckers are a five-piece folk-rock band from Atlanta. With a strong emphasis on Irish music, the band also blends influences of Romani music, sea shanties, country, rockabilly, and anything else they can get their hands on. The name doesn't mean what you think it means.
Thursday, August 12, 2021 @ 9:00 PM
New Jersey native, Pentley Holmes is truly that rare artist whose work achieves both technical and emotional brilliance. A self-taught guitarist and vocalist, Pentley is as well-rounded musically as they come. Pentley's background in creative writing allows him to unite his musical talent with an authentic expression of what it means to be alive. He sings passionately and uses his instrument as the ultimate medium to express himself applying it into a soup of contemporary blues and rock, soul and pop.
Friday, August 13, 2021 @ 7:00 PM
Stefanie Johnson is an unsigned singer/songwriter from Pennsylvania's Lehigh Valley. With her "Kelly Clarkson meets Taylor Swift" sound, Stefanie adds the taste of rock to her love torn lyrics and catchy hooks. Stefanie's stories are inspired from personal experiences. Her songs are undeniably real and relatable to all. Stefanie has performed at Nashville's legendary Bluebird Café and The Rock and Roll Hall of Fame in addition to various venues and festivals throughout the Lehigh Valley.
Sunday, August 15, 2021 @ 1:30 PM
Inspired by the music of Django Reinhardt, Pyrenesia brings together some of the Delaware Valley's most skilled musicians. Combining original compositions with the tradition of jazz manouche, the quartet of violin, accordion, guitar, and bass brings an upbeat, fresh musical perspective to audiences. Their 2019 album "Off-Beat Symphony" was named one of top ten albums of the year by NJ Spotlight!
BONUS PLAYLIST!
Get to know all of the awesome artists playing Musikfest before the 'fest begins! Check out the Musikfest 2021 Free Stage Playlist!