6 Artists to See at T-Mobile Plaza Tropical!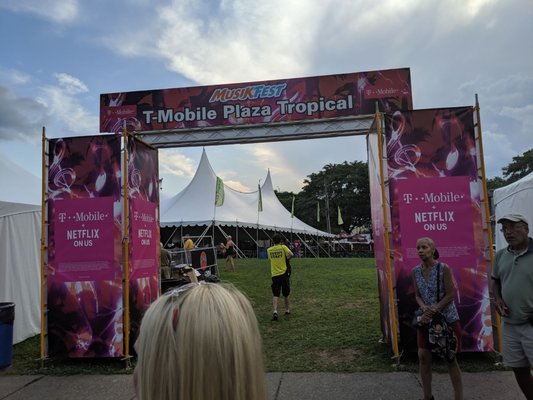 Written by Julie VanOsdol & Nia Marrow | Public Relations Interns
RDGLDGRN
Sunday, August 14 @ 9:30 PM
Based out of Reston, Virginia, RDGLDGRN (pronounced Red Gold Green) combines indie rock with a well-known syncopated rhythm style called "go-go". RDGLDGRN consists of guitarist Marcus Parham (also known as "Red"), bassist Anrei Busuioceanu (known as "Gold"), and vocalist Pierre Desrosiers (known as "Green"). They have had several notable performances at places like Vans Warped Tour and Jimmy Kimmel Live. RDGLDGRN is best known for their hit songs "I Love Lamp" and "Million Fans".
Slingshot Dakota
Thursday, August 11 @ 7:30 PM
A local band from Bethlehem, Pennsylvania, Slingshot Dakota covers the genres of indie pop, punk rock, and emo. The two-piece band consists of Carly Comando (keys, vocals), and Tom Patterson (drums, vocals). Slingshot Dakota has a discography of five albums which have been released from notable labels such as Topshelf Records and Specialist Subject Records.
LowDown Brass Band
Thursday August 11 @ 9:30 PM
Experience a uniquely strong representation of Chicago music culture with jazz group LowDown Brass Band. Creating funky beats with their all-brass members, LowDown covers the genres of hip-hop, jazz, reggae, and soul. The seven-piece band has performed at notable locations such as World Music Fest, Chicago Jazz Fest, Cotai Jazz Fest, and more.
Igor and the Red Elvises
Sunday August 7 @ 9:00 PM
Founded in the 90's by frontman Igor Yuzov, Igor and the Red Elvises are a Russian-American band from Los Angeles, California. Their music is reminiscent of funk rock, surf, rockabilly, reggae, folk rock, disco, and Russian styles of music. The band has taken their music on several successful tours as well as television appearances, with a total of thirteen studio albums.
Shamarr Allen
Friday, August 4 @ 6:30 PM
Shamarr Allen brings with him the musical melody of New Orleans. He has roots in jazz, hip-hop, rock, funk, rhythms, blues and country. Allen has collaborated with multiple artists like Willie Nelson, Patti LaBelle, and Galactic. He is also the lead vocalist to his band " Shamarr Allen & The Underdawgs" with their latest album "Bandhead."
The North 41
Wednesday, August 10 @ 2 PM
North 41 is based in Chicago and brings the perfect blend of funk, rock, jazz, and pop. In 2015, the band released their album "Dancing and Praying," that was broadcast nationwide on college radio while also being featured on stations like 93.1 FM XRT and Q101. The band has headlined at festivals and venues including House of Blues, Lincoln Hall and the Chicago Ale Festival in Grant Park.