7 Artists to See at IBEW Local 375 LiederPlatz!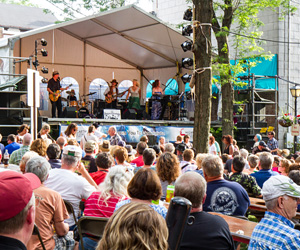 Stage Sponsor - Donegal Square/McCarthy's Red Stag Pub and Whiskey Bar
Written by Julie VanOsdol & Nia Marrow | Public Relations Interns
The Youngers
Friday, August 5 @ 9:00 PM
Founded in 1999 out of southeastern Pennsylvania, The Youngers create unique sounds drawing from genres like bluegrass, alt-country, and hard-driving rock. Representing what American rock music is all about, the band quickly rose to fame, and has been featured by notable media outlets NPR and Sirius Radio, with glowing reviews from Vintage Guitar Magazine and the Philadelphia Inquirer. The Youngers consists of Todd Notobartolo (vocals, guitar, lap steel, mandolin), Randy Krater (vocals, electric and upright bass), Matt Thren (guitar), and Bruce Kissinger (drums).
BC Blue
Friday, August 12 @ 9:00 PM
BC Blue is a brand new up-and-coming band, formed just earlier this year. Members are all Lehigh Valley natives that have formed a powerful collaboration based on years of experience as skilled Blues artists. Members include Bev Conklin (BC), Carl "Chicago" Snyder, Joe Mac, Bobby Soul, and Glenn Spadone.

Lou Franco Project
Saturday, August 6 @ 9:00 PM
Lou Franco is a skilled guitar player with years of experience playing classic rock. You may recognize Franco from his ten years at 99.9 The Hawk, a locally beloved classic rock station, as a radio personality. Franco and his band cover a wide range of artists such as Jimi Hendrix, Led Zeppelin, and Gary Moore.
Billy Bauer Band
Tuesday, August 9 @ 7 PM
Based out of Bethlehem, PA, the Billy Bauer Band has a sound for people who love artists such as Dave Matthews Band, Death Cab for Cutie, Counting Crows, and others like them. They built their exceptional reputation through years of touring and incredible live performances. The Billy Bauer Band consists of Billy Bauer (vocals), Chris Lorenzetti (violin), Drew Somers (drums), and Steve Zalalas (bass).
Dina Hall Band
Saturday, August 13 @ 9 PM
As a singer, songwriter, guitarist, percussionist, and recording artist, Dina Hall gives her audience an unforgettable experience. She is a must-see for lovers of folk-rock and Americana genres. Joining her on the stage are Andy Killcoyne (guitar), Nick Franclik (bass), and Todd Schied (drums). Her act also includes a special guest Rameen Shayegan who plays mandolin, guitar, and vocal.
Craig Thatcher & Cliff Starkey
Sunday, August 7 @ 9 PM
Craig Thatcher was inspired by many artists of his time. Thatcher looked to the Beatles, Rolling Stones and Animals while also becoming a well-renowned solo acoustic guitarist. He has been performing at Musikfest for the past 28 years as of 2018!
Stillhouse Junkies
Wednesday, August 10 @ 7 PM
Based in Durango, Colorado comes the Stillhouse Junkies with a musical mix of blues, funk, swing and bluegrass music. Stillhouse Junkies are two-time Telluride Bluegrass band contest finalists and winners of the IBMA band of the year. The band is reminiscent of icons like Gillian Welch, the Allman Brothers and Tim O' Brien.