7 Artists to See at Martin Guitar LyrikPlatz!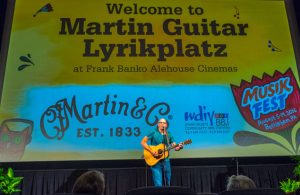 Written by Julie VanOsdol & Nia Marrow | Public Relations Interns
Chris Dela Cruz
Friday, August 5 @ 7
Chris Dela Cruz is an indie music act based out of the Pennsylvania Poconos. You will not want to miss this opportunity to see him, as he is a quickly rising star. The Chris Dela Cruz sound is described as introspective lyrics backed by a beautiful mixture of psych-indie rock and elements of jazz.
Jack Pierone
Sunday, August 7 @ 9 PM
Jack Pierone is a local solo artist who writes and plays his own original songs, along with a few thoughtfully arranged musical covers. All on acoustic guitar, Pierone provides a personal and soulful experience that is perfect for wrapping up your night on a high note.
The Beautiful Distortion
Wednesday, August 10 @ 9 PM
The Beautiful Distortion is a hard rock band that showcases harmony-filled melodic rock. The band is originally from Pennsylvania and is returning for its time again at Musikfest! The band has a wide range of styles including heavy metal and Indie/ acoustic. They are recipients of multiple Lehigh Valley Music Awards and are on the roster for New York City's MTA MUSIC subway performers.
AGE of the BEAR
Friday, August 12 @ 6 PM
"AGE of the BEAR" refers to singer-songwriter Anthony Cubbage. Through his writing, he elaborates on emotionally complex concepts such as the questions we ask ourselves every day, our insecurities, and our doubts. Cubbage's sound brings a peaceful yet personal feeling to the listener, most likely an outcome of his songwriting process- which he conducts in the midst of beautiful nature, such as Yosemite and Yellowstone National Parks.
Chasing Daylight
Sunday, August 7 @ 5 PM
Chasing Daylight is a Lehigh Valley-based alternative music act fronted by Bobby Siegfried. Their sound is described as a soulful blend of pop, R&B, and hope beat. The entire group consists of Siegfried (keys, guitar, vocals), Garrett Powell (sax, keys, vocals), Hillary Speck (vocals), Hatt Hentz (drums), Taylor Defranco (vocals), and Warren Snead (bass, vocals). Their performances are fun, inviting, and full of energy.
Ava Hoffman
Saturday, August 13 @ 9 PM
Ava Hoffman is a songwriter and cover artist who taught herself to play guitar at the age of nine. She specializes in pop, country and top hits for everyone to enjoy. Hoffman's vocals are described as captivating and she loves to share the meaning of each song before she shares it with her audience.
Andrew Tirado
Friday, August 12 @ 9 PM
Andrew Tirado is a singer and original songwriter who likes to provide his audience with a musically enriched sound. Tirado plays acoustic and electric sound covers while having live looping to create a live backing band effect.